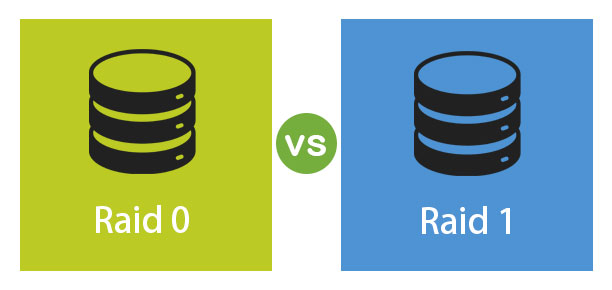 Difference Between RAID 0 vs RAID 1
A sought after technology that is going to stay in the market – yes we are talking of RAID technology. There are a good number of reasons in its favor and growing need in today's circumstances. What we are seeing is a growing number of enterprise wise networks all around us, all for one reason to have improved productivity while streamlining the information flow.
Also, this growing number is backed by huge data generation which is a problem in itself, in addition to this, the data loss or information loss can worsen the situation. What RAID can offer us is an underlying solution to all these problems, a combination of outstanding and unmatched services for data availability, a highly scalable performance, and high capacity with data recovery. This multiple drives integration into one single array can create a cost-effective solution for storage. Here we will discuss top differences of RAID 0 vs RAID 1:
Head to Head Comparison Between RAID 0 vs RAID 1 (Infographics)
Below are the top 7 differences between RAID 0 vs RAID 1:

Key Differences Between RAID 0 vs RAID 1
Let us look at the key differences between RAID 0 vs RAID 1 as below:
RAID 0 simply means stripping of data whereas RAID 1 is data mirroring, in RAID 0 data is stored in one place whereas in RAID 1 it can be stored in stripes at multiple places.
RAID 0 gives faster read and writes speed capabilities whereas in RAID 1 has less write speed but better read capability.
For RAID 0 minimum of 2 disks are needed (same for RAID 1) 2 but the factor that decides the speed in it is RAID controller, RAID controller processor, RAID controller Bandwidth and for RAID 1 the factors that decide speed are RAID controller, RAID controller processor, and RAID controller bandwidth.
The visual representation of Raid 0 can be easily understood with the above-mentioned illustration. Here both the data sets have different segments associated with it which means data is divided into stripes and placed on multiple places whereas the visual representation of Raid 1 can be seen and understood in a very clear manner form the above-mentioned illustration. We can see similar data is placed at two places out of which one is genuine data whereas the other is its mirror image.
Raid 0 has no redundancy capability just because there is no parity and no mirroring facility whereas Raid 1 has the highest redundancy possibilities; the reason constituting this behavior is its mirroring behavior.
The rebuild criteria are worth mentioning – rebuild is to manipulate the entire system when the RAID system fails. The rebuild time and expense are comparatively less both in time and cost in Raid 0, Factors affecting reliability in RAID 0 are System crashes, Bit errors, and Disk failures whereas for RAID 1 the rebuild time is more and higher due to mirroring. Factors affecting the reliability in RAID 1 are Uncorrectable bit errors, Hardware size and Latest edition in comparison to RAID 0.
RAID 0 is ideal to use at places like graphic design and video editing workstations whereas RAID 1 is ideal for web servers, or servers that have small chassis where only 2 drivers can be used.
RAID 0 vs RAID 1 Comparison Table
Let's discuss the topmost comparison between RAID 0 vs RAID 1:
| | | |
| --- | --- | --- |
| Basis of Comparison | RAID 0 | RAID 1 |
| Purpose | Raid 0 has a basic purpose of data striping with no redundancy. | Raid 1 serves the purpose of disk mirroring. |
| Advantages | Raid 0 serves its purpose to fullest by providing users with high performances. | Raid 1 has its own advantages, in addition to high performance like Raid 0, it also offers very high data protection, minimal penalty while writing performances. |
| Disadvantages | There is no data protection in Raid 0, when one drives fails to work the other drives also lose their data simultaneously. | Raid 1 has limitations in its own way, it has a high redundancy cost overhead apart from that we always need twice the data storing capacity as the data has its own mirror image. |
| Example | If I ask one man to write from A to Z he will take more time compared to 2 men who write from A to Z. 1 men will write from A to M. Men 2 will write from N to Z. | If I ask a man to keep a copy of all the letters in two places. He kept A to Z in disk 1 and Again A to Z in disk 2. By doing this he is increasing the storing need and also this Raid has nothing to do with Performance. |
| Cost | This is less expensive. | This is comparatively more expensive. |
| Penalty | Raid 0 comes with no write penalty. | Raid 1 comes with a write penalty. |
Conclusion
You know there are specific reasons for choosing among any RAID levels which depends on your need, and size of operations, better to consider these points.
performance
data protection
rebuild and
cost-effective
RAID technology is mostly used by web hosting companies apart from personal users.
Recommended Articles
This is a guide to RAID 0 vs RAID 1. Here we discuss the RAID 0 vs RAID 1 introduction, key differences with infographics and comparison table. You can also go through our other suggested articles to learn more –