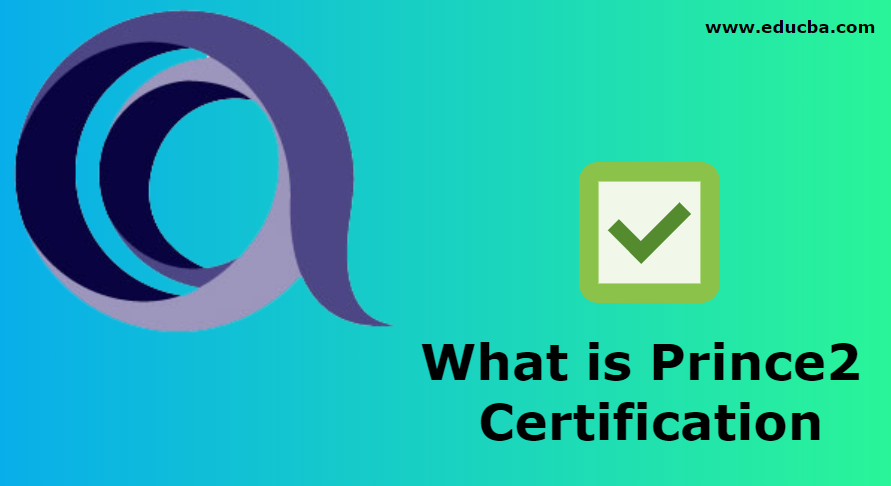 Introduction to Prince2 Certification
The following article, what is Prince2 Certification, provides an outline for the prince2 certification. The Projects IN Controlled Environments (PRINCE2) Certification is a specialized project management certificate awarded by AXELOS. By Prince2, the managers in any organization can essentially manage projects and product delivery. Prince2 method consists of 7 principles, 7 themes, and 7 processes. These principles are the guidelines for a Prince2 discipline.
Seven Principles of Prince2
The business must be justifiable to continue. The project must be closed if it's not justifiable.
From the previous task, the project team should learn and inculcate those learnings.
The organization should be aware of its goals in choosing the right person and organizational structures.
Any project should be structurally planned and monitor progress.
Managing the people and giving them the authorities play major roles in organization development.
The projects must mainly define the product, look after delivery, and makes sure quality is maintained.
In all aspects of the Prince2 project definition, the environment, importance, and risk must adapt to the organisation's right fit.
Seven Prince2 Themes
Given below are the seven prince2 themes: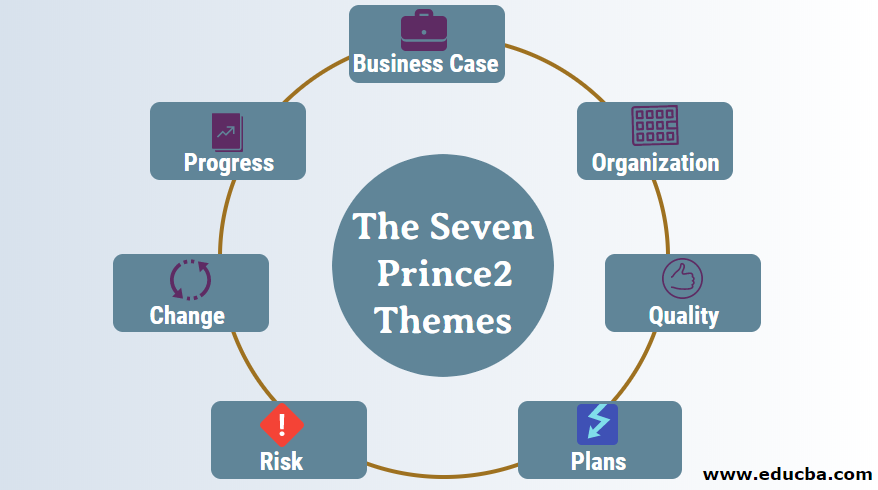 1. Business Case
The business case documents must contain costs incurred, benefits, project deliverables, risks involved, and project duration. Without these parameters, any management will find it difficult to know and progress to the organizational goals.
2. Organization
For any organization to work in an organized way. The roles and structure should be well defined. One of the main documents is PID(Project Initiation Document). PID gives a clear picture of who is going to do what, in other words, the shared responsibilities and accountable person for certain tasks.
3. Quality
Quality is considered as an important aspect of the project, right from initiation to delivery. Poor quality can lead to a loss in order to correct the deficiency. While higher the quality, you have over performed and spent a lot of time, which is again a loss. Hence identify the quality parameters in the beginning and make sure it is met. Registering the quality metrics are a necessary and most important step for quality control. The quality parameters can be implemented within the organization or external quality certification such as ISI, ISO, IEEE, etc.
4. Plans
Planning is the initial stage of any project management. Each and every stage in the project requires a strict plan to approach the desired result. Planning in Prince2 involves day to day activities, weekly meetings, scheduling, budgeting, work breakdown structure, and even project protections.
5. Risk
Prince2 includes an approach to project risks, such as identifying the risk, procedures of analyzing risks. These risks are to be registered, prioritize the most common risks, understand the severity and act accordingly.
6. Change
Any project is subjected to change in plans and procedures. The changes are not predictable. When these changes tend to occur, the Project manager should act in these changes and make sure the issues are registered; these documents are registered in Change control.
7. Progress
Progress is to check if the process is progressing as per plan and know "what is the actual measure of duration, cost, and other parameters with respect to planned measures". The PID (Process initiation document) consists of all the progress and the changes in the project. The progress reporting is of two types: Time driven and Trigger driven; this classification is based on regular or event intervals.
Seven Prince2 Processes
Unlike an agile project methodology, the Prince2 processes involved in a project lifecycle.
The lifecycle starts from Planning, Roadmap to a project, initiating the project, considering risk factors and quality, managing the delivery, review of the stages and benefits, and finally, the project closure.
Levels of Prince2
Prince2 consists of three main levels. These are based on competency levels and experiences in project management.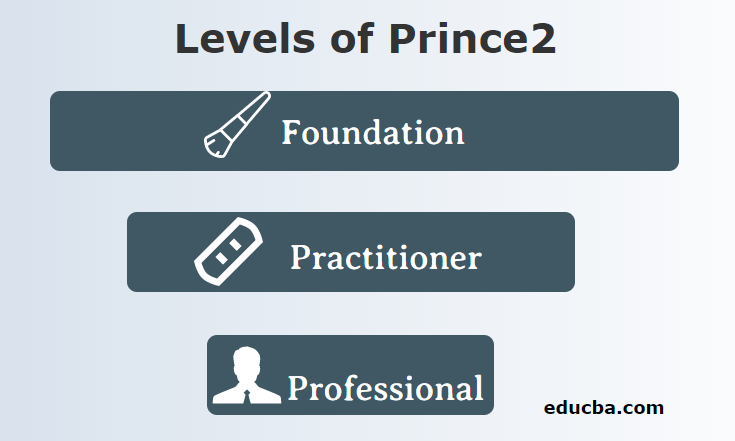 1. Foundation
Foundation is an entry-level of Prince2 Certification. This level gives enough knowledge of working in a project management team. Foundation gives the overall structure of Prince2, and any age group can take up this certification as there are no eligibility criteria. Hence any certified Prince2 foundation will be able to involve in starting up a project, work in planning, able to explain the quality measures, help in the road map of the project considering risk management until delivery of the project.
2. Practitioner
Any project manager or aspiring project manager can take up Prince2 Practitioner Certification. When you have a sufficient understanding of implementing the project methodologies, you can take up the Prince2 Practitioner Certification. Having a Practitioner Certificate, you will be ensured to provide a range of project environments effectively, which in turn makes you a successful project manager. Usual classroom training will last for 1 and a half-day. After the training, an exam will be conducted on their understandings and experiences. The exam is of objective type and consists of 68 questions. The Candidate is expected to obtain a minimum of 55% out of total marks in order to pass this certification.
3. Professional
Prince2 Professional is an advanced qualified certificate among the other two Prince2 certifications. The Candidate will have to work on a realistic case study in assessment centers. Interpersonal skills, along with domain competency, play a vital role in this certification. Based on 22 characteristics, the Candidate is gauged. The grading systems are based on levels; the scales are level 0, level 1, level 2, and level 3.
Conclusion – What is Prince2 Certification
If you are looking for the right skills to manage in a thriving and competitive environment and want to acquire those skills and lead a successful project, Prince2 certification is for you. As Prince2 focuses on processes in a controlled environment, it helps acquire the desired skill for any project manager. The above article gives you an overview of Prince2 certification levels and principles. It is advised to choose your certification based on your job prospects and job levels.
Recommended Articles
This has been a guide to Prince2 Certification. Here we discuss the seven principles and themes of prince2 along with the processes and levels of prince2. You can also go through our other suggested articles to learn more –