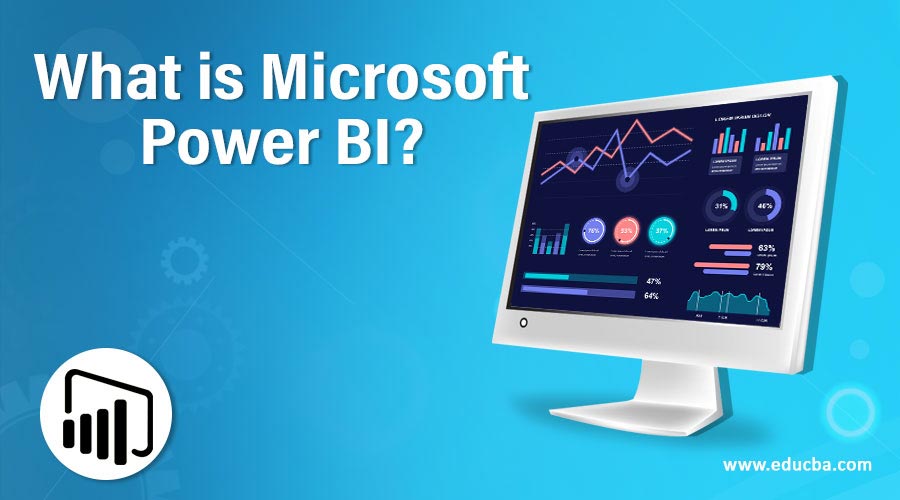 What is Microsoft Power BI?
Microsoft's business analytics service to provide visualizations that are interactive to the customer or the user is called Power BI. Business intelligence capabilities are improved with the help of different dashboards or reports so that end-users find it easy to understand the data. The organization's data is loaded, and it provides better insights into the data than other analysis techniques. The data is transformed, cleaned and it creates charts or graphs to recognize the patterns of the data. Power BI desktop is free, and there is Power BI Pro and Power BI Premium.
Understanding Power BI
It is a set of tools consisting of the following components, which can be used on a Desktop or on mobile devices.
Power Pivot: Importing data from different sources.
Power Query: Tool used for transforming data.
Power View: Assists in visualizing data.
Power Map: Provides a 3D visualization of data.
Power Q&A: A question and answering engine.
Top Power BI Analytics Companies
It is a tool used in every other industrial organization.
Some of the domains in which it is a game-changer are as follows:
Information Technology and Services
Hospital & Health Care
Financial Services
Insurance
Construction
Below are some of the top companies which make use of it to gain various insights and increase their productivity:
Precision Diagnostics
Hospital Montfort
Jones Lang LaSalle Inc
Digital Shadows
What can you do with it?
Conveying business models through reports and charts (Data Visualization).
Examining What-If scenarios with metrics and customized dashboards.
Capable of answering Real-time questions from customers and stakeholders.
Forecasting business requirements and taking precautionary measures to avoid grievances.
Working
Importing of Data: It allows you to import from a wide variety of sources. With the integration of Microsoft Azure, it has become easier to handle data of any size and structure. Using these services, one can connect to the data.
Parsing Data: The next phase is parsing or cleaning of data. Creating or removing rows and column headers, assigning a private key, and reordering the structure to fit into a schema is done.
Modeling: This step is primarily performing complex algorithms, forming relationships between data and deriving results using them.
Visualizing: With a variety of tools and custom galleries, users can create reports using the modeled data.
Report Generation: With these services, these reports can be pushed and maintained securely for future analysis. An overview of your business needs is derived from the reports.
Advantages
Given below are the advantages mentioned:
Artificial Intelligence and Data analysis utilize it to a great extent.
Supports hybrid deployment to connect a variety of data sources.
Quick Insights are gained for business models to derive possible solutions.
Provides common data model support to standard and extensive data schema.
Integration with Azure and Microsoft products such as Cortana, Office 365, MS Access makes it easier to use.
APIs can be created to use customized dashboards.
It allows viewing data in a separate pane, changing properties instantly and select objects.
Required Skills
The important thing is the individual should have an awareness of the fundamentals of Structured Query language (SQL) and structured data format. She/he will be dealing with databases such as MS SQL, MYSQL or Oracle. One should be aware of the data and its schema related to it. Some prior knowledge on table joins, pivot, and other functions related to a table would give an edge over others.
Why do we Need Power BI?
It uses just a single spreadsheet or pulls data from cloud storage such as Azure, Salesforce CRM, Amazon Redshift, Google BigQuery. It is continuously updated and maintained by Microsoft. With minimal upfront knowledge and proper platform, it can be used in numerous ways to boost the efficiency of the organization.
Scope
Analytics and Data visualization is becoming extremely important in every industry. It is a collaboration of cloud-based storage and a variety of visualization tools that helps to generate reports and dashboards of large volumes of date. Micromanagement or Project management will make use of analytics and reporting tools. It is easy to use and is the best bet in the future. Primal knowledge of databases and SQL is sufficient to get your hands on.
Right Audience for Learning Power BI Technologies
It is designed in such a way to be used by all users such as Beginners, Intermediates and Professionals. Data analysts perform primary analysis on a day to day basis. Business users observe the changing patterns in the customer trend. It assists developers to embed their data and generate visuals. The ad-hoc analysis is done for their front end applications. It is easy to use and open to all. There is no particular group that is targeted by Power BI.
How will this Technology help you in Career Growth?
Uses of it do not restrict only with Data modeling and Data Visualization. There are a variety of other solutions offered by Microsoft too. Its integration with Office 365 and Azure it has become easier to host and play with data without the burden of security and management. As a developer, you can embed the report into dashboards to create custom visuals and Front end applications. If Data analysis and reporting is your pick, then it can launch you into the next step.
Conclusion
The increasing trend for AI and business analytics is creating a demand for professionals in the market. It is an ever-growing tool and with continuous add-ons and updates from Microsoft. The ability to integrate with other products makes it more valuable. Users could create dashboards and reports without any external help. It is simple and packed with several options making it a must-have skill for the future.
Recommended Articles
This is a guide to What is Microsoft Power BI? Here we discussed working, scope, required skills, need, career growth along with advantages. You can also go through our other suggested articles to learn more –