Updated March 22, 2023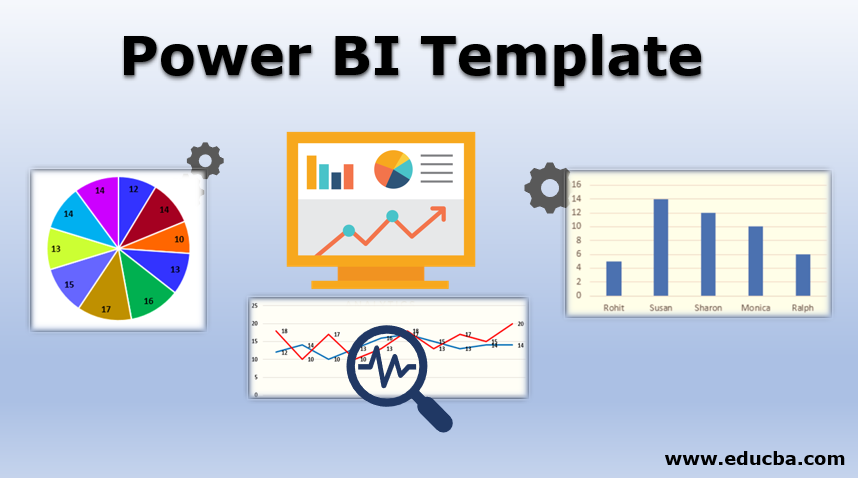 Introduction to Power BI Template
Power BI is a business and data analysis software developed by Microsoft which provides data visualization capabilities with business intelligence ranging from small to large scale data. This software is easy and user-friendly to create stunning and interactive dashboards and reports. It has both offline and Cloud-based services starting from data warehousing, data preparation, and visualization. Data can either be sought from MS Excel or any database as per need. Power BI has also got the option of importing templates to create a new report template for creating reports and dashboards sharing valuable insights for the organization or client.
Creating a Power BI Template
Power BI templates are helpful in creating similar reports with new data and information. To do so, we must have a Power BI desktop installed. Templates contain report pages, visuals, data model definitions like schema, relationships, etc., and query definitions such as queries, parameters, and other elements. This information and features are generated from the existing template from which the new template is generated. First, Power BI is downloaded from the official website.
After Power BI is installed, the next step is to create reports from scratch. For building a report, we need certain data. Data can be obtained from any external source like Excel, text, database, etc. or we can manually enter the data. Alternatively, a portion of data can be copied from a workbook or a webpage and pasted in Power BI.
The above image is a sample report built from Excel tabular data. First, an Excel worksheet is imported to get the data in a tabular form. In the next step, the report is built by dragging the required columns to create a chart, graph, etc. for visualization. With some modifications, Finally, the report gets ready.
Now, we can export the report template by going to File > Export > Power BI Template and saving it in a folder in the system. The report template is created now.
The template can be imported for creating new reports by going again to File > Import > Power BI Template. While importing the template, a dialogue appears for any parameter used in the template to build the report. Then file location dialogue follows to load the data report from the path where it is saved. After the template is imported to Power BI, dashboards and reports can be created based on the queries, visuals, and elements from the template as per the need. There is a Power BI server that helps companies maintain or update reports on-premises.
Importance of Power BI Template
As a Business intelligence and analytical tool, Power BI has immense importance in the industry. It is free for a single user and price, to some extent, for corporates. It helps business houses of all sizes to analyze the data and share insights. Enterprises can oversee their business closely with interactive dashboards and reports. Software like Tableau, QlikView are available, but Power BI, a Microsoft solution for Data Analytics, alone is widely driven in Corporates today. Data models created from Power BI have a variety of applications including finding insights through charts and examining profit or loss scenarios of the organization. It is also useful for management and administrators for identifying how the department or team is performing. Every Data Analyst, as well as beginners with no analytical experience, can also use this software for building reports.
There are some tools to which Power BI is divided:
Power Query: To upload and manipulate data.
Power Pivot: To model and analyze the data.
Power View and Map: To visualize the data.
Key Features and Advantages of Power BI Templates
Key features and advantages of Power BI templates are as follows:
Templates allow us to create user-friendly and rich reports from the existing report. This process is easy as it requires no manual programming.
Power BI templates have several features to build personalized dashboards or reports allowing enterprises to monitor their growth.
Q&A function is a feature that allows us to answer anything about the data using natural language.
Power BI embeds both BI and analytics to deliver feature-rich reports and geo-map visualizations powered by Bing Maps.
Along with SQL Server, Azure analysis services in the cloud help users to build simple, reusable data models for interactive reporting and analysis.
Templates are built from existing resources but can be modified as per need in the new reports.
While generating the report, either by making entry of data or importing from a template, we can connect any data source like Spreadsheets, SQL Server, SharePoint, Google Analytics to make it more interactive and feature-rich for complete visualization.
Power BI templates are free and simple to use or reuse even for new users.
As Power BI is updated almost every month, templates and themes, in addition, make reports more beautiful and high performing.
Due to the low cost of Power BI, Corporates can make high and fast turnarounds by monitoring their market trends and status.
With limited engineering and efforts, Power BI templates can generate new reports from existing reports to answer valuable insights.
Reports can be published securely to avail of the latest information from the data.
There is no speed or memory constraints while integrating with cloud servers. Users can share reports into the cloud for storing and exporting data to Power BI from the cloud for data visualization.
Power BI templates provide reporting and analysis without any technical support as it has graphical-based design tools and features.
Integration of Cortana assistant in Power BI to verbally query and access insights from the data makes it more convenient.
Microsoft has made some template apps that are integrated packages to create customized and powerful dashboards. It helps in getting into the information and taking action to key data in a faster way.
Conclusion
In today's customer service market, Data Analytics is vital in empowering business. Data can be financial, healthcare or pharmaceutical related, but the analysis method is single. Power BI is the solution for enterprises to visualize data and draw insights. So, templates can be gainful by reusing them to make new reports.
Recommended Article
This is a guide to Power BI Template. Here we discuss Introduction to Power BI Template along with the Key Features and Advantages. You can also go through our other suggested articles to learn more –