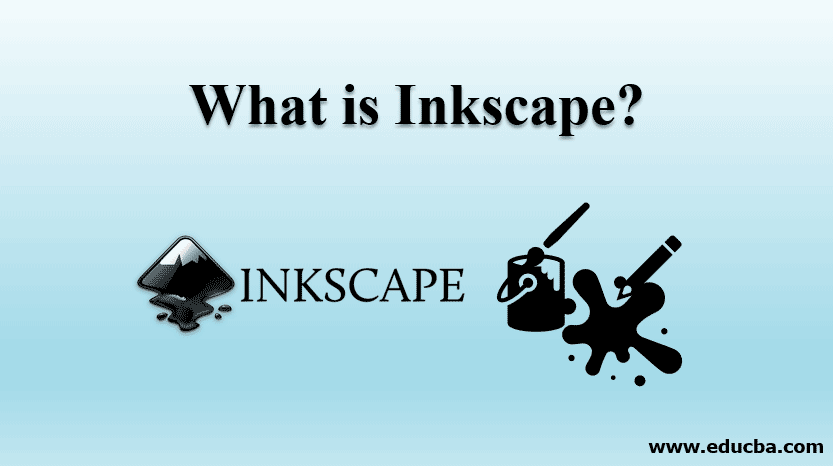 Introduction to Inkscape Software
Inkscape is a Windows, FreeBSD, macOS, and Linux interactive vector development and manipulation application. Adobe Illustrator is an open-source and free alternative to industry-standard applications. Apps include creating/altering paths, gradients, stroke styles, and Adobe AI and SVG vector graphics files support. Inkscape apps also support normal pictures such as PNG and JPG.
What is Inkscape Software?
Is this a big question for you?
Then don't worry about it, this will be no more a question mark for you after this article. Just stay with this article until the end.
This software generally works with the creation and editing work of different types of artworks, illustrations, charts, diagrams and many more. This software is compatible with the file format SVG that stands for Scalable Vector Graphics. In this software, we can also be import other file formats such as JPEG (Joint Photographic Experts Group), PNG (Portable Network Graphics), BMP (Bitmap), etc. and export file formats such as PNG (Portable Network Graphics) and many others.
It was initially released in November 2003 and compatible with the Linux operating system, macOS, and Windows operating system. It is available in the English language as well as in many other languages. You can visit its official website that is https://inkscape.org/, for more details.
For understanding any software, you must be familiar with the features of that software. So let's discuss some important features of Inkscape software in a very interesting and understanding way of learning:
Top 8 Features of Inkscape Software
There are many features of Inkscape software, which give you freedom in the area of vector graphics editing work:
This software is designed with a lot of Drawing and Shaping tools, featured with Calligraphy techniques and also have Pen and Pencil command in the form of tools.
Some other tools are the Rectangle tool, Square tool, etc., to create a rectangle and square tool respectively.
There is one more exciting feature that is the 3D boxes tool. It used for creating 3d box that can be adjusted in the XYZ plane. You can also individually adjust all sides of the box after ungrouping them for more modification.
The next feature is associated with the coloring facility. In this feature, we have a paint bucket tool for filling any specific area, and this tool gives us the freedom of colorization in our project.
You can simplify the different types of paths in this software for your specific purposes.
You can trace any type of Bitmap images (whether in path-oriented or colored image form) in this software with accuracy and make it useable for your project work and make your project effective.
Like other vector graphics software, Inkscape software also works with layer systems, which makes it very helpful during working with this software.
You can have an object grouping facility as well as an anti-aliased Display facility with Inkscape software.
Advantages of Inkscape Software
Inkscape software has many exciting benefits that make it different from other vector graphics software. Let's discuss its advantages, which helps you in your vector graphics editing:
Its most exciting advantage is Node Editing, which means vector graphics in this software has a frame area with a node for editing it with a wide range of freedom. For Node editing, Inkscape software facilitates you with some interesting features of the node that is Adding Node in any segment, Deleting Node from any segment, Moving Node from one place to another in any segment, helps in Making Curve and symmetry with node and so on.
There is a wide range of tools present in this software: Pen tool, Pencil tool, Calligraphy tool, text tool, and many others. These Tools have their features such as Pencil tool is used for freehand drawing work, the Pen tool is used for precision work by making art with the line segment, Calligraphy tool gives you an artistic way of drawing something with your idea. So these tool gives you freedom for using your realistic idea in your work without any restriction.
It is a Web-based supported device and can be used for both small business or Medium business purposes.
We have the most interesting advantage in this software that is Z-order. Z-order stands for order sequences of drawn objects. High Z-order means object drawn last, and Lower Z-order means objects drawn at the top. The layer system can manage the order of the object, or you can manually move a particular object at any sequence according to your requirement.
The next advantage of this software is that it has a special tool that is Create Tiled Clones. This tool gives you a structure that works as a guide for you for precision work with more perfection. You can make any type of guide according to your idea with Create Tiled Clones tool and use it for almost 100 % accurate work.
Now in this way, you can get familiar with Inkscape software without any problem and can use it for your business purpose without any hesitation. With the help of this software, you can take your business to the next level of vector graphics works. If you want to get this software, you can visit its official website and get its subscription according to your use and enjoy its features in your vector graphics works.
Conclusion
After taking a look at aspects of Inkscape software in this article, you can better understand the purpose of this software and easily use it in your vector graphics editing work to give a realistic view to your project work. Now you also have a great command of the features of Inkscape software with the help of this article.
Recommended Article
This is a guide to What is Inkscape? Here we discuss what is the Inkscape software along with its features and different advantages. You can also go through our other suggested articles to learn more –