Updated June 1, 2023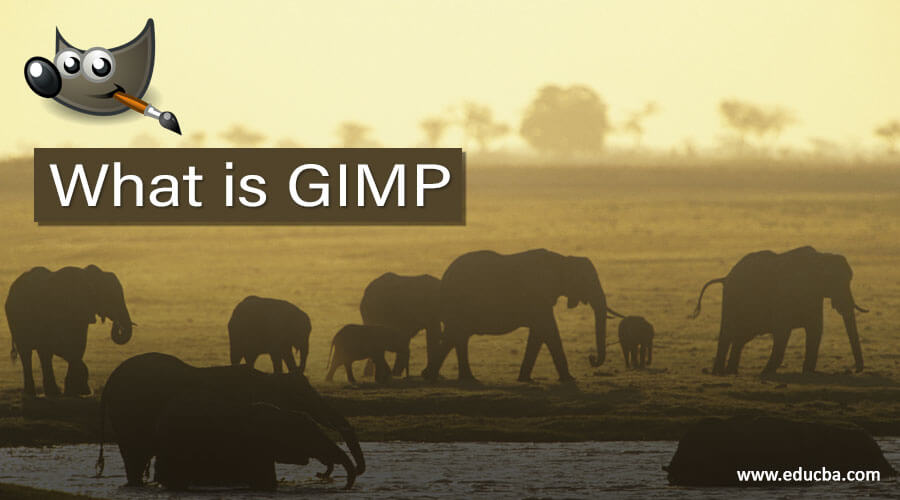 Introduction to GIMP
GIMP is a raster graphics editing software that is open source and free software and works on the manipulation of the image, including retouching, editing of images in the form of free drawings, and transcoding, which means an easy exchange between file formats of images. Initially, it was established in Feb 1996, and its original authors' were Spencer Kimball and Peter Mattis. You will get a high level of retouching results with this software, and allow you to mass production of the image when you render it. The most important point about this software is that it has a very user-friendly user screen.
Why do we Use GIMP?
As we know, it is raster graphics editing software, the same as Photoshop, so we use it for a high-quality image retouching process, free from drawing images for different purposes; we can also work on different file formats by using this software easily as it has expendable quality so you can expand its working feature by adding different plugins software with it. The most important reason we use it is open-source and free software.
How GIMP work?
It works on image editing, so it uses different photo editing tools and techniques for doing its work. For editing purposes, it offers us different brushes and preset during painting purposes; we have layer and channel panels with different retouching tools. For color grading, it offers curves, colors/exposure, and many more things you can have, which helps it in its image editing work.
Features
Features are essential to any software that defines how effective any particular software is. Let us discuss some important features of GIMP software to know the range of manipulation or tasks it can do easily.
1. Supports and Compatibility of the System
This software is compatible with Linux, Mac OS, and Microsoft Windows. One should remember that image size does not extend more accessible space of the disk, but you can easily open the number of images during your work. You can go to www.gitlab.gnome.org for this software.
2. Painting with GIMP
For painting in this software, you will have a handful of painting tools, such as essential sketch tools, including brushes, airbrushes, clone tools, pencils, and others. You will also have a gradient editor and blending tool to present chosen colors effectively. Despite this painting tool, you will also get a custom brush option for making your brush preset.
3. Highly Powered Manipulation Techniques
It offers several tools we need for good and effective image manipulation during our work, such as an editable layer and channel panels, a free transform feature with different sub-transform options that are rotated, flipped, scaled, and so on. It also allows you to make a mask quickly to edit the parameters of the selected image.
4. Different File Formats Supported
You can easily load and open different file formats, convert them into another format, and save them with this software. The file formats it supports are gif, jpeg, png, bmp, tiff, tga, xpm, etc. You can easily export and import the SVG path in it.
There was some valuable feature of this software, and you will find more features once you start exploring this software. To get good knowledge about this software, we must go through the pros and cons of this software.
Advantages
We have several advantages of this software because of its easy and quick handling features, but today we will discuss some of the essential advantages of this article. Let us have a look.
It is Expendable and Extensible, so you can expand its working area by using plugins and different file format extensions for various work.
Due to the advanced user interface screen, you can easily manipulate it, whether a simple image or a complex one.
If you never touch Photoshop, which is a raster image editing software too, then due to a simple and friendly user interface, it will be most helpful in learning image manipulation and graphic design.
It is the most powerful software because you can handle large and professional video games.
Disadvantages
As we know, this is the universal truth that everything has drawbacks too, despite its handy and effective features, so let us go through the disadvantage of this software.
It creates a problem if you use a very big image for editing or several layers while editing any image.
You might not get your desired results because it offers limited access to third-party plugins.
With this software, you will also face some difficulties in making compelling arc artwork.
You will have limitations of options during the development of 3d designs.
Career Path for GIMP
If you have a quick look around you, you will find several things with graphics design elements. These graphics can do with a different types of graphics software, and GIMP is one of that software through which you can do this type of graphics work. Hence, it has vast career opportunities in graphics design, and with your graphics skill, you can do many things with this software, then career achievement becomes easy for you.
Conclusion
Your understanding of GIMP software is clear, and you better understand the purpose of raster image editing software. You can easily analyze the pros and cons of this software at your level to get knowledge about whether it is helpful to you or not. I will suggest you use it once for a proper understanding of it.
Recommended Articles
This is a guide to What is GIMP. Here we discuss how GIMP works along with the features, advantages, and disadvantages. You may also have a look at the following articles to learn more –