Updated June 8, 2023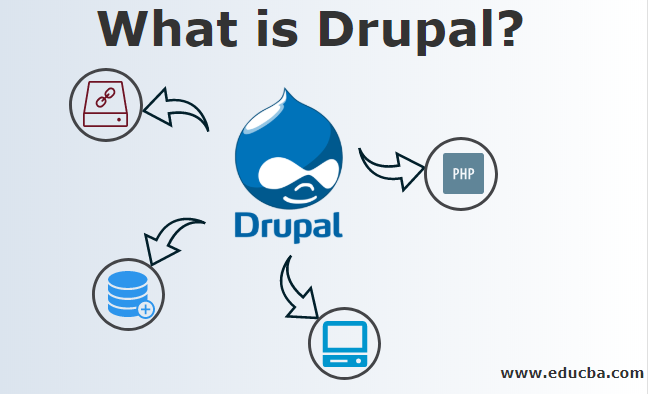 Introduction to Drupal
Distributed under General Public License (GNU), Drupal is an open-source content management framework. A good digital experience goes beyond appearance and has become a market differentiator in this competitive world. In recent years, with the help of digital experience platforms (DXP), global companies have focused on creating a better digital experience that effectively communicates and engages with their users through their websites, mobile apps, and many other ways.
With the advent of the digital age, the role, impact, and influence of digital experience have garnered tremendous respect and attention. It is a digital experience platform that is written in PHP language. From government, corporate, and political to personal blogs, around 2.3% of websites are supported by the Drupal back-end framework.
Understanding
It has similar features to any other content management system. With the help of this, one can easily develop a wide range of complex and large websites. It comprises menu management, account registration, system administration, RSS feeds, taxonomy, and page layout customization. It is a web application framework that serves as a single or multi-user blog or a website. Programming skills are not required to administer the framework and website installation. For developers, it offers a sophisticated API.
How to Use Drupal?
It is very flexible compared to other content management systems. Because of its PHP-based template, one can edit or add any information without technical knowledge. A web server capable of running PHP and a database to store configuration & content is two basic requirements for running Drupal.
Drupal requires a 'stack' of Software as:
Software server
Software Database
Interpreting PHP software
Codebase and Database are the two code sets used by every Drupal website. One gets files and folders when one downloads Drupal. These folders and files are called Codebase. These files manage and create all of the website's content. The database stores the content. One can duplicate or move the Drupal site by copying these codes. It's easy to upload; edit any content in web-based applications.
What is Drupal Good For?
Flexibility, along with simplicity, is what separates Drupal from other CMS. Its Modular approach to site building makes it easy to understand for newcomers who need both simplicity and flexibility. It acts as the user's Content management system and content management framework. Whether it's an online store or a news site, one can create a great website by combining the right module. Moving from 'many to many' to 'one to many, helps its users create content and interact. Designed from the ground up, it can delegate content creation and site administration to users. After defining user permission, everyone can start collaborating in Drupal.
It is super easy to install as compared to other CMS. One can create a Drupal site within an hour with a few web-based configuration questions and an FTP upload. One can connect with the database in a very short time. With built-in themes, one can start adding content at any time. Operating and working is extremely easy as compared to other CMS. We can add dynamic content to a website without needing any raw PHP because of its Twig templating system. It has clean-generated markup and standards-compliant XHTML.
Why Should We Use Drupal?
With built-in user interfaces, it translates everything in the system.
With Drupal, one can connect own website to other sites and services.
It requires no licensing cost as it is open-source software.
It has effective display quality, which can engage its readers.
One can connect the website with social media platforms such as Twitter, Facebook, Instagram, etc.
It has many customized themes to create an attractive website. One can also create a theme using a base theme for designing web-based applications.
It manages the content on web applications, social media, informational, and member sites.
Advantages
With Drupal, one can add any content to web-based applications such as video, text, blog, real-time statistics, menu handling, etc.
It has built-in temples for developing web-based applications; thus, starting from scratch is unnecessary.
It has an organized structure; it is easy to find and reuse the content in Drupal.
With the help of Drupal's built-in themes and templates, one can create an attractive and engaging website.
It has more than 700 plug-ins. As it is open-source, one can create own plug-ins.
Disadvantages
Compared to other CMS, It doesn't have a user-friendly interface. Professionals are required for installation.
It has less compatibility with other software as it is a new content management system.
It lacks in performance as compared to other Content Management systems. It required a strong interconnection for smooth working. It also generates a big server load on the system.
How this Technology Helps you in Career Growth?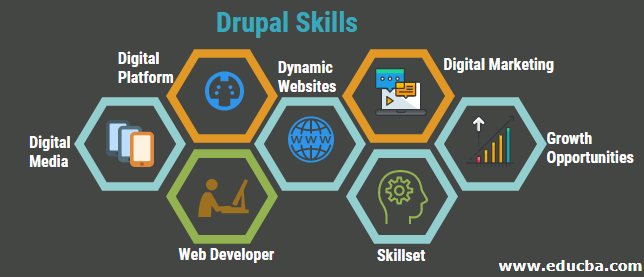 It has gained a lot of popularity among numerous companies across the globe as well as in India. Adaptation of Drupal websites across the globe is driving the growth of Drupal professionals. Professionals with Drupal skills and experience have a lot of opportunities in this sector. More than one million websites and applications have Drupal as their Digital experience platform. It has become the first choice for thousands of content-rich, dynamic websites. Professionals can make their flourishing carrier in the field of Digital Media developers, Web Developers, digital marketing, and many more. Everyone has different reasons for picking up different technologies but learning this benefits your skillset and offers many growth opportunities.
Conclusion
In the above script, we have come up with essential points. This article details its uses, features, advantages, and disadvantages. With Drupal as a Digital experience platform, one can develop a feature-rich, interactive high-quality website that fulfills all web requirements. It helps companies or individuals to deliver web content to the right user at the right time. Organizations or individuals can create innovative and dynamic websites to engage their visitors. With basic knowledge, one can operate Drupal with ease. Besides, one should also consider that heavy traffic and a slow internet connection can severely affect Drupal websites.
Recommended Articles
This has been a guide to What is Drupal? Here we discussed the understanding of Drupal, its advantages and disadvantages, and how and why we use Drupal. You can also go through our other suggested articles to learn more –