What is Corporate Finance
The financial activities of a corporation comprise Corporate Finance. Corporate Finance is supposed to be a popular domain and highly associated with Investment Banking. It tends to be associated with transactions in which capital is raised in order to create, develop, grow or acquire businesses. It includes all the financial activities such as planning, raising, investing and monitoring of finance in order to run a corporation and achieve its financial goals primarily to maximize shareholders value. Any decision that has financial impact to the business and involves use of money is said to be a Corporate Finance decision. It is applicable to financial concerns of all kinds of firms. The ultimate aim of corporate finance is to make the most efficient and effective utilization of available financial resources incurring the least expenditure. The main sources of corporate finance are debt and equity. Its appropriateness is dependent on the needs of the company (long term, medium term, short term), its risk appetite, urgency etc.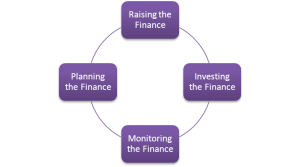 Corporate Finance includes a range of activities; some of them are as follows:
Investment Decisions-  conducting investment analysis and choose the best alternative
Raising Finance- Raising capital through sources such as equity, debt and related securities for the refinancing and restructuring of businesses
Dividend decisions- amount and timing of giving returns to stockholders on their investments
Working capital management- meet the day-to-day credit needs of the firm efficiently
Advisory services in case of Mergers& Acquisitions
Develop financial strategies to implement the finance policies and programs
Career in Corporate Finance
Companies make money through their business, this money needs to manage for a company to stay in business or long, and this is when the corporate finance team comes into picture.
Any individual who wants to make their career in corporate finance would include working for a corporation to aid them in finding money through the right sources to make the business run and grow, undertake mergers and acquisitions, pan for the future requirements of funds and manage the available cash. The primary goal of a person involved in corporate finance is to create value for an organization by effectively planning, creating, implementing and monitoring financial policies and program. The key to performing well in this domain is to have a vision of how and what would make the business successful.
Career in Corporate finance professionals are responsible for managing the business capital needs- right from forecasting where to get the funds from, how and where it will be spend to ensure maximum returns at least costs to investing in own business internally or undertake acquisitions to acquire. These activities involves working in teams, opportunities to travel and meeting lot of people, tackle finance problems effectively for which you would be paid quite well.
Skills required Career in Corporate Finance
Problem solving skills- These skills are put to test the most as responsibilities can come fast where problems could arise, you don't have time to complain but arrange solutions for them quickly using your intuition and analytics.
Adaptability- the situations keep changing and one needs to be up with them quickly. There could be lot of ambiguity involved in the decisions along with nature of tasks that keep changing rapidly.
Computer literacy- one has to be comfortable working with spreadsheets, making presentations, data management tools etc. in order to work in this field.
Patience- people often complain about the low level of work that they are offered when they enter this field but one needs to be patient learn from even the smallest tasks and master them.
Leader- in order to make a mark in this field one has to be a good leader as majority of the work would involve team. One has to take initiatives as this is what the employers would be looking for.
Risk management- one should have the strategies and models in place in order to hedge risks, currency fluctuations to save the business from any risks of loss.
Interpersonal skills– one has to be good with people and communicate well with them in order to get their work done effectively.
Options Career in Corporate Finance
Below are some of the career options in the field of career in corporate finance:
The main responsibility would involve financial planning, raising capital, cash management and acquiring and disposing of assets. Here the analytical and leadership skills would be put to test.
The responsibilities involve determining financing needs, analyzing capital budgeting projects, financial planning, working on budgets, implementing financial plans and policies and a lot more asks.  It is considered to be a challenging domain requiring broad understanding of the finance concepts.
This position would have responsibilities such as the create policies for credit to suppliers. This job requires knowledge of the business customers and ability to analyze accounting statements.
A cash manager has to ensure cash availability for daily needs, use excess cash for investment, meeting credit needs etc. This job requires good negotiation skills and perfection.
Responsibilities would involve financial planning, accounting, financial reporting and cost analysis and may require projecting the company's financials and costs. This job would require extensive accounting knowledge.
Pre-requisites in Corporate Finance
Corporate Finance is a field that requires strong analytical and quantitative skills, one has to be good with numbers and have knowledge of the factors the affect the company's finance. One should enjoy solving problems, analyze the numbers and critically think on what would bring the best results for the business. The decision making should be comprehensive taking into considerations all the aspects of finance such as the expenses, income, profits, investments etc.
It requires perfection and attention to even the smallest details. It becomes important to be aware of the industry you are working in, competitors, their strategies that could potentially affect your decisions and interest of the firm. You should be in apposition to effectively analyze business situations and provide suggestions on a course of action.
If you're a student and work in this challenging and vast field of corporate finance, you need to undertake relevant undergraduate programs in accounting, finance, and economics. Internships in related field would help a lot to get a first-hand experience on the same and have an edge over other peers.
Many companies hire undergraduates with related education and experience and MBA's for internships and training programs, if this is the field of your interest pour your heart out and give your best to prove yourself to get a great opportunity to move up the ladder. Rich experience with an investment bank can lead to great career opportunities as well.
For candidates looking to make corporate finance as their life long career need to have advanced educational degree and certification such as the MBA, CPA, and CFA to work at more senior levels.