Definition of Corporate Finance
This is an outline of Career in Corporate Finance. Corporate finance is one of the crucial parts of finance, which deals with capital budgeting, financing, and return of capital invested in the business, including dividend decisions. In other words, we can say that corporate finance is nothing but a branch of finance whose objective is to increase the value of shareholders' wealth through the implementation of financial strategic planning with the balancing of internal and external risk. So a professional in corporate finance is primarily tasked to deal with various sources of funding, budgeting, and analyzing and monitoring fund investors.
In the present scenario, a career in corporate finance becomes a lucrative option for decisive growth in career path and remuneration. It is not so vibrant at the past when a professional gets an opportunity for experimentation, analysis, allocation, and measuring optimum utilization of various resources to maximize the owner's funds. The following essential qualities are considered for a potential candidate in this field –
Education Required for Making a Career in Corporate Finance
To be established as a finance professional or to move up the ladder in the career path, one can do CA (Chartered Accountancy), ICWA (Cost and Management Accountancy), or an MBA (Masters of Business Administration) with a specialization in finance. Still, there are various certificate and training courses provided by some renowned business schools and universities all over the world covering this particular niche of finance. But the cost of participation in those courses varies from one school to another, and that is why the aspirant should consult the institutions individually to obtain specific information regarding tuition fees and faculties. Some of the acclaimed corporate finance courses are as follows:
Chartered Financial Analyst (CFA)
Certified Financial Planner
Chartered Institute of Management Accountancy
Chartered Accountancy from the Institute of Chartered Accountants in England and Wales
Financial Risk Management
Certified Public Accountants (CPA)
Bachelor of Financial and Investment Analyst
Company Secretary from the Institute of Company Secretaries of India
Financial and Banking Analysis certification
Post-graduation diploma in financial management
These courses give an edge to the career path considering the real business situations and challenges.
Career Path in Corporate Finance
The professional who has aspired to establish anyone in the field of corporate finance must have strong analytical skill along with problem-solving and commercial awareness; these are the key ingredients that companies basically search for in a candidate. The job of corporate finance professional encompasses four crucial responsibilities, including identifying the requirement, taking strategy, allocating financial resources, and monitoring the investment to achieve the goal of business.
The career path of a professional in corporate finance is highly lucrative as it pops up mammoth learning opportunities. The professionals of this knowledge domain demand high respect in the corporate world as they handle areas such as business valuation for listing in the stock market, dealing with mergers and acquisitions, issuing debentures and bonds for raising debts, capital structure decisions, cross-border transactions involving international financial management, managing currency and it's volatility, strategizing various risk management measures such as currency hedging, swaps including interest rate swaps and working capital management.
Job Positions or Application Areas
There are many career options for an enthusiast to become a corporate finance professional. Some prominent position which is highly demanding is as follows.
Chief Financial Officer ( CFO)
Investment Manager
Fund Manager
Financial Analyst
Cost Analyst
Treasurer
Controller
Credit Manager
Benefits Officer
Investor Relations Officer
In today's business world corporate finance encapsulates various roles in a diverse range of industries like banks, corporates, institutions, PSU and public accounting, and various consulting firms. So as a student or a professional, you have to be cautious about your strengths and interest to choose the right direction in your career path. A professional can also become an entrepreneur in consulting role by opening up his own firm armed with a certificate of practice from any of the reputed institutes such as CA, ICWA, CFA, CPA, etc.
Salary
The professionals of corporate finance are renowned for being highly paid, though it differs from company to company or industry-wise depending on the intricacies of policies, experience, and qualification of the employee and the organization structure, and ecosystem of the industry. In India, people who are in this profession can expect to start earning at a minimum of Rs.50000 – 60000 per month, and with experience can go beyond Rs.500000 per month approximately associated with some incentives or bonuses or attractive perks.
Career Outlook in Corporate Finance
The prospect and demand for a career in corporate finance are highly challenging. In tough competitiveness, fresh talented young financial advisors are highly acclaimed for taking key decisions for the growth of a business. It is anticipated that the growth of financial jobs is steadily faster than others due to the growing need for various financial decisions required in the market owing to a highly complex market structure. It is estimated to grow at @11 percent from 2016 to 2026, faster than the average of other occupations. The advancement of new technologies like artificial intelligence, cloud computing, and robotic process automation may obsolete some kind of mundane accountancy jobs; but new kinds of opportunities will emerge with evolving market demand and the introduction of new technologies. So the future workforce in finance must have the skill to combine technology, knowledge, emotional intelligence, and interpersonal people skills. It is forecasted that the priority of future finance functions will take a new dimension, as provided in the below chart.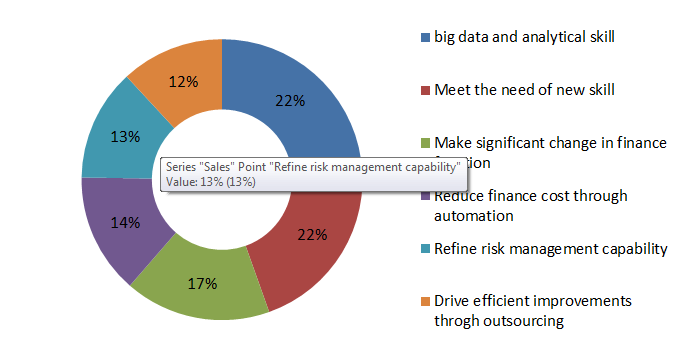 Recommended Articles
This is a guide to Career in Corporate Finance. Here we discuss the Education, Career Path, Job Position, Salary, and Career Outlook in Corporate Finance. You may also look at the following article to learn more –