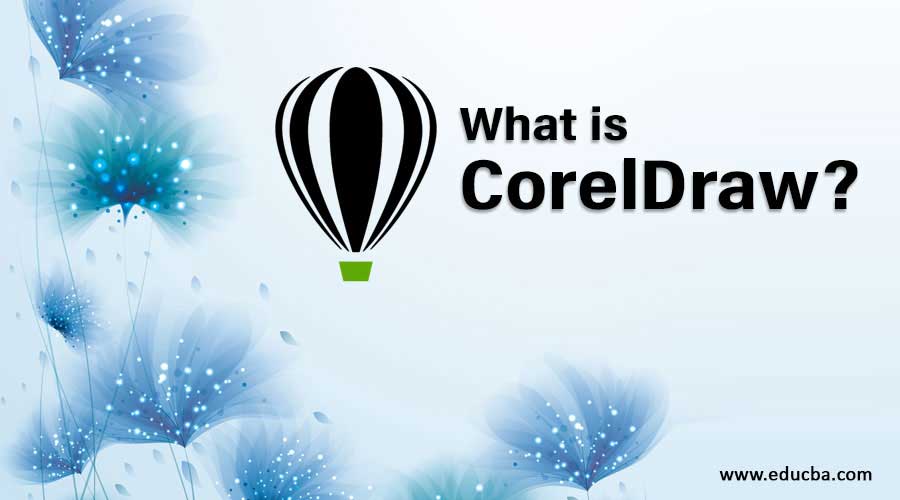 Introduction to Coreldraw
In this article, we will see an outline on Coreldraw. It is the ultimate digital 2D graphic designing solution. Simple! Corel Draw is a graphic designing software developed by Corel Corporation to develop vector graphics to put it in a more formal definition.
Online and print adverts, product designing, architectural layout designing, online sketch artists in various fields and almost all those pretty visuals that we see around us whether on phones or magazines, have been, at some point or another, designed in Corel Draw.
Tools in CorelDraw
So a typical CorelDraw window looks like this.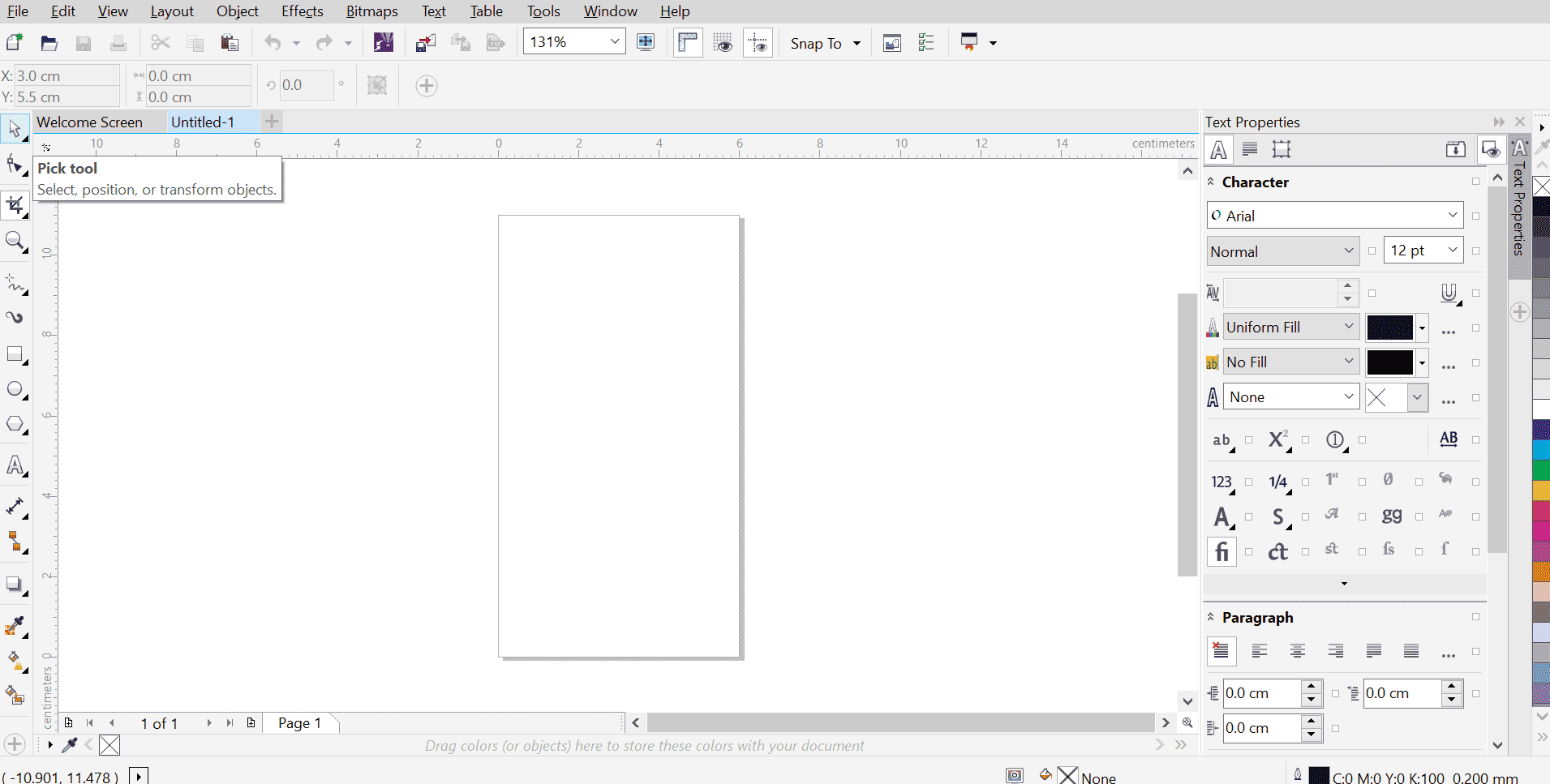 This is where you will find the Toolbox.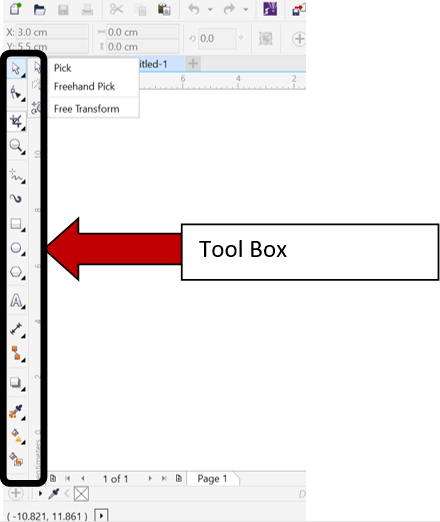 There is also a Tool Drop Down Menu in the Menu bar, but pretty much all the important ones are covered in the ToolBox.
As you select each tool, it will further have its drop-down options, and also, they will also display their properties singularly in the Tool Bar below the Menu Bar like this. Let's scout through each tool first.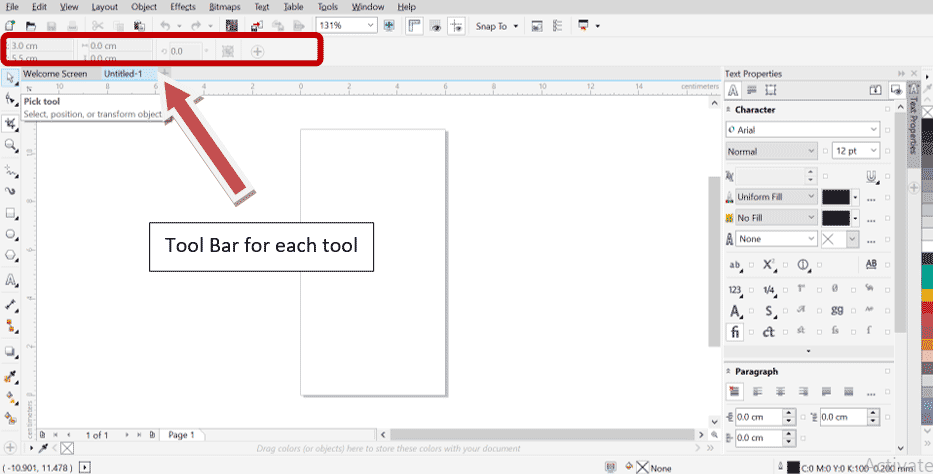 Pick Tool: It is actually a select tool and behaves like the Move Tool in Photoshop, to the tool's bottom right corner, you will find various options like freehand pick and free transform. These options let you resize the image that broadens it or narrow it or even create a mirror image with a mouse.
Shape Tool: On the selected image, shape or even text, this tool will give nodes and handles. So once the nodes are selected, that part of the object can be curved into different textures like a smudge, smear, twirl, etc.
Crop Tool: As the name suggests, it will help trim the selected image, shape or text. It will also let you cut the image like a knife (divide the shape into different slices that can be separately edited) and even erased (using Eraser).
Zoom Tool: Let's you zoom to any minute part of the shape or text that is being created or edited so that the designer can correct the discrepancies accordingly.
Freehand Tool: This tool is where most of the magic happens. This tool has a number of drawing options that let you create and draw any design. So this tool plays a very important role in the first stage of graphic designing.
Artistic Media Tool: This tool is like a freehand brush or spray or a pen. So in case, you wish to create Calligraphic Text or Graffiti, this tool will be useful.
Rectangle Tool: This tool will help create the shape of a rectangle. It also has an option of 3 point rectangle. This only means a quick rectangle can be created by simply dragging the mouse once two nodes of a rectangle are drawn.
Ellipse Tool: This tool lets you create an elliptical shape like a circle. It also helps with quick shape making using 3 points Ellipse like the one in the rectangle tool.
Polygon Tool: Basically, the polygon tool is used to create shapes with more than 4 sides. But Corel Draw lets you create a number of readymade shapes like a banner shape, star, spiral shape, arrows, graph paper grid under the same heading.
Text Tool: The text tool here will help create text characters and text boxes. You can edit them using the properties and formatting options displayed in the toolbar. You can also directly add a table with this tool in case you need to create text in a tabular form.
Parallel Dimension Tool: A lot of civil engineers and architects use Corel Draw. So here's a ready tool to display dimensions in various shapes like this.
Straight-line connector Tool: This tool will help connect different sides in any shape between sides or right angles while keeping the sides separated.
Drop shadow Tool: This is the effect giving tool. It will bevel, emboss, drop shadow, extrude, etc., any part of the selected shape or the text that is being designed.
Eye Dropper Tool: This is the usual color picker tool. The cool part here is the Attributes Eyedropper. So you can also pick thickness, size and all other effects and attributes of the shape and directly copy it into your shape.
Interactive Fill Tool: This is pretty much like a normal fill tool, but options like gradient and all can be applied here, hence the name. This also has a Mesh tool. This tool will create grids around the shape, and then each grid can be colored in case complex coloring or shading is required, for e.g., in a fruit or a scenery painting.
Smart Fill Tool: This tool will help fill color in a shape that is a closed path. Very quick to use. Very similar to the paint bucket tool in MS Paint.
Features of Corel Draw
One of the major features, in my opinion, is that it provides a friendly UI that can be learned to use quickly, so for beginners can expand their creativity, and professionals can make some awestruck designs and layouts. It has live versatile tools like node shaping and mesh fill etc., which come in handy almost everywhere in designing. Being a vector graphics software does not pixelate its designs which guarantees high-quality printing. Hence many high definition printers are programmed to accept Corel format files for printing.
Other features include accepting many file formats to edit, capable of running on all processors and so on.
From a user's perspective, CorelDraw offers an environment to design with ease. All printing media, live sketching, product designing, etc., can be created with equal creativity and accuracy to detail.
Conclusion
While learning graphic designing, Corel Draw is easier than other complex software and still more useful than most. One of the good things is that they constantly update the features, so there is always something more exciting in-store.
Recommended Articles
This is a guide to What is CorelDraw? Here we discuss the Introduction and tools used in CorelDraw along with its features. You may also look at the following articles to learn more –