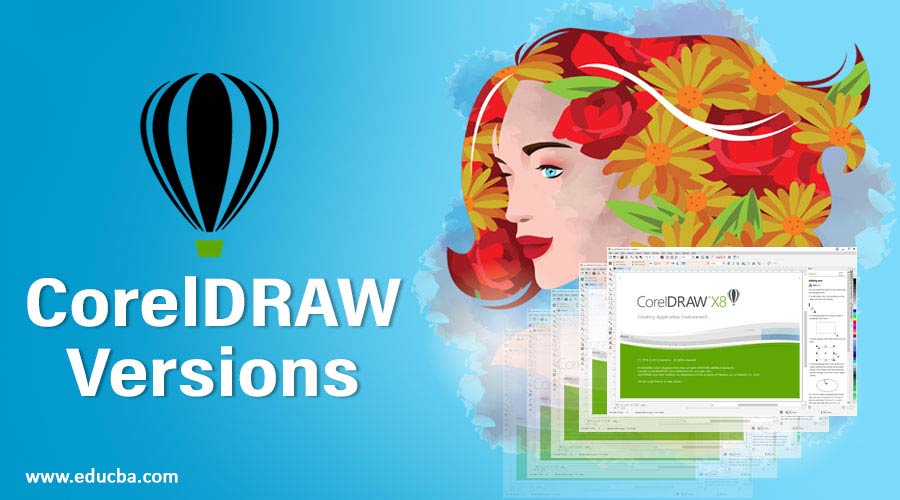 Introduction to CorelDRAW Versions
The first version of CorelDRAWreleased in 1989 called "CorelDraw 1.0" brought a revolution in computer graphics, developed by Arseng Antonio and Vicky De Guzman. A few years later, version 3 emerged as another milestone with bundle softwares together. Overall, 21 releases/ versions introduced from 1989 until 2019.
Versions of CorelDRAW
Below are the few versions and their features for CorelDraw:
Version 1.11 (1990): This version includes support to import/export AutoCAD DXF added for working with 2D and 3D designs.
Version 2 (1991): This version included Print Merge for merging text files with graphics files and printing the result. Additional features include Envelope, Blend, Extrusion and Perspective tools for distorting and blending objects and shapes.
Two Years Later (in 1992): Corel Corporation came up with a bundle version, "CorelDRAW All-in-One graphics suite", which includes the below softwares.

Corel Photo-Paint ASP (Bitmap editing)
CorelSHOW (Creating on-screen presentations)
CorelCHART (Graphic charts)
Mosaic and CorelTRACE (Vectorizing bitmaps)

Version X3 (2006): This is the first vector software included with a new tracing engine called "Corel PowerTRACE", which converts bitmaps into vector graphics; another important feature in this version is that it has vector object cropping; in previous versions, it is only possible with bitmaps.
Version 4 or X4 (2008): This Updated with"live-text formatting" shows previews of text attributes before applying them. Other additional features like interactive tables, Camera Raw support for 300 cameras, independent page layers.
CorelDRAW 2010 Version or X5: This released with Corel® CONNECT – a full-screen browser that lets you peruse the suite's digital content and search your computer, local network, or an external storage device to quickly find the perfect complement for a design, enhanced Mesh tool with transparency options.
CorelDRAW 2012 Version or X6: This enhanced &updated with Advanced OpenType Support, and it includes four new creative Vector Shaping tools for refining your vector objects, listed below.

Smear: shapes an object by pulling extensions or making indents along its outline.
Twirl: apply twirl effects to objects.
Attract/Repel: shape curves by attracting nodes or by pushing nodes away from other nodes in close proximity.

CorelDRAW 2014 Version or X7: These highlighted features are Quick Customization, Fountain Fills, Font Playground. A new feature like "Align and Distribute Docker", which gives you easy access to all available alignment options so that you can position objects with precision. Another important feature is "QR codes" with this; you can create unique, artistic, and scalable QR codes by adding text, colors, and images.
CorelDRAW 2016 Version or X8: This updated with features like font List Box, Enhanced Knife Tool, enhanced photo-editing features. Added Support for Ultra HD 4k displays and Real-Time Stylus (RTS) support; below are additional features included

Selecting Adjacent Node: You can now select adjacent nodes on curves by using the Shape tool while holding down Shift.
Drop shadows with Gaussian Blur Feathering: You can create realistic drop shadows that have feathered edges.
CorelDRAW 2017 Version: This updated with features like Customize curve preview and editing, LiveSketch tool, Custom node shapes, Prominent interactive sliders

LiveSketch™ Tool: This tool uses an Artificial Intelligence technology called a neural network that gives users an entirely new way to bring their vector designs to life
Touch-friendly UI: Tablet mode support that makes it easy to sketch and make easy adjustments using touch or a stylus support
CorelDRAW 2018 Version: This released with a bunch of additional features like Symmetry mode, Block Shadow tool, Corner Control in Dashed Lines, Outlines, Pointillizer, Impact tool, Pointillizer effect, and PhotoCocktail effect.

Symmetry Drawing Mode: This Lets you create a range of symmetrical designs, from simple objects to stunning mandalas and complex kaleidoscopic effects.
Block Shadow Tool: It lets you add solid vector shadows to objects and text.
Impact Tool: It has two modes, Parallel for adding zoom lines that signify motion and Radial for adding an explosive burst of energy.
Pointillizer Effect: It can generate high-quality vector mosaics from any number of selected vector or bitmap objects using the Pointillizereffect.
PhotoCocktail Effect: This effect lets you create stunning photo collages more easily.

Latest Version of CorelDRAW: This was released in 2019 March, Non-Destructive bitmap effects.

Non-Destructive bitmap effects: It displays a list of all effects applied to a selected object and lets you add new effects and delete existing ones in a couple of clicks.
Pixel-perfect Workflow: A series of new features take the guesswork out of creating crisper icons, dashboard images, and web graphics.
Arrows and Dimension Lines: Projected drawing enhancement provides you with better views of design components and more desired results. Arrowheads of regular and dimension lines now project with the lines when you draw on a projected drawing plane.
New Objects Docker: This new feature "New Objects Docker" included in Corel DESIGNER, DRAW and PHOTO-PAINT enables you to work smarter and faster by providing you control over the structure of a document and its components

Line Style Sets: Support for S1000D-compliant line style sets, including Thick line, Medium line, Thin line, Center or no line, are now accessible from the style of the object Docker or can be applied using the keyboard shortcuts.
New Shortcuts and Modifier Keys
Shortcut (A): You can Split objects with the Knife tool, and you can toggle between cutting modes, 2-point line, Freehand, or Bezier.
Modifier Shortcut Key (W): This lets you move an ellipse or an ellipse within a group along its thrust axis.
Shortcut (Ctrl+Shift+V): This lets you paste objects in the center of the viewable area of your drawing so that you do not need to zoom out and pan to find them.
New! Find and Replace Docker: New Find and Replace offers a straightforward, intuitive interface that lets you locate drawing components and change their attributes faster than ever.
Conclusion – CorelDRAW Versions
CorelDraw lets you create a new design rather than working on pre-existing content. If you wanted an image with no change in resolution while zooming in or out, this is the right tool. The main use of this software is in Print Industry for Logos, Art, Comic Art, etc.
Recommended Article
This is a guide to CorelDRAW Versions. Here we discuss the Introduction and the prominent versions of CorelDRAW in detail with its features. You can also go through our other related articles to learn more –