Updated June 23, 2023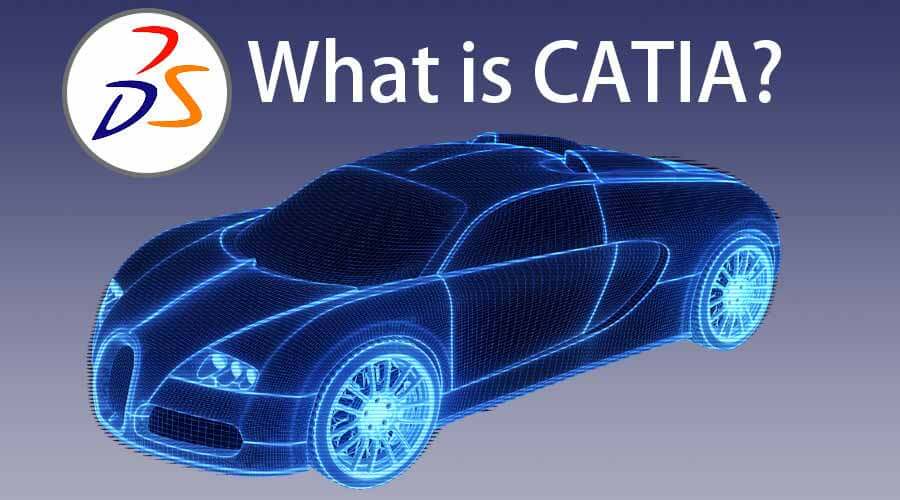 Introduction to CATIA
CATIA is the product design software developed and created by Dassault Systemes. This is a multinational software company based in France. It is a globally and widely used software that delivers 3D design, Computer-aided engineering solutions, PLM, and Computer-aided manufacturing solutions. Manufacturing industries and Original Equipment Manufacturers (OEMs) commonly utilize the software to enhance designing, analyzing, and managing new products.
Understanding CATIA
It encourages product designing and user experience by involving several perspectives in product design creation and allowing multiple options to enhance their default tools throughout product development. Thus, this software best serves industrial and creative designers, system architects, and mechanical engineers. This software also provides a 3D design atmosphere that allows social and online sharing of product designs and collaborations on product modeling.
Industries use Product Lifecycle Management (PLM) as a benchmark set to control revolution in engineering and minimize manufacturing costs successfully. It behaves as a foundation for a concept, product definition, manufacturing, simulation, and after-market knowledge found within various lifecycle stages of a product. It also provides the general and geometrical data connected to a product's lifecycle stage.
How does CATIA make Working so Easy?
It has integrated a Multidisciplinary approach and a Cross-Discipline Development Platform. An amazing 3D user experience, easy-going workflows, and a Social Design Environment make working easy and simple. It is based on an Advance Surface Modelling structure and has an Unbreakable Relational Design.
It allows users to Model Products according to their real-life behaviors. It also helps design electronic, electrical, and distributed systems. Furthermore, we have designed the software's graphical user interface to be user-friendly, surpassing the usability of other 3D programs. Each tool and command in the workspace is specific and easily found.
What can you do with CATIA?
The disciplined system, sketching and rendering technology, multi-platform development, market compliance, engineering insights, and active collaboration find/mainly find their usage in it. It is used widely by a variety of industries. These industries are automotive, aerospace, defense and industrial equipment, plant design, consumer packaged goods, architecture and construction, process power, petroleum, and other services.
In the Aerospace industry, CATIA is used in the following –
It is used for the development of the Indian Light Combat Aircraft
It is also used in European aerospace Airbus.
BAE Systems uses CATIA
P3 Voith is using CATIA V6
Working with CATIA
It is a powerful software application, and it may take some time to master the program. Being a gigantic program, it isn't easy to use but, at the same time, beneficial for numerous purposes.
Some of the benefits are –
Product Design & Styling: This product design program offers updated surface modeling abilities to industrial and transportation designers. Innovative designers can access the tools that help them achieve and explore fundamental ideas. It also supports a unique 3D sketching technology that helps the designers import 2D sketches.
3D Atmosphere: It has a built-in mutual 3D environment that allows users to take part in the design process anytime diligently. Users can access and view the designs of the products through the 3D dashboards. The designers can share their workings and enhance their designs by collaborating with different people around the globe.
Multidisciplinary Approach: It provides a multidisciplinary approach to product design and creation. It fulfills the specific requirements of several people to upgrade the concept, process, and development of new products.
Market Acceptance: It ensures that the engineers will adapt to the marketing rules, fundamentals, and demands while reducing product development costs.
Advantages of CATIA
It saves time and money. The software has built-in modification management abilities that help in automatic updates. This technique reduces the effect of changes in the manufacturing process. Through these automatic updates in the initial phase, the user saves time and money without restarting the process from the beginning.
The geometric specifications of composite parts can make the creation of these parts complex, maximizing the risk of errors. But, It helps the user to control multiple part geometries. These include the core-stiffened parts as well.
Predict the behavior of parts with complex surfaces and allow modifications where needed.
Required Skills
It is a computer-aided three-dimensional interactive application.
Prior knowledge of CAD, CAM, and CAE will be useful for the users.
Also, It is almost based on PLM software solutions, and basic knowledge about the subject will give positive results while learning the software.
Why Should We Use CATIA?
Some uses are exclusive, and we cannot find those in any 3D software. These uses are –
It has a wide array of tools. If the user has the right licensing, they do anything, such as sheet metal design, surface design, mechanical design, or assembly.
Designs can be modified using parametric capabilities.
Design interfaces that maintain contextual design can utilize publications that establish connections between models and construct intricate design interfaces.
It provides the ability to visualize products with ease.
CATIA Scope
People commonly call CATIA a 3D Product Lifecycle Management software package. It has a lot of scope in numerous industries around the globe. It helps in the process of product development. This process includes development, concept making, designing, engineering, and manufacturing. It is used in mechanical engineering, system engineering, electrical systems & fluid systems.
Who is the Right Audience for Learning these Technologies?
CATIA is a gigantic application that anyone interested in product designing, 3D design, and 3D digital mockup and users passionate about developing and creating new products can learn. The software incorporates various approaches in designing and developing products that allow users to use updates and advanced tools. It is handy for system architects, engineers, and industrial designers.
How will this Technology help you in Career Growth?
This technology differs from other software, offering advanced yet simpler tools and commands. The skills it teaches will benefit users to gain experience and knowledge and help them boost their careers and future prospectus.
Conclusion
In conclusion, CATIA's power deals with large equipment and assemblies, and its interface helps create complex parametric models. Its surface modeling tools are an add-on to its features. It is a strong modeling tool and very well-suited for freshers. It is the best-in-class software for expert users as well.
Recommended Articles
We hope that this EDUCBA information on "What is CATIA?" was beneficial to you. You can view EDUCBA's recommended articles for more information.