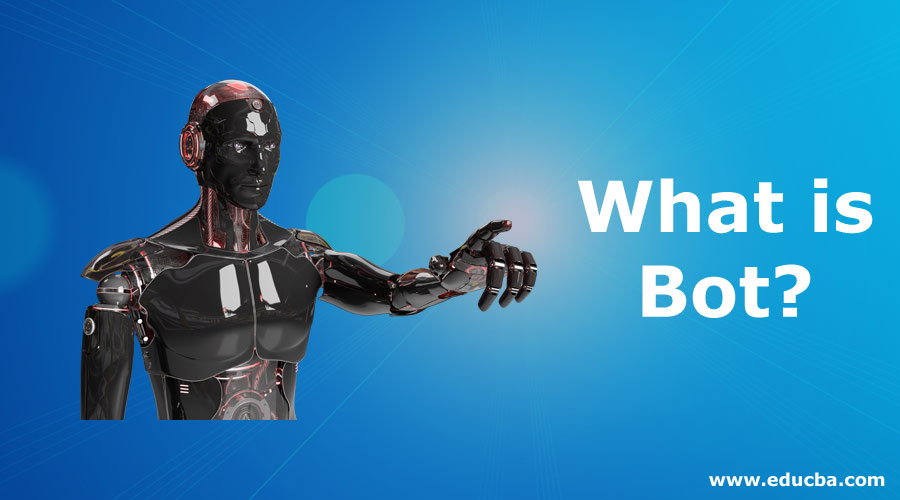 Introduction to Bot
With Bot, one gets to understand about a software application. Such an app runs automatically to perform some tasks when connected over the internet network. The bot is compatible with both types of tasks that are repetitive as well as simple. The performance rate is much higher than the human capacity. In the web crawler, bots are used largely. When performing the web crawler activities, there is an automatic script that helps to analyze the information available on the internet servers at high speed compared to human work.
What is Bot?
A bot is defined as software that works automatically to perform some tasks. It has failed human speed. With their help, one can walk over the internet network when searching for some newly developed sites. In the case of a denial-of-a-service attack, they work as an excellent option. It is also regarded as a 'robotic device' that runs with software.
Understanding Bot
In the current era, the bot is becoming a useful technology. It has become an easy way to perform tasks over the internet. Such tasks deal with API software. When looking into detailed understanding, it is crucial to learn some concepts associated with it.
Brute force work: Many of them are present, which are helpful in specifically crawling through the web pages.
Decision trees: There exist some other bots which are just acting like a decision tree. In such a condition, the user holds the navigation. Such navigation remains with limited alternatives.
How does Bot make Working so Easy?
The bot is a great technology that has replaced human work. Such an application has made lives much easier.
It is helpful in several tasks, which are written below:
Performing automated tasks: This is one of the greatest advantages presents when using the bot. It is easy to make any order and get it delivered without the presence of any human conversation.
Easy conversation: With Chatbots, one can easily start a conversation in order to perform any particular or repetitive task.
Acts like a human: It is a great feature of using bot technology. There exist some bots which are specifically designed in such a manner. When you start a conversation, you would feel like talking with a human.
What is the Use of Bot?
Bots are an effective tool for multiple things. It is an easy interactive tool with several kinds of software.
Reach outside world: Bots can reach the outside world and perform tasks on behalf of any user.
Productive performance: It makes the human task easy and helps to reach productive performance with high speed.
Fast process: It is one of the fast technologies, which has left behind the human time speed to perform the searching task.
Performs repetitive task: With a bot, it is easy to perform a task that is repetitive. The app is less time-consuming.
What can you do with Bot?
Any user would get the most benefits while using bot technology. With such a beneficial tool, the task becomes easy and simple.
Major functions performed by Bot includes:
Access information: With the help of Chatbots, it is easy to access information without much time. It is a tool that can be utilized efficiently to access vast information.
E-commerce channel: Many times, start-up companies use it as a channel for performing e-commerce activities. Such activities include group purchasing records and sales analysis.
Working with Bot
When working with the bot, it is important to know some concepts linked with it.
Bot store: It is like the 'App Store', which is helpful to check the bots present. When a user finds the required bot, then it can be easily installed from the bot store.
Search-engine: Many companies usually consider using a bot as a search engine mechanism. It helps to find the bots and arrange the time easily. After the arrangement, they can be easily ranked.
HTTP: Bot receives the activities from its framework with the help of HTTP.
Advantages
Many companies have found it as an effective tool to conduct several activities.
Fast processing: With bots, it is easy for every enterprise to enjoy fast processing. When using it on websites, it can easily have a conversation with many customers at a time with fast replies.
Not so expensive: It is not so costly to the enterprises as compared to hiring a pool of workers.
Increase customer satisfaction level: Any enterprise using a bot can get additional customer satisfaction. Chatbots are present to work over huge hours without demanding any sleeping hours.
Prevent errors: When using the bot, it is possible that the errors won't occur. With the application of bots, customers will get the right answers.
Why should we use Bot?
Mostly, well-featured technology runs in every industry for a long time. Along with it, the changes and advances add more improvement to it. Many enterprises rely on the bot since it is a beneficial tool.
There exist some reasons which make it a demanding tool which are:
It is less costly and simple to understand.
There is no need to install the bots. They are present as a web page source to the customers.
It is easy to share with other people to use it as a chat platform.
It decreases the use of human labor.
It comes with several advancements to give a better performance.
Scope
Presently, bots are gaining wide popularity among every type of organization. They existed with scientific logic in the past years. At present, it has gained much importance in enterprises. Such popularity has come from advances in artificial intelligence and machine learning.
Increased awareness: Many enterprises are adopting it as fast technology. It is helpful in several aspects such as security, marketing, communication, branding, and so on.
Based on the future: With several advancements, it has entered into the field of management within an enterprise. In the coming future time, it will be a crucial tool present in every industry.
Why do we need Bot?
With such technology, several start-ups and companies have experienced major gains in their business activities. This technology is widely needed in several tasks.
It helps to determine the dedicated development facility.
It has come up with several advances in the artificial learning concept.
With teleparadigm, several terms can be released for using bot technology.
It helps in bringing a greater level of transparency in the operational tasks.
It is required to manage the available resources with complete control.
It helps in better investment activities.
How will this Technology help you in Career Growth?
This technology conduct task easily and in a fast manner as compared to human activity. In the near future, the advances in bot technology's programming languages would raise its scope as a career option. One can score high in life with the application of such technology.
There exist some reasons to prove that it is compatible with an advanced career growth option which are:
It is a technology that is replacing human tasks.
It has a good flow with the timings to perform tasks.
It helps to reach a huge customer satisfaction level.
Conclusion
In this article, there is a detailed description given about every aspect associated with the bot. In order to go through an overview of them, it is an article with all the information given about them.
Recommended Articles
This has been a guide to What is Bot? Here we discuss why we should use it and why we need it, its advantages, and its scope. You can also go through our other suggested articles to learn more –