Updated April 6, 2023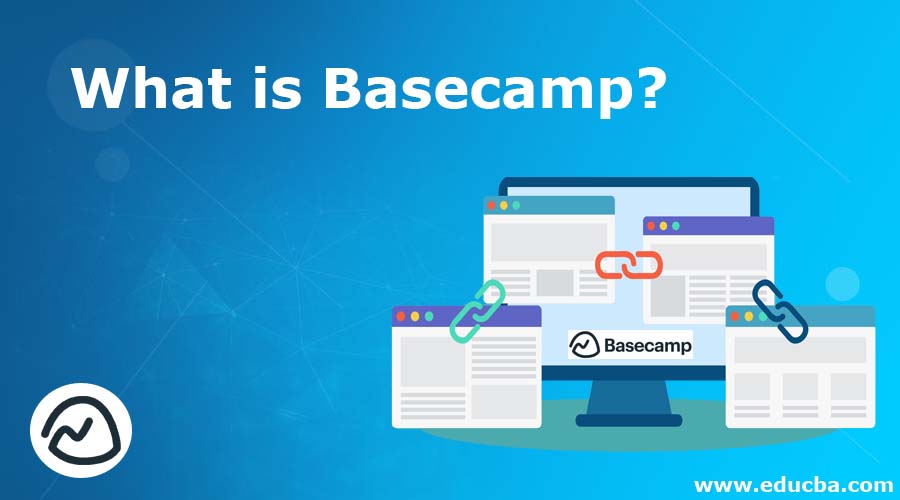 Introduction to Basecamp
Basecamp is a tool that works on the philosophy of "real-time communication" and serves the proverb of "being on the same page" almost literally. With features of having to-do lists, calendars, file sharing capabilities, it avoids the traditional project management ways and helps users incorporate the new style of project management tasks. With the software, teams can easily keep track of the priorities and items which are actionable. The software is such that it allows the user to access it not only through the browser but also through the phone. All in one place, it ensures that the user doesn't have to go anywhere else for managing the product by not only organizing but also helping you and your team to collaborate even more effectively.
With an upgraded one also gets an additional feature that helps ease the aspect of dealing with clients. With the addition of your client into space and allowing them to have a limited view of what's in place makes them also feel like an integral part of the work and provides a sense of belief on us because of the pure transparency, we can provide through this tool to the clients. Again, this a feeling of keeping the clients "on the same page".
People who have used Basecamp have a specific reason of why they love Basecamp, and some of the key features which users have talked about in the reviews are, one can set or comment or even assign tasks as granular as to a specific file and once the comments are pushed in Basecamp automatically notifies to the owner about the comment. Now one would eventually think that all these notifications would be sent through mails as there will be quite a back and forth of the changes but wait! The conversation happens over in a skype chat or even over the phone. It makes you feel like you are chatting about your work, and that's what people say makes it even interesting.
Why we Use Basecamp?
Basecamp is widely used in organizations looking into the aspect of the ways it helps in streamlining the business. There 3 ways in which Basecamp is one of the most reached out tools, and hence below are the pointers on why we use Basecamp.
We have all the communication in one place: For example, let say one person in the team needs to share the dashboard he has been working on for quite a long to get inputs and feedbacks. So instead of sending a mail and then getting a reply back in hundreds of emails, he can utilize Basecamp to upload the Dashboard file, and the corresponding stakeholders get notified, and they are ready to view that along with having the capability to leave a comment on the work. What's more useful for the person who has built the dashboard is that he would no longer have to scorch through 100s of emails and also have the capability to search for a pointer in the list of comments he would eventually receive!
Basecamp doesn't force you to use only the tools it asks to but instead adapts to the tools which already is in place with you and can link with those tools you already have. For example, using Basecamp, you can easily configure your Google Drive, and this will enable you just to make changes in the Google drive only, and that's it! No more additional changes would be required specifically for documents going into Basecamp. From a schedule perspective, it easily integrates with Google Calendar, iCal!
Work with one free Basecamp: For a team size that involves few people and managing less project, one can avail the free Basecamp and get used to the feature even before committing getting something big of an investment!
Features of Basecamp
The above section mentions about the different points on why we use Basecamp, and these pointers are based on the features.
some of the key set of features are:
List of to-do having multiple levels and features: Basecamp well understands the crux of getting a project done, and thus, this feature of having a multi-level list allows you to add a sub-category to a category and assign to a team member and tag a note along!
Co-workers Collaboration: With a new project or maybe even an existing one, the team members can be invited to collaborate on the project. There are different levels of access so that efficient control is still intact even with many people "collaborating".
Restriction on timing for notification: For you to enjoy your personal life, one can switch off the notifications for "outside work hours".
Chat real time: The chat tool is known as "Campfires" is a collaboration tool with chat capability to talk about work-related things and have a virtual time together!
Work on the go: As per your availability, Basecamp provides you with the flexibility to work out of anywhere you like, phone, tablet, or laptop. Super handy! Isn't it?
Basecamp provides you with the capability to hold discussions as well within its suite. Discussion topics can be created and made available to the team members to put forward their viewpoint, making it an efficient method of brainstorming!
Project Calendar: The project calendar is easy to manage out of Basecamp and sync up with the Google Calendar or iCal or Outlook calendar, making you super-efficient in terms of track!
Advantages
So here we formally put down the advantages:
A single place to store files and documents.
Transparent pricing system.
Customizable on/off notification option.
Efficient communication system.
Transparency in terms of client accessibility.
Easy creation of hill charts.
Easy integration with existing tools!
Conclusion
With so many of testimonials for this tool, it surely is one of the best project management tools in place till now. Although some other tools are catching up for sure, Basecamp remains the favorite among many users because it's super easy on the eyes in terms of visualization. For a manager managing multiple projects, it just looks like the top of the desk neatly arranged! Thus, allowing the manager to just focus on more important things rather than struggling around with managing the top of the desk.
Recommended Articles
This is a guide to What is Basecamp. Here we discuss an introduction to Basecamp, its uses, some key features, along the advantages. You may also look at the following articles to learn more –