Updated July 26, 2023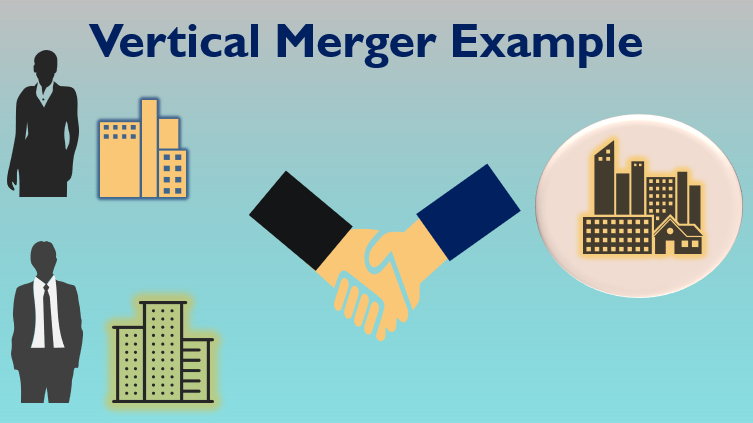 Introduction to Vertical Merger Example
A vertical merger is the merger of a company and its supplier. When companies produce different services and products along a value chain, and their merger takes place, it is referred to as a vertical merger. Companies carry out a vertical merger for synergy gains. It helps in improving operating efficiency and thus reduces costs.
Examples of Vertical Merger
Let's take an example to understand the Vertical Merger in a better manner. Examples of Vertical Merger are as follows:
Vertical Merger Example #1 – AT&T and Time Warner
Introduction:
2016 AT&T announced its merger with Time Warner in an $ 85 billion deal. Time Warner was a humungous media and entertainment company. It controlled hugely popular brands such as HBO, CNN, TNT, and TBS. AT&T was the world's largest communications company. It was indeed recognized as the largest provider of fixed telephone services and mobiles in the USA. Earlier, smartphone maker Apple had looked at Time Warner for the merger, but the deal did not happen.
Rationale:
Due to the huge distribution of both companies, the merger could reach a huge scale. AT&T could create a robust mobile entertainment business with the growing penetration of mobile phones. It created a powerful entity with a combination of content and distribution. Consumers were shifting away from TV to consuming content on mobile devices. With AT&T owning content, too, it helped in differentiating its wireless services from its competitors. AT&T could bundle content and wireless services. It could also help in delivering targeted advertisements as it had better information on consumer preferences by collecting viewership data. Another advantage was that AT&T could provide cable services at a lower cost because of economic efficiencies.
However, the Justice Department in the USA filed a lawsuit against the proposed merger. The Justice Department argued that the merger would lead to higher prices and less innovation for Americans. However, the merger went through.
Vertical Merger Example #2 – Ikea bought Romanian and Baltic forests
Introduction:
In 2015, the Swedish furniture giant bought forests in the Baltic States, amounting to a whopping 38,000 hectares. In addition, it bought the 83,000-acre forest in Romania.
Rationale:
Wood is one of the most important components of Ikea's products as it manufactures furniture. The merger helped it manage its own forest operations. It enabled the company to have access to sustainably managed wood for the long term. It helped it gain better control of its main raw material, wood. In addition, it helped Ikea to hedge against timber price fluctuations in the Baltic. Another rationale for the decision was that it enabled it to diversify its assets, which helped it in the long-term goal of achieving resource independence. The company's goal was to increase its sales to $55 billion by 2020. This decision would help it achieve this goal.
One of the concerns with Ikea's decision was its environmental impact and some encroachment concerns. Before this decision, Ikea was banned from cutting trees in Russia for a brief period. Hence, Ikea laid special emphasis on allaying these concerns by agreeing to manage wood sustainably. It said that it would take extra care to protect the environment and ensure the welfare of local communities.
Vertical Merger Example #3 – Walt Disney and Pixar
Introduction:
Walt Disney acquired Pixar Animation Studios for $7.4 billion in 2006. Pixar was an innovative animation studio and had talented people. Walt Disney was a mass media and entertainment company.
Rationale:
The merger turned out to be a successful and strategic one. Before the merger, Disney's own animation films were failing. Disney's CEO said that animation was a critical engine for driving growth across its businesses. Pixar designed a slew of successful movies after the merger. These movies turned out to be innovative, with ever-lasting characters that ended up delighting the audience. The merger also helped Disney reduce its competition. If Pixar had ended up in someone else's hands, then it would be extremely negative for Disney.
Disney had a more formal culture, while Pixar was more relaxed. Yet it did not come in the way of the merger. Disney made certain promises to Pixar employees. A year after the merger, it was found that Disney had kept each of its promises. After gaining trust, the merger went smoothly, and Pixar became more open to following Disney's way. Pixar employees were allowed to maintain their own identity as a part of the merged entity.
Vertical Merger Example #4 – Miscellaneous Examples
A Fast Moving Consumer Goods (FMCG) company is heavily reliant on advertising. If it acquires an advertising firm, the advertising firm may be able to produce advertisements with a better understanding of the brand and its message.
A textile company merging with a cotton yarn manufacturer is an example of a vertical merger. It helps the textile company have control over its raw material, cotton yarn.
A merger between an online shopping website and a payments company helps it to increase the number of online shopping transactions with digital payments, as digital payments are more convenient for customers.
Steel is one of the important components of a car. An automobile company merging with a steel manufacturer helps it manufacture its raw materials in-house. Similarly, an automobile company can also merge with a tire company or an automobile battery manufacturer.
Conclusion
A vertical merger is a part of corporate strategy. While going for a vertical merger, companies should carry out proper due diligence regarding its pros and cons. It should properly consider the synergy gain due to the merger. Besides bringing inefficiencies, it helps increase market share, lower costs, face competition, and bring other economic benefits.
However, certain vertical mergers come under legal scrutiny as the entity ends up controlling raw materials. Similarly, it may end up killing competition. The success of the merger depends upon the intent of the company. A vertical merger must be carried out if the advantages of the merger outweigh the costs. Even after carrying out the merger, more challenges come into the picture. The culture of the entity being merged has to adapt to the culture of the merged entity. The merger would definitely end up in success if it is approached in a positive way.
Recommended Articles
This has been a guide to Vertical Merger Example. Here we discuss the Introduction and the top 4 Examples of Vertical mergers, a Miscellaneous Example, and a detailed explanation. You can also go through our other suggested articles to learn more –