Updated July 21, 2023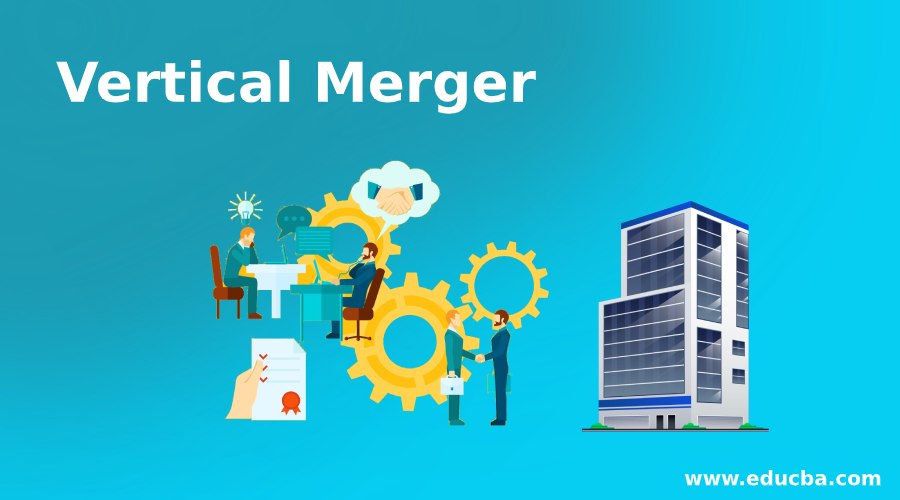 What is Vertical Merger?
The term "vertical merger" refers to combining two or more entities that operate in the same industry but offer different supply chain functions.
Typically, it takes place to gain more control of the supply chain while leveraging synergy to ramp up business. By and large, as a result of vertical mergers, costs of operation decrease while operational efficiency and productivity increase. It is also popularly known as vertical integration.
Explanation
Companies intend to undergo vertical mergers to better control the different stages in the supply chain, including either the supplier providing raw materials or the consumer purchasing its intermediate product. The acquisition of suppliers is known as backward integration, while the acquisition of a buyer/purchaser is known as forward integration.
Basically, a product manufacturing process may include multiple companies at different stages of production, from raw procurement to finished good manufacturing, wherein each entity provides an intermediate product at the end of its production process. Interestingly, all the entities are required to produce the finished good. It intends to improve its profitability and operational efficiency by combining the operations of two or more entities operating at different stages of a certain end product.
Examples of Vertical Merger
Some of the major examples have been discussed below:
In 1996, Time Warner Inc merged with Turner Corporation in a $7.5 billion deal. It is an example given that Time Warner Inc. is a large cable company, while Turner Corporation is a major media company that owns CNN, TNT, etc.
Google's acquisition of Android in 2005 is also an example, as the acquirer was able to venture into the mobile operating industry with this transaction. The value of the acquisition was $50 million.
Live Nation, owner and operator of entertainment venues, acquired Ticketmaster, a retail ticket seller, in 2010. This is also an example of the acquirer can leverage the retail ticket seller's market.
In 2016, Dell Inc. acquired EMC in a $67 billion cash-and-stock deal. Dell manufactures personal computers, enterprise servers, and mobiles, while EMC is a data storage company. This transaction was part of backward integration for Dell.
Reasons for Vertical Merger
A vertical merger allows a manufacturing company to have better control over its entire production cycle, which includes purchasing raw materials from the suppliers and then adding value to the process to produce the intermediate product to sell it to the next buyer in the supply chain. Having control on either the supply or seller side results in a better operational discipline that can boost profitability margins. Some major benefits include the timely and optimal supply of raw materials, more control of the supply chain, and greater output efficiency.
Vertical Merger vs Horizontal Merger
Some of the major differences between vertical merger and horizontal merger are as follows:
It occurs among companies operating in the same industry but at different stages of the supply chain. At the same time, a horizontal merger means a merger among companies that produce similar output and operate at the same level in the supply chain.
The company intends to integrate the operations of downstream and upstream entities in order to gain more operational control without significantly altering the scale of operation. Simultaneously, it carries out a horizontal merger to increase the scale of production, expand the market, and grow the business size.
It improves profitability by eliminating the margins paid to the downstream companies, while horizontal merger results in a gain of market share and elimination of competition.
It provides more control over certain parts of the supply chain, while horizontal merger results in a bigger market share or expansion of product offerings.
Advantages and Disadvantages of Vertical Merger
Below are the advantages and disadvantages:
Advantages
It has several advantages, and some of them are as follows:
The stronger entity receives funds from the weaker entity, which helps reduce its financial constraints, enabling it to have higher debt capacity and increased credit limits to support potential business expansion.
The new entity eliminates some of the strata in the supply chain, which allows it to avoid paying the mark-ups on the raw material and results in reduced operational costs or increased profitability.
It helps improve management quality by replacing weaker team members with more effective and efficient members of the combined entity.
It helps build better administrative and operational capabilities by combining the strengths of each combining entity while evading the problem areas.
The combining entities can build a stronger team by leveraging the available resources.
Disadvantages
It has several disadvantages, and some of them are as follows:
In some cases, the additional costs due to some of the bureaucratic costs can outweigh the benefits of a reduction in operating costs, eventually leading to an increase in overall costs.
There is the possibility that some of the key personnel may not be willing to join the merged entity, which can be detrimental to the very cause of the merger.
In some cases, merging two entities with differences in cultural background and management styles can be very difficult.
Conclusion
So, it can be seen that a vertical merger takes place between two or more companies as a strategic move to improve profitability margin, operational efficiency, and management control. In short, vertical merger focuses on the bigger goal of improving the company's overall operations. So, by now, you must have developed a fair idea about the pros and cons.
Recommended Articles
This is a guide to Vertical Merger. Here we also discuss what vertical merger is, its advantages, and disadvantages. You may also have a look at the following articles to learn more –