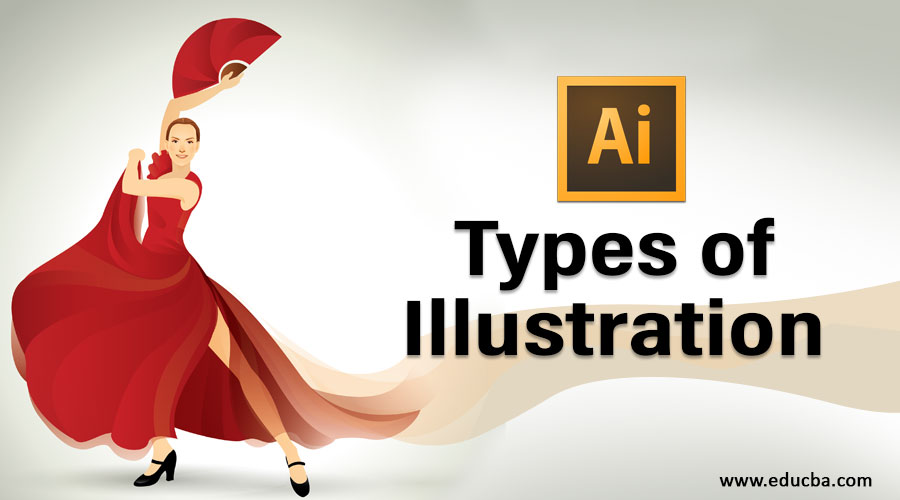 Introduction to Illustration
An illustration is nothing but the expression of our ideas in art, text, different types of graphics in digital media, and many more. We have different types of illustration techniques for making our illustration ideas true. Here in this article, you will see the types of Illustration and their use in the working of Illustration. We have different types of graphics software in digital media for expressing our ideas as illustrations. We will discuss them too in this article for your knowledge.
We have two major techniques of Illustration; both have their different types. The first is Traditional Illustration, and the second one is Modern Illustration. Let us discuss these types.
Types of Illustration
The following are the two types of illustrations explained in detail.
1. Traditional Illustration
We use this technique in the early age of Illustration, and this technique has the essence of our cultural and natural beauty. This technique involves traditional tools and materials, which give it glowing features. The different types of techniques are Woodcutting Illustration, Pencil Illustration, Charcoal Illustration, Water Color Illustration, Acrylics Illustration, Pen & Ink Illustration, etc. We will discuss some of them here one by one.
Woodcutting Illustration: You know very well what woodcutting is. In this type, an artist of this illustration used to engrave the printing image on the wood with the help of a hammer and chisel. The unprinted area remains as it is without removing any chips of wood from there. After that, they used Ink on the engraved area to print it on the plan surface, and one or more ink color was used as printing ink. They used different blocks of illustration for each ink color. This type was originated in China, and later, it spread almost all over the world. It became popular in Europe in half of the 15th century.
Pencil Illustration: As we know Pencil is a wooden holder of graphite, which produces black color when it uses on white paper. The artist used it for making a sketch with more perfection. Although graphite was discovered in the 16th century, it was not used very much in illustration during the 16th and 17th. It was come in contact with the artist of illustration in the late 18th century and become most popular among them.
Charcoal Illustration: Charcoal is mined ground materials that were processed with or without binders to bind them together and give them the proper structure to use in illustration work. Charcoal referred for making line, rough texture with a very light effect of black color. It could be easily removed and leaves no stain behind on paper. Its dust was fixed with fixing material so that it could not rub off during the working.
Water Color Illustration: Watercolor refers to pigments that are suspended in water solution. In these types, the artist applies watercolor on paper, canvas or plastic. The most important material on which watercolor gives the best result is paper. Watercolor may be transparent and translucent, giving you the freedom to make your imagination true on your canvas.
2. Modern Illustration
In the era of technologies, we have the support of technologies in illustration work also, and these technologies take the work of illustration to the next level of illustration. Due to the involvement of technology, we find new ways of illustration with digital media and developed different types of software, which gives us liberty for applying our idea with accuracy. In Modern Illustration, we have two main types that are Freehand Digital Illustration and Vector Graphics. Let us analysis their features.
Freehand Digital Illustration: This type of illustration is not different from other types, but it has all the same features as an ancient technique. The difference comes in the process of making an illustration with it. In this type, we have digital media, which allow you to use various tools for making it. We simply use a pen tool for making our idea true, and we also have some preset and shape in it, which makes your work easy and saves your time. In Freehand digital illustration, you just have command of the tool and good knowledge of them, and then you can explore your idea without any problem.
Vector Graphics illustration: As you know, vector refers to working on the co-ordinates of the plan. So vector graphics works on the principle of different coordinates of a plan and make a path for making graphics. Vector graphics have a very unique quality; that is, they will not pixelate when you zoom in and never lose their originality. You can make logos, banners, illustrations and more with this technique, and it supports SVG, PNG, and other graphics formats.
Use of Digital Media for Illustration
In the age of digitalization, once you start illustration work for making your carrier as an illustrator, you will find digital media helps you a lot. Here I will tell you some digital media software, which helps you in your work. This software is Adobe Illustrator (It is a vector graphics software, which helps you making illustration work in different ways), Adobe Photoshop (It is a raster image editing software, which helps you manipulating your illustration work with the help of unique tools), Corel Painter X3 (It is an advance level of illustration software, which offer you unique brushes and texture for making your illustration unique), Clip Paint Studio Pro (This software allows you to work on the precision making of characters illustration and provides you brush, which helps you in this type of work), Autodesk Sketchbook Pro (This is best-suited software for polishing your skill in illustration work and provides you with a different type of blending mode) and many other.
Conclusion – Types of Illustration
Now, after this article, you can easily understand, 'What Illustration is?' and its types very well in different types of aspects. If you want to become an illustrator, this article will help you better understand basic illustration and enhance your knowledge, which helps you choose the right illustration technique for you.
Recommended Articles
This is a guide to Types of Illustration. Here we discuss the Introduction to Illustration and the Types of Illustration with the traditional and modern illustration. You may also look at the following articles to learn more –