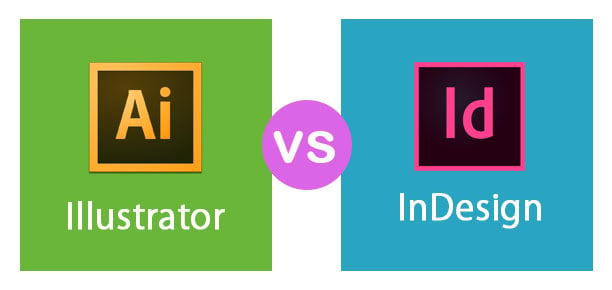 Introduction to Illustrator and InDesign
Adobe is a key player when it comes to creating industry-leading designing applications for image, video, and sound. Now we will head into a "graphic battle" between the company's two flagship vector designing software — Adobe Illustrator and Adobe InDesign. Each of them has its own strengths and weaknesses when designing for print or the web. The above two are almost unrivaled by any other applications for designing anything from logos, icons to print media. When you are deciding to choose between Illustrator and InDesign, it is necessary to know the varying dynamics in their application to your creative projects.
We have done the homework for you by listing out all the key differences between the two designing powerhouses from Adobe. This will help you in understanding the use, work interface, benefits, and purpose of the two designing software.
What is Adobe Illustrator?
Illustrator is a vector graphic software developed by Adobe Inc. Its development began in 1985 with the initial plan to release for Apple Macintosh. The latest version of the software is Illustrator CC 2019, which is part of Adobe's Creative Cloud and offered to users on monthly/annual subscription packages over the internet.
Now coming to the interface, on launching Illustrator, you are welcomed with numerous artboard sizes to choose from for print, web, film & video art & illustration based on your needs. You also have the option to create a custom-sized artboard. Once you choose an artboard of your preference, you will be moved to the drawing board, where all the action comes live.
Here you can make use of various tools and panels for modifying the designs of your drawings. The sharing and exporting settings in Illustrator are also effortless. In addition to the usual options to export, Illustrator lets you upload your creations to the creative cloud folder. This is in addition to email sharing and publishing on the Behance website.
Later if you feel like refining your artwork using other Adobe software like InDesign or Photoshop, you can easily do that too. Anything created using Illustrator can be resized without losing its clarity or causing pixelation. It can be used to create small favicons to large billboards. This quality of retaining the quality of the artwork makes Illustrator the preferred software to create logos.
What is Adobe InDesign?
InDesign is an application used in the desktop publishing industry, which Adobe launched in 1999. It replaced the PageMaker, which was acquired by. InDesign CC 2019 is the current version, which is a part of Adobe CC. InDesign is the preferred software for designing newspapers, magazines, books, posters and digital publications like e-books.
It is great in dealing with designs that contain a huge quantity of texts. Another important feature of InDesign is that it allows the users to set master page templates for a seamless design layout across the pages. The numbering system is also automated with the options to modify, copy, and swap into multiple pages.
Head to Head Comparison between Illustrator and InDesign (Infographics)
Below are the top 6 comparisons between Illustrator vs InDesign:

Key Differences Between Illustrator vs InDesign
Lets us understand the key differences:
1. Single and Multi-Page Projects
Illustrator has an advantage over InDesign when it comes to working on single-page projects. Even though InDesign too is good for single-page designs, what sets Illustrator apart is that it offers better control over modifying images and fonts. As a result, you can use Illustrator to design logos, visiting cards, posters, vector images, icons, flyers, cover images, infographics, etc.
While speaking of multi-page projects, however, InDesign takes the cake. Working is easier in InDesign with many useful features such as the Master Page option. Using this feature, you can edit multiple pages rather than each individual page to make a change. Another interesting function is the auto-numbering of pages which makes work even more organized. However, you can add multiple artboards in Illustrator for making multi-page designs easier to work on.
2. Ease of Designing
Illustrator is more advanced and offers superior features for creating design elements. In addition, the artboard in Illustrator is optimized well for the users with plenty of workplace in offer. The drawback of Illustrator is in its inability to edit images as per your requirement.
In InDesign to you will find some basic drawing tools like pencil, shape, and lines. In addition, if you want to enhance a page created in InDesign, you can easily import artworks from Illustrator. This is very helpful for working on multi-page projects.
3. Creating Logos and Design Manipulation
Illustrator is the most popular software for creating logos as it allows resizing an artwork any number of times without losing its original quality. Therefore logos created in illustrator can be adjusted to different placements and dimensions. Also, by utilizing the typesetting feature, you can alter text according to your liking. However, using InDesign, you can create amazing typographic logos by manipulating the fonts. It also lets you make vector designs with the help of tools.
Illustrator vs InDesign Comparison Table
Below is the topmost comparison between Illustrator vs InDesign:
| | | |
| --- | --- | --- |
| Basis of Comparision | Illustrator  | InDesign |
| Developer | Adobe Systems Incorporated | Adobe Systems Incorporated |
| Initial Release | March 19, 1987; 32 years ago | August 31, 1999 |
| Application Features | Good at creating logos, icons, business cards, vector images, single-page document | Good for multipage documentation like newspapers, books, and brochures |
| Operating System | Windows and macOS | Windows and macOS |
| Type | Vector graphics editor | Desktop publisher |
| Website | http://adobe.com/products/illustrator/ | http://adobe.com/products/indesign/ |
Conclusion
Using the right software, whether it is Illustrator or InDesign based on the nature of your project, is the key to creating amazing and visually pleasing work. Being sibling products, both Illustrator and InDesign can be seamlessly combined to obtain the best results in your design tasks. Once you have identified the application that best suits you, utilize its potential in your work by exploring the multitude of features and options, thereby producing stunning and aesthetic masterpieces you can be proud of. You could also refer to various tutorials available online to learn the basic and advanced features of the design software.
Recommended Articles
This is a guide to the top difference between Illustrator or InDesign. Here we also discuss Illustrator or InDesign and key differences with infographics. You may also have a look at the following articles to learn more –