Updated June 19, 2023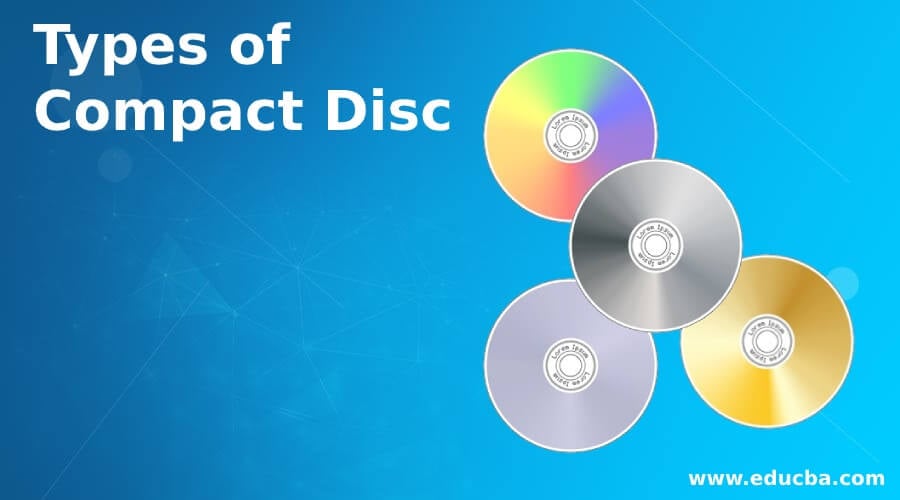 Introduction to Compact Disc
In the realm of Compact Disc (CD) types, the CD format emerged in the 1980s as a replacement for tape media. CDs store various types of data, including audio, video, and computer files. From the 1990s to the 2010s, numerous audio and video albums were released in CD format. The CD is the backup media for preserving important files for users, and all personal computers used have CD disk drives. The CD is a cheap, easy-to-carry, robust media, unlike Floppy, and it is highly user-friendly. It is a miniature version of yesteryear's gramophone plate; the information is stored as pits and lands on spiral tracks on the surface of the CD. Red laser recognizes the pits and converts them into data. In this article, let's study various types of CDs.
Types of Compact Disc
Compact Discs can be categorized on:
Operations: Read-only, Recordable, Rewritable
End-use: Video, Audio, Photo, Graphics
Quality of the content: Super Audio, Super Video, Digital versatile disk (DVD)
1. CD-ROM
ROM denotes Read-only memory. The content stored in these types of CDs can only be read but cannot be altered by anyone. Any standard Compact Disc player will be able to play this CD. Initially, this media was prominently used in the pre-recorded music market. However, it has since been utilized for distributing computer software, licenses, data, and educational content. These types of CDs have a storage capacity of 650 MB, allowing for the storage of sizable amounts of data.
2. Recordable CD (CD-R)
Contents can be written in this media by CD drive attached to a computer or an external CD drive. A fresh CD is coated with a dye that will undergo a change in color when light is passed on it. This dye is photosensitive in nature. CD writer, while writing data (burning data), passes special laser rays on the dye and the change dye's color. These CDs can be read through any normal CD player. While reading, the change in the color is sensed, and data is read, similar to reading data thru pits and lands in a normal CD.
The physical dye layer has a shelf-life; over the years, its characteristics may deteriorate, leading to errors. The life of a CD is dependent on the storage conditions and quality of the CD. Recording can be done only once on any given portion of the CD and cannot be rewritten or altered. Information can be added to the CD in the unburnt area.
3. Rewritable CD (CD-RW)
This media uses metallic alloy as against dye in CD-R. The laser rays change the metallic alloy layer's properties during CD writing. Any change in the properties of the alloy, viz., crystalline or amorphous, can be tracked by its reflectivity, and this change is used while reading. Most CD readers can read the CDs burnt this way, bypassing lower intensity laser without altering the properties. Data in this CD can be erased, and new data can be stored any number of times.
During the writing process, the metallic layer is initialized by melting it using laser rays, and the data is subsequently stored. However, it is important to note that writing on this medium takes more time compared to CD-R.
4. Audio CD
Sony and Philips came out with the format of this media in a document called Red Book, named after the color of the document's cover. The official name of this format is Compact Disc Digital Audio (CD-DA). Standard Audio CDs reserve a designated area of 5KB size to store additional text information such as the album name, song titles, and artist names.
These audio CDs can store graphical information also, but it requires an exclusive CD cum graphics player to display graphical data. When playing the song, the players primarily display the lyrics, which are stored in a graphical format. Occasionally, users connect the players to a TV or PC monitor to show the lyrics alongside the song playback. The extended graphics version stores additional text/video information in sub-code channels, and there were few takers for this format.
5. Super Audio CD
This format was again developed by Sony and Philips in 1999, providing a higher-fidelity audio format. These read-only optical discs filled the ears of music lovers with high-resolution quality. It had hybrid versions in which both a standard audio format and a super audio format were available.
6. CD-MIDI
Used in storing music performance data and enabling audio synthesizing when it is played back in electronic instruments.
7. Video CD
Video content is stored in a standard digital format on a CD. VCD standard, known as the white book standard, was developed in 1999 by Matsushita, JVC, Sony, and Philips. VCDs have a similar picture quality as that of VHS, and the quality of VCD does not deteriorate as fast as VHS upon its usage. This CD can be played on computers, VCD, and in some DVD players, and it has a resolution of 352 x 240.
8. Super Video CD
It is a superior version with 2.7 times the resolution of VCD. It is placed in between VCD and Digital video disc in terms of picture quality and technical features. It can hold long lengths of videos.
9. Photo CD
Exclusively designed by Kodak to store high-quality scanned prints, slides, and images through encoding features. Any computers with specific software or photo CD players can play these CDs.
10. CD-i
These Interactive discs store audio, video, and images; a CD-I player is needed to play the contents in this multimedia disc.
11. DVD
Digital Videodisc has 6 times the capacity of a normal CD and can store up to 4.7GB of content. High-quality movie releases extensively utilize DVDs, which are considered far superior to VCDs and VHS tapes. DVDs offer unique features like interactive menus, commentaries, and deleted scenes. It can store data on both sides (top and bottom). It stores data in more than one layer aside. The size and the technology used are the same as that of normal CDs, but the multiple sides and multiple layers inside storage features give a clear edge to DVD.
Conclusion
Broadband internet and over-the-top (OTT) products enable marketing audio or movie content over the internet as downloads. Users can download the software and license components over the internet as well. The usage of CDs has come down in the last decade, but CD is not extinct and is very much there.
Recommended Articles
This is a guide to Types of Compact Disc. Here we discuss an introduction to Compact Disc, 11 types, within detailed explanation. You can also go through our other related articles to learn more –