Pathanamthitta Pilgrimage
Pathanamthitta is a municipality in the state of Kerala's Central Travancore area. The Pathanamthitta district is recognized as the "Headquarters of Pilgrimage Tourism" in Kerala. Pathanamthitta district, located near the Western Ghats and surrounded by hills, is a visual treat with its extensive stretches of woods, rivers, and agricultural landscapes. The neighborhood is well-known for its scenic beauty, fairs, and festivals. There are many tourist places in Pathanamthitta, from hill towns to coastal cities, and each one provides something distinctive and local for you to appreciate and treasure.
Browse our list of the top tourist attractions in Pathanamthitta. If you're planning on visiting God's Own Country, start making travel arrangements. One of the most picturesque vacation spots, Pathanamthitta draws many visitors throughout the year. Pathanamthitta is the ideal destination for a getaway, whether traveling alone or with loved ones. Pathanamthitta has stunning terrain, as shown by its verdant hill stations, backwaters, captivating beaches, deep woods, and beautiful viewpoints.
Top 5 Tourist Places in Pathanamthitta
The below list of excellent tourist places in Pathanamthitta can assist you in organizing an incredible vacation to Pathanamthitta.
#1 Gavi
Gavi is an eco-tourism program of the Kerala Forest Development Corporation in the Pathanamthitta district of Kerala state. In addition to night safaris and outdoor camping in specially made tents, Gavi is located in the Pathanamthitta district, providing its tourists with hiking and wildlife viewing opportunities. The Periyar Tiger Reserve includes the Gavi region.
Things to do:
Visit the Gavi Forest to discover the unique wildlife around.
Boating and canoeing at the reservoir
Valley View Point, Meenar, and Chenthamara Kokka hikes
Visit Periyar National Park.
Best time to visit:
The best time to visit Gavi, Pathanamthitta, is from September to February. During this time at Gavi, you will experience a chilling experience.
#2 Konni and Adavi
Hilltown Konni is well-known for its wild elephant training facility and timber trading. This lovely town is situated on the Achankovil River banks and is surrounded by hills and lush meadows. The third phase of the Konni Eco-tourism Initiative includes the jointly launched Adavi Eco-tourism project by the departments of Forest and Tourism.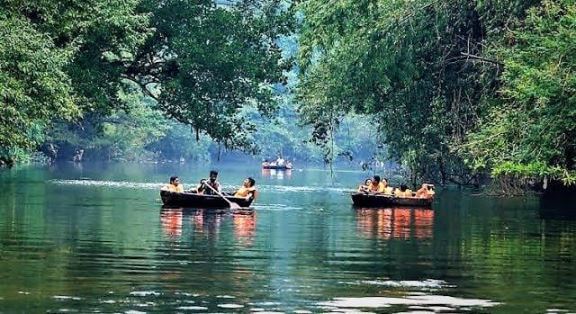 Things to Do:
Konni's Elephant Kraal
Visit the Gavi Rainforest
Experience a night stay at Bamboo Cottages
Take a Bowl Boat to ride down the Achankovil River
Best time to visit:
October to March is the perfect time to book a trip to Konni and Adavi.
#3 Aranmula
The Pathanamthitta District's Aranmula is a small temple town encircled by undulating green hills and the holy Pampa River, and Lord Krishna is the subject of this temple. The town is particularly well-known for its yearly Aranmula Vallamkali (Boat Race), which takes place in remembrance of the Onam festival. In addition, Aranmula is well known for its metal mirrors made of bell meta, or "Aranmula Kannadi". It is an original form of art that is not present anywhere else in the world.
Things to do:
 Visit Thiruvanvandoor Pambanaiappan Temple
 Take advantage of the famous Aranmula Vallamkali (Boat Race)
 Visit the Athirapally Waterfalls
Travel to Alleppey by car
Best time to visit:
Aranmula has a pleasant climate throughout the year, but it is preferable to visit during the winter season, which runs from October to February.
#4 Perunthenaruvi Waterfalls
Perunthenaruvi waterfall at the bank of the Pamba River with the Western Ghats in the background is a popular destination in Kerala for relaxation and refreshment. The 60-to-100-foot-deep waterfall flows into a rocky bed. Both residents and visitors enjoy camping at this location. The location of this unusual tourist destination, which is directly on the boundary of Kudamurutti and Vechoochira, is another outstanding aspect.
Things to do:
Visit Konni Forest Reserve
Take a lot at the holy place Aranmula Parthasarathy Temple
Visit Sabarimala Sri Dharmasastha Temple
Visit Kaviyoor Mahadeva Temple
Best time to visit:
June to September is the finest time to view Perunthenaruvi waterfall.
#5 Malayalapuzha Devi Temple
This temple is one of the largest Devi temples and an epitome of art and architectural marvel from the past. It is devoted to Goddess Durga, and it is widely held that those who worship here with a pure heart are granted their wishes and assisted in attaining their aspirations. The holy place's icon is formed of concentrated jaggery, also known as Katu Sarkara Yogam. It stands 5.5 feet tall and has eight hands.
Things to do:
Boat ride at Achankovil River.
Tour at Eco Reach.
Visit Elephant Junction Thekkady.
Visit the local market near the temple to shop for unique products, handicrafts, and more.
Best time to visit:
You can visit Malayalapuzha Devi Temple throughout the year.
Conclusion
These are some of the best and most renowned tourist places in Pathanamthitta that should not be missed when visiting Kerala. They guarantee a relaxing break and a peek at Kerala's rich ecosystem, lush flora, history, culture, and traditions. Plan a journey to "God's Own Country" with friends or family and be fascinated by its great attraction and beauty.
Recommended Articles
We hope that this EDUCBA information on "Tourist Places in Pathanamthitta" was beneficial to you. You can view EDUCBA's recommended articles for more information,