Updated November 8, 2023
Exploring Places in Lansdowne
Lansdowne is a hill station situated in the Garhwal region of the Indian state of Uttarakhand. The town is perched at an elevation of around 1,706 meters (5,600 feet) above sea level, offering a perfect retreat to travelers seeking a break from the hustle and bustle of city life. Nature enthusiasts and photographers will find it a paradise as Lansdowne boasts breathtaking panoramic views of the Himalayan peaks.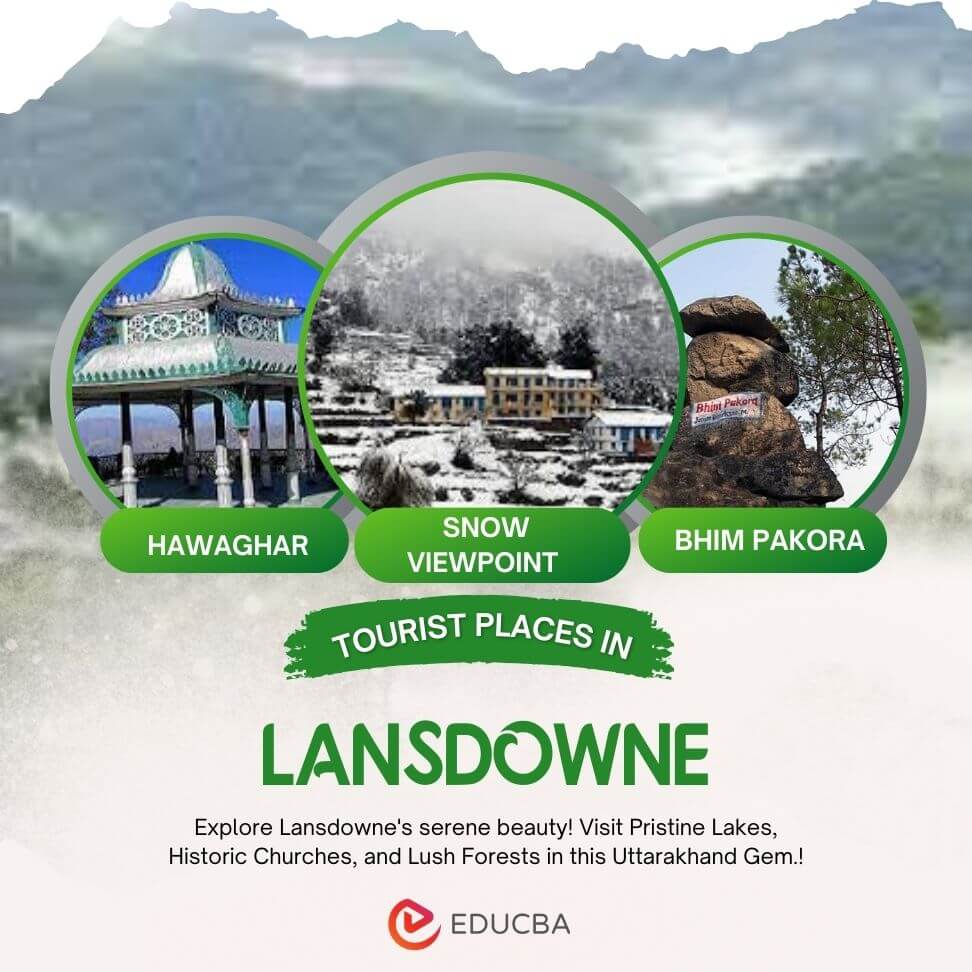 Cultural Heritage:
The friendly local population allows visitors to experience the local way of life, art, and traditions through various cultural events and interactions, deeply connecting Lansdowne to the Garhwali culture.
Accessibility:
Travelers can easily access Lansdowne by road and reach it from major cities like Delhi and Dehradun. Kotdwar, the nearest railway station, is around 40 kilometers distant.
Best 16 Tourist Places in Lansdowne
There are many tourist attractions in Lansdowne that visitors can explore. Below are some of the best places to visit in Lansdowne.
1. Bhulla Lake
Bhulla Lake is a serene man-made lake located amidst the lush greenery of Lansdowne. It's a perfect spot for travelers looking for relaxation and natural beauty. The lake offers boating facilities, allowing visitors to enjoy a peaceful boat ride amidst the picturesque surroundings. There are well-maintained gardens around the lake, making it an ideal spot for picnics.
Activities: Boating, paddle boating, and relaxing amidst nature.
Best Time to Visit: The lake is open throughout the year, and boating activities are available from 9:00 AM to 5:00 PM. However, the best time to visit is during the summer and spring months.
Travel Tip: Visit during the early morning or late afternoon for the best experience. Entry fees apply.
2. Tip-in-Top Point
Tip-in-Top Point is a popular viewpoint in Lansdowne that offers panoramic views of the snow-capped Himalayan peaks and the surrounding valleys. It's a breathtaking spot to witness mesmerizing sunsets and capture stunning photographs. The point is named for its unique location, providing views from various angles.
Activities: Photography, nature walks, and enjoying stunning sunsets.
Best Time to Visit: Visit Tip-in-Top in the early morning to witness the sunrise or in the evening to experience a magnificent sunset.
Travel Tip: Carry a camera and arrive well before sunset for the best views.
3. St. Mary's Church
St. Mary's Church is a historical church in Lansdowne, built during the British era. It showcases remarkable colonial architecture and features beautiful stained glass windows and wooden interiors. The church offers a serene ambiance, making it a peaceful place for prayer and introspection.
Activities: Exploring the church and understanding its historical significance.
Best Time to Visit: The church is open to visitors all year round. Attending a Sunday service can provide a unique experience.
Travel Tip: Respect the serenity of the church; photography might not be allowed inside.
4. Garhwali Mess
The Garhwali Mess is a military heritage site that provides insights into the military history of Lansdowne. It houses a collection of vintage photographs, artifacts, and memorabilia from the colonial period. Visitors can learn about the bravery and sacrifices of the soldiers who served here.
Activities: Museum tour, learning about Garhwali culture and history.
Best Time to Visit: The mess is open to visitors, and it's best to explore it during daytime hours.
Travel Tip: Engage with local guides for in-depth insights into the exhibits.
5. Darwan Singh Sangrahalaya
Darwan Singh Sangrahalaya is a museum dedicated to the Garhwali Rifles, showcasing the regiment's history and achievements. The museum shows a wide range of artifacts, including weapons, uniforms, and medals, providing a comprehensive insight into the military heritage of the region.
Activities: Museum tour, understanding military history.
Best Time to Visit: The museum is open to the public, and guided tours may be available. Check the museum's hours of operation when planning your visit.
Travel Tip: Check for guided tours to enhance the learning experience.
6. Tarkeshwar Mahadev Temple
Tarkeshwar Mahadev Temple is a revered Hindu temple located amidst the dense forests of Lansdowne. Dedicated to Lord Shiva, the temple is known for its spiritual ambiance and architectural beauty. It's a place of religious significance and offers a peaceful environment for meditation and prayer.
Activities: Religious rituals, peaceful meditation, and nature walks around the temple.
Best Time to Visit: Anytime is suitable for visiting the temple, but it can be especially charming during religious festivals and ceremonies.
Travel Tip: Respect the religious practices; the temple premises might restrict photography.
7. Kaleshwar Mahadev Temple
Another old temple in Lansdowne with religious significance is the Kaleshwar Mahadev Temple. Temple is devoted to Lord Shiva and draws people looking for blessings and peace. The quiet surroundings and repetitive chants create a peaceful environment for spiritual searchers.
Activities: Visiting a temple and learning about local religious practices.
Best Time to Visit: The temple is accessible year-round, and visitors can immerse themselves in its cultural and spiritual atmosphere.
Travel Tip: Dress modestly and participate in any ongoing ceremonies with respect.
8. War Memorial
The War Memorial in Nainital is a significant tribute to the Indian Army, serving as a place for visitors to witness and appreciate the diverse skills and equipment used by the army. This memorial stands as a reminder of the sacrifices made by the armed forces in service to the nation.
Features: The War Memorial displays a range of military equipment and machinery employed by the Indian Army. It frequently hosts exhibitions and displays to offer insights into the army's capabilities and contributions to the country's defense.
Activities: Visitors can explore the military displays, pay their respects to the soldiers who have served and sacrificed for the nation, and learn about India's military history and the role of the armed forces.
Best Time to Visit: The War Memorial is open year-round. For pleasant weather, consider visiting during the spring and summer (March to June) when Nainital experiences milder temperatures.
Travel Tip: Maintain a respectful atmosphere at the memorial, as it's a place of reverence. Seek permission for photography in restricted areas.
9. Lansdowne Trip Travel Cafe
The Lansdowne Trip Travel Cafe, situated in Lansdowne, Uttarakhand, is a delightful cafe where visitors can unwind, enjoy beverages like coffee or tea, and plan their adventures in the region. It's an excellent place to relax and gather information about local attractions and activities.
Activities: Relax, savor coffee or tea, and obtain information about local attractions and travel plans.
Best Time to Visit: The cafe is accessible anytime during your visit to Lansdowne.
Travel Tip: Engage with the cafe staff to learn about the best places to explore in Lansdowne. It's a great starting point for your travel itinerary.
10. Bhim Pakora
Bhim Pakora is a distinctive natural attraction near Lansdowne, featuring two large stones, one balanced atop the other, associated with the legendary figure Bhim from the Mahabharata. Visitors can witness this natural wonder and enjoy the peaceful surroundings.
Activities: Observe the natural marvel of Bhim Pakora, capture photographs, and appreciate the serene environment.
Best Time to Visit: Bhim Pakora is accessible year-round, with daytime visits offering better visibility.
Travel Tip: Wear comfortable footwear for the brief trek to Bhim Pakora and respect the natural surroundings.
11. Hawaghar
Hawaghar is a serene and verdant attraction in Lansdowne, perfect for those seeking a peaceful escape from the city. It provides an ideal getaway for those seeking serenity away from the urban hustle and bustle. The site offers serene nature walks and is relatively less crowded.
Activities: Enjoy peaceful nature walks, soak in the serene surroundings, and revel in the lush greenery.
Best Time to Visit: You can visit Hawaghar any time during the year, with the landscape being breathtaking during the monsoon season when it's lush.
Travel Tip: Consider packing a picnic and enjoying it amid the natural beauty of Hawaghar.
12. Durga Devi Temple
Durga Devi Temple is a significant religious site in Lansdowne, dedicated to Goddess Durga and renowned for its spiritual significance. Visitors can seek peace and tranquility at the temple while admiring its architectural beauty.
Activities: Seek blessings, explore the temple's architecture, and participate in religious rituals as desired.
Best Time to Visit: The temple is open year-round, allowing visits based on individual spiritual inclinations.
Travel Tip: When visiting the temple, dress modestly and respectfully and adhere to local religious customs.
13. Lover's Lane
Lover's Lane is a picturesque path in Lansdowne, offering stunning views of the majestic Himalayas. It's a romantic destination for couples and a delightful spot for nature enthusiasts, where you can enjoy a leisurely stroll amidst scenic beauty.
Activities: Take a leisurely walk, relish the breathtaking views of the Himalayas, and spend quality time with your loved ones.
Best Time to Visit: Lover's Lane is charming year-round, with sunrise and sunset hours particularly romantic.
Travel Tip: Remember to bring a camera and wear comfortable walking shoes to capture the stunning vistas.
14. Snow Viewpoint
Snow Viewpoint, located in Nainital, Uttarakhand, is a well-known tourist destination known for its breathtaking panoramic views of the snow-covered Himalayan peaks.
Hiking: Besides being accessible by cable car or a short drive, it's also the starting point for various hiking trails, making it an ideal destination for hikers.
Activities: Enjoy a cable car ride to witness stunning panoramic Himalayan views, take leisurely walks, and capture the beauty through photography.
Best Time to Visit: The best time to visit the Himalayas is during the snow-covered winter months (October to February) or the quieter shoulder seasons (March to June and September to October).
Travel Tip: Dress warmly during winter visits, especially at higher elevations.
15. Kalagarh Tiger Reserve
The Kalagarh Tiger Reserve, part of the larger Corbett Tiger Reserve in Uttarakhand, India, is renowned for its rich biodiversity and focus on tiger conservation.
Spot Tigers in Action: Visitors can enjoy wildlife safaris, providing the opportunity to spot not only tigers but also leopards, elephants, and diverse bird species.
Activities: Engage in wildlife safaris, bird watching, nature photography, and guided treks.
Best Time to Visit: If you are a wildlife enthusiast, plan your visit to the park during the winter months from November to February, as this is the best time to see animals in action. The sparse vegetation during this time also makes it easier to spot them. However, keep in mind that the park remains Shut down during the monsoon season from July to September. It is advisable to book safaris in advance, follow park rules for wildlife viewing, and carry binoculars and a camera for wildlife photography.
16. St. John's Church
St. John's Church, one of the oldest and most revered churches in Nainital, is a significant part of the town's colonial heritage.
Ancient Church: The church's historical significance is evident through its architectural features and stained glass windows.
Activities: Explore the church's historical and architectural aspects and savor the peaceful ambiance of the churchyard.
Best Time to Visit: The church is open year-round, with the summer months (March to June) offering pleasant weather.
Travel Tip: Display respect for the religious importance of the church and maintain a peaceful atmosphere during your visit.
Conclusion
Lansdowne is a hidden jewel in the Himalayas, combining natural beauty, history, and spirituality. Lansdowne attracts a wide range of visitors with its scenic lakes, stunning perspectives, historical landmarks, and rich cultural heritage. For those seeking serenity and a closer connection with the environment and tradition, this charming hill station delivers a wonderful vacation.
Recommended Articles
We hope that this EDUCBA information on "Tourist places in Lansdowne" was beneficial to you. You can view EDUCBA's recommended articles for more information.