Updated May 25, 2023
District of Ahmedabad
Tourist places in Ahmedabad can be on the list of tourists who want to explore Ahmedabad rather than consider it the business hub of Gujarat. The tourist attractions in and near Ahmedabad are full of diversity and cultural facts. Here we have temples, flora and fauna, mosques, museums, and a fort with intricate beauty in various tourist places in Ahmedabad.
Tourist Places in Ahmedabad
Here are some of the tourist places in Ahmedabad which are must visit.
1. Sabarmati Ashram
Known by various famous names such as Harijan Ashram, Satyagraha Ashram, and Gandhi Ashram, Sabarmati ashram is sited on the embankment of the Sabarmati River. To practice different work such as agriculture, Khadi Udyog, and animal husbandry from this place, Mahatma Gandhi, the father of the nation, built this ashram after returning from South Africa. It is the main reason it has become the top attraction visiting place for visitors.
2. Sardar Vallabhbhai Patel National Museum
This museum is in the same place where Moti Shahi Mahal addressed the audience. Shahjahan, a Mughal Emperor, built this palace between 1618 and 1622. March 7, 1980, on the centennial birth anniversary of Sardar Vallabhbhai Patel, was declared a memorial for him. Along with these historical attractions, one can enjoy 3d interactive shows here.
3. Calico Museum of Textile
If one wants to visit one of the oldest textile museums that Ahmedabad is the right place because Calico Museum is a place where one can see a variety of textiles, fabrics, Kashmir shawls samples, antique textiles collection, and so on.
4. Kankaria Zoo
Established by Rueben David in 1951 CE, Kankaria zoo is known as Kamla Nehru Zoological Park and spreads over 21 acres. It is the best place in Ahmedabad to experience the zoo environment during your trip. If one visits there, one can have a chance to see 2,000 birds, 140 reptiles, and 450 mammals in the 31-acre area of the zoo.
5. Auto World Vintage Car Museum
The Auto World Vintage Car Museum is the best place to visit if one is fascinated by vintage cars. It has an assortment of old cars, carts, and motorcycles made by well-known automakers. It is also an excellent place for learning for those who want to gather information about vintage cars.
6 Sidi Saiyyed Mosque
The Sidi Saiyyed Mosque is a mosque in Ahmedabad, India, built during the Mughal Emperor Aurangzeb's era and named after Saiyyed Abdullah, a Muslim saint and Sufi scholar. The mosque is one of the largest mosques in Ahmedabad and can hold up to 10,000 worshippers. Constructed in 1573, Sidi Saiyyed Mosque is also known as Sidi Saiyyed Mosque Ni Jaali. It is an all-time favorite place for photographers, history, and air connoisseurs because of its architectural beauty.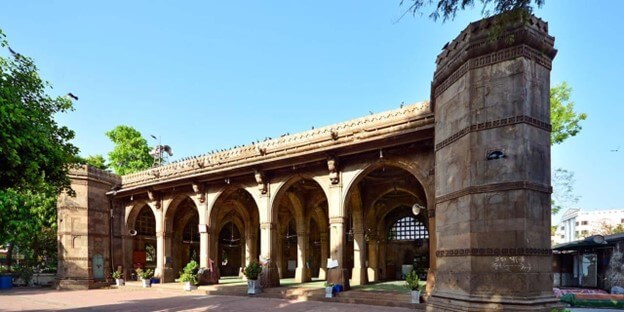 7. Gujarat Science City
Gujarat Science City is a science and technology park located in the district of Gandhinagar, Gujarat. The Government of Gujarat established it in 2002 to promote science-based industries. The park is a public-private partnership between the state government and various private entities. The Gujarat Science City is one of the few science parks in India that provides space for both small and large enterprises to set up their operations.
The Gujarat Science City has about 400 companies that employ about 50,000 people, mostly from rural backgrounds. So it can be the best place to experience such a featured site.
This city may be the favorite part of one's trip to visit now because of having many tourist places here that attract visitors from all over India and abroad. Tourists can collect lots of fun moments and facts with them after visiting these tourist places in Ahmedabad.
Recommended Articles
We hope that this EDUCBA information on "Tourist Places in Ahmedabad" was beneficial to you. You can view EDUCBA's recommended articles for more information,