Updated November 8, 2023
Explore Hogenakkal
Hogenakkal, often referred to as the "Niagara of India," is a breathtaking natural wonder tucked away in the southern state of Tamil Nadu. This enchanting destination boasts the majestic Hogenakkal Falls, a cascade of frothing waters surrounded by lush forests and rocky terrain. Visitors are captivated by the thundering waterfalls, offering an unforgettable experience of nature's power and beauty. Beyond the falls, Hogenakkal beckons adventure enthusiasts with trekking in the Melagiri Hills and wildlife enthusiasts with the Cauvery Wildlife Sanctuary. This hidden gem of South India promises a mesmerizing journey into the heart of the wild and scenic.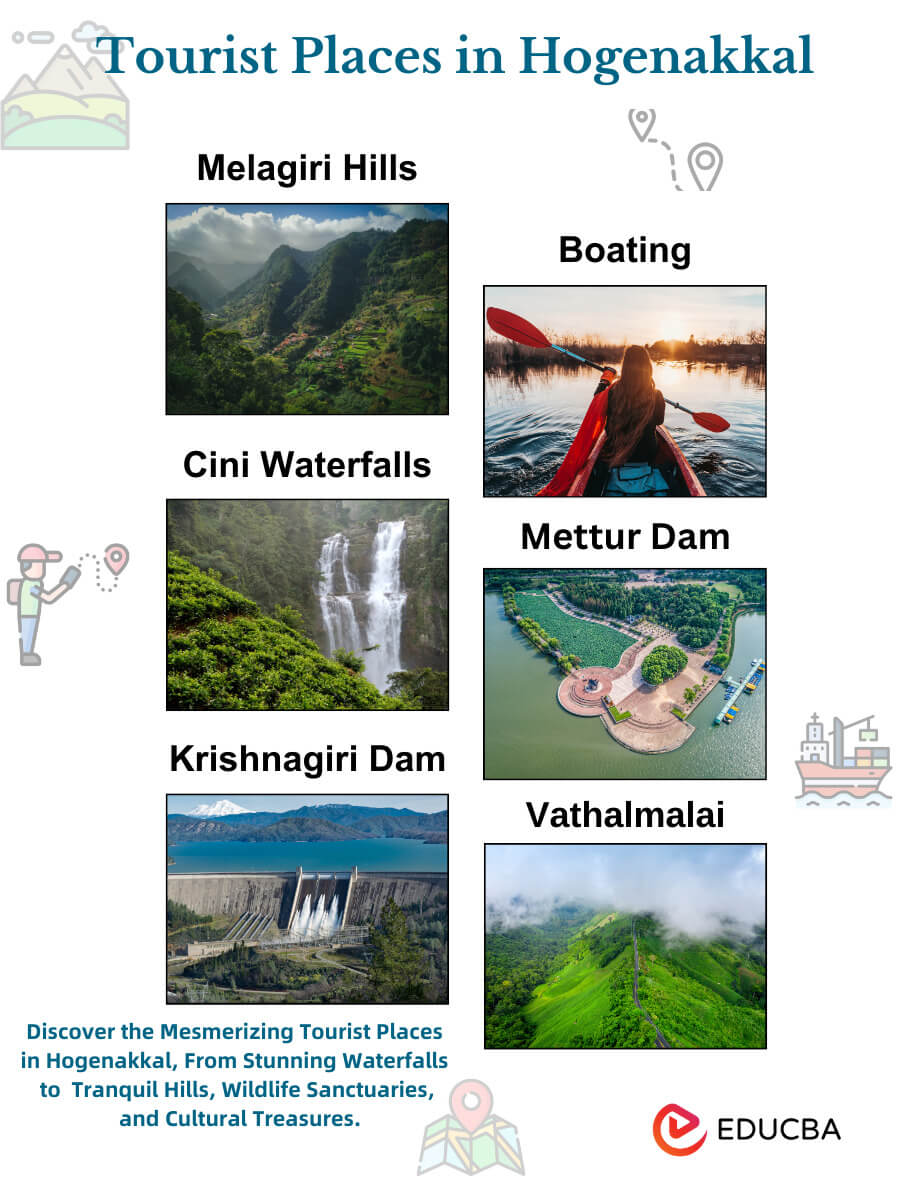 Best 17 Tourist Places in Hogenakkal
Here are some of the top tourist places to explore in Hogenakkal:
1. Mettur Dam: A Testament to Engineering Excellence
Situated just 30 kilometers from Salem, the Mettur Dam is one of India's monumental achievements in engineering. Constructed in 1943, this colossal dam spans the River Cauvery, nestled within lush hills and natural splendor. What sets the Mettur Dam apart is not just its engineering prowess but also its role as an attraction for tourists and a vital irrigation system for the surrounding 2,71,000 acres of agricultural land. The dam creates a water reservoir framed by the scenic hilly ranges, and adjacent to it lies a hydroelectric power station generating 240MW of electricity. The area surrounding the dam, formerly known as Stanley Reservoir, is a haven for various unique fish species, making it a hotspot for both nature enthusiasts and power generation enthusiasts.
2. Hogenakkal Falls: Nature's Spectacle
Hogenakkal Falls, situated in Dharmapuri district along the Kaveri River, offers a spectacle unlike any other. The name "Hogenakkal" itself, which translates to "smoking rocks," is a testament to the area's remarkable rock formations. This natural wonder is often compared to the famous Niagara Falls due to its cascading beauty. The Kaveri River divides into numerous streams, flowing down a series of steps, creating a mesmerizing visual treat for visitors. What adds to the allure of Hogenakkal Falls is the presence of ancient carbonatite rocks, making this site one of the oldest in South Asia. Additionally, the falls are believed to offer therapeutic properties, thanks to the herbs that flourish along its course. This unique combination of natural beauty and holistic benefits makes Hogenakkal Falls a primary attraction in the region.
3. Melagiri Hills: Nature's Playground
For those seeking adventure and a tryst with nature, the Melagiri Hills offer a thrilling experience. These hills act as a bridge between the Eastern and Western Ghats, with a breathtaking landscape that includes two mountain ranges converging, thick forests, and the presence of one-horned antelopes. The variety of trekking routes in the vicinity enhances the charm of the Melagiri Hills, making it a popular choice for outdoor enthusiasts.
4. Pennagram Village: A Splash of Culture
Located approximately 20 kilometers from Hogenakkal, Pennagram Village is famous for its colorful and vibrant monthly fairs, which are designed to attract tourists. The village is renowned for its Aiyanars, brightly colored clay figures with cultural significance. These fairs provide a glimpse into the cultural tapestry of the region and are a testament to the area's rich heritage.
5. Theerthamalai Temple: A Spiritual Retreat
Nestled near Hogenakkal, Theerthamalai Temple is a prominent religious site that draws devotees and seekers of spiritual solace. Dedicated to Lord Theerthagireeswar, an incarnation of Lord Shiva, this temple is steeped in mythology. Legend has it that Lord Ram worshipped Lord Shiva at this very temple after defeating Ravana, seeking forgiveness for the demons he had slain. The holy waters of Theerthamalai are believed to have purifying properties, making it a place of spiritual significance.
Best time to visit: The best time to visit Theerthamalai Temple is during the winter months, from October to March. The pleasant weather is ideal for exploring this spiritual retreat. However, heavy rains during the monsoon season from June to September can disrupt your visit, so it's best to avoid this time of year.
6. Hanuman Theertham Temple: A Mythical Marvel
Just a kilometer away from the main temple lies the Hanuman Theertham Temple. According to ancient myth, Lord Ram instructed Lord Hanuman to fetch water from the Ganga to serve Lord Shiva. When Lord Hanuman was delayed, Lord Ram shot an arrow into the hillside, causing water to flow – an event immortalized in this temple. This legend adds a layer of mystique to the spiritual ambiance of Hogenakkal.
Best time to visit: Hanuman Theertham Temple can be visited year-round. However, if you want to enjoy a more comfortable experience, consider going during the cooler months, from November to February. This mythical marvel is captivating at any time, but avoiding the scorching heat of summer is wise.
7. Boating: A Unique Experience
Hogenakkal offers visitors the chance to embark on a distinctive boating adventure. The coracle boats, locally known as "basket boats," are a fascinating way to explore the natural wonders of the area. These round boats, covered in black plastic and featuring circular bamboo frames, provide a unique and immersive experience. Some even draw parallels between these boats and black mushrooms, emphasizing their distinctive appearance.
8. Krishnagiri Dam: A Picnic Paradise
Within Hogenakkal, the Krishnagiri Dam beckons with its picturesque picnic spots. Thoughtful development has transformed the surrounding area into parks and gardens, which feature lush greenery and a wide array of floral species. It's a rejuvenating experience to spend time in this serene environment, surrounded by the beauty of nature.
9. Kaveri River: A Serene Companion
The Kaveri River meanders parallel to the main road leading to Hogenekkal Falls, and its presence adds to the scenic charm of the region. As the Kaveri River enters Tamil Nadu through Hogenakkal in Karnataka, visitors can enjoy the beauty of the river and its banks. The area also boasts various rock formations along the riverbank, and for the adventurous, a refreshing swim in the river is a memorable experience.
10. Crocodile Rehabilitation Centre: A Glimpse into Wildlife
Beyond its waterfalls and natural beauty, Hogenakkal houses a crocodile rescue center established in 1975 to conserve and protect these magnificent creatures. Administered by the Tamil Nadu government, this facility shelters hundreds of crocodiles. While the enclosures may be small, they offer an up-close look at these fascinating reptiles, some of which bear visible scars, creating a unique educational opportunity for visitors. The center's walls are adorned with informative displays, providing valuable insights into the world of crocodiles.
11. Parameshwari Temple: A Blessing for All
Located in Pennagram Village, approximately 20 kilometers from Hogenakkal, the Parameshwari Temple holds a special place in the hearts of many. Legends and traditions surround this temple, with the belief that the goddess Parameshwari protects expectant mothers and fulfills the desires of infertile women. The temple's spiritual aura and cultural significance make it a must-visit for those seeking blessings and solace.
Best time to visit: The Parameshwari Temple remains open for visitors all year round without any specific periods of closure. The best time for your visit depends on your preferences. If you like milder weather and fewer crowds, consider going from October to March. But if you want to witness festivals and vibrant celebrations, visit during the temple's festival season.
12. Dharmapuri: A Gateway to Beauty
The city of Dharmapuri, situated in Tamil Nadu, serves as the gateway to the enchanting world of Hogenakkal and its surrounding attractions. Known for its scenic beauty and tourist destinations, Dharmapuri is a city steeped in history, having been ruled by various dynasties, including the Cholas, Rashtrakutas, and Pandyas. Its central location between Bangalore and Chennai makes it a favored stop for tourists from both cities seeking a blend of history, culture, and natural beauty.
13. Cini Waterfalls: A Hidden Gem
Nestled near Hogenakkal, the Cini Waterfalls add to the region's charm. A popular tourist attraction, this picturesque location offers a peaceful getaway for families and friends to enjoy a tranquil day amidst nature's beauty.
14. Panchapalli Dam: A Scenic Retreat
Panchapalli, a quaint village in Tamil Nadu's Dharmapuri district, is home to the Panchapalli Dam, constructed in 1977. This dam serves as a vital drinking water source for the district's residents, and hills surround it on two sides, creating an idyllic setting for picnics. The lush greenery and various floral species enhance the experience, providing a rejuvenating escape for all who visit. The dam offers breathtaking views from its summit, making it a perfect destination for a day trip with friends and family.
15. Vathalmalai: A Hill Station of Serenity
Vathalmalai, a renowned hill station, stands 3,000 feet and boasts distinctive vegetation and a pleasant climate. The region's appeal is heightened during the rainy season when numerous streams and lakes are replenished by rainfall. Unlike the bustling atmosphere of Hogenakkal, Vathalmalai offers a peaceful retreat, encouraging a sense of solace and tranquility. This serene environment is perfect for those looking to unwind, and its calm, uncrowded nature sets it apart from other destinations.
16. Kalabairavar Temple: A Spiritual Haven
Worshippers from various places gather at the Kalabairavar Temple during special and festival seasons to pay their respects. The temple hosts special poojas on Sundays and Pournami days, creating a divine atmosphere for devotees.
Best time to visit: You should visit the Kalabairavar Temple during the pleasant months of October to March. Early mornings offer a quieter experience, while festivals bring vibrant celebrations. Avoid the scorching summer months and consider the impact of monsoon rains from July to September.
17. View Point Hogenakkal
View Point Hogenakkal is a fantastic spot in Tamil Nadu, India! Imagine a place where you can witness the awe-inspiring Hogenakkal Falls, often referred to as the "Niagara of India." It resembles a paradise for nature lovers. From this viewpoint, you can soak in the breathtaking sight of water cascading down rugged cliffs, creating a mesmerizing natural display.
What makes it even more exciting is the opportunity to take boat rides that bring you up close and personal with the falls. You'll also be surrounded by lush greenery, making it a perfect setting for some fantastic photographs. So, whether you're a nature enthusiast or a photography lover, View Point Hogenakkal is a must-visit destination with an unforgettable experience!
How to Reach Hogenakkal?
To embark on your journey to Hogenakkal, you have several options:
By Air: The closest airport to Hogenakkal is the Bangalore International Airport, approximately 150 kilometers away. From there, you can take a direct bus to Hogenakkal or hire a cab outside the airport. The journey from the airport to Hogenakkal is about 121 kilometers, and Kempegowda International Airport is the nearest aviation hub.
By Road: For those who prefer a road trip, there are excellent transport services available. The nearest bus stops are located at the Dharmapuri and Salem bus stands, making it convenient to reach Hogenakkal by bus.
By Train: The nearest railway station to Hogenakkal is Dharmapuri Railway Station, approximately 47 kilometers away. Frequent bus services are available to transport you to Hogenakkal, ensuring a smooth and comfortable journey.
Local Transportation: Upon reaching Hogenakkal, visitors can explore the area using auto-rickshaws or by hiring a taxi. Local transportation options are also available for visiting nearby attractions or experiencing boat rides at Hogenakkal Falls.
Best dishes to try
Here are some of the best dishes to try:
Biryani: South Indian biryani is a flavorful and aromatic rice dish cooked with fragrant spices and usually includes chicken or mutton. It's a must-try for those who enjoy spicy and savory dishes.
Dosa: Dosa is a popular South Indian staple. It's a thin, crispy pancake made from fermented rice and lentil batter. You can have it plain or with various fillings and chutneys.
Idli: Idli is a soft and fluffy rice cake made from fermented rice and lentil batter. Served with coconut chutney and sambar, a flavorful lentil soup with vegetables and spices.
Vada: People make vada by deep-frying a mixture of lentil flour and spices. It's crunchy on the outside and soft on the inside, perfect as a snack or breakfast item.
Chettinad Cuisine: Chettinad cuisine is famous for its fiery and aromatic dishes. You can try Chettinad chicken or Chettinad fish curry for an authentic taste of the region.
Filter Coffee: South India is famous for its filter coffee. It's a strong and flavorful coffee made by brewing coffee grounds with hot water and milk. It's often served in a stainless-steel tumbler and dabara (cup and saucer).
Banana Leaf Meals: Don't miss the opportunity to have a traditional South Indian meal on a banana leaf. It usually includes rice, various vegetable curries, sambar, and rasam.
Mango Pickle: South India is known for its delicious mango pickles. They add a burst of flavor to your meals.
Coconut Chutney: Coconut chutney is a common accompaniment to many South Indian dishes. It mixes coconut, green chilies, and other spices ground into a paste.
Fruit Salads: Given the tropical climate of the region, you'll find a variety of fresh and exotic fruit salads to enjoy.
Conclusion
Hogenakkal is a treasure trove of natural beauty, cultural heritage, and spiritual significance. With its waterfalls, hills, temples, and diverse attractions, it promises a memorable experience for all who visit. So, pack your bags and embark on an adventure to this hidden gem in Tamil Nadu, where nature and culture converge to create an unforgettable journey.
Recommended Article
We hope that this EDUCBA information on "Tourist Places in Hogenakkal" was beneficial to you. You can view EDUCBA's recommended articles for more information,