Updated May 31, 2023
Gandhinagar, Green Land of Gujarat
Gandhinagar, the state's capital and often referred to as the "Green Land of Gujarat," is 23 kilometers away from Ahmedabad. It was a well-planned city in India, and home to one of its most famous temples lies on the western bank of the Sabarmati River. There are so many tourist places in Gandhinagar you must have to see ones in your life with your family and friends. On one side it provides information about the lives of Indian freedom warriors. On the other hand, passing the time by visiting numerous national parks and waterfalls while traveling is entertaining.
Top 5 Tourist Places in Gandhinagar
Here are some of the best places to visit in Gandhinagar that you should check out if you want to take in the city's best sights and get a close-up view of the state's colorful culture.
#1 Adalaj Stepwell
The majestic Adalaj Stepwell, constructed in 1948, is a landmark 3 to 4 kilometers southwest of Gandhinagar, the state capital of Gujarat—one of the many step wells built in India to allow access to groundwater. The ceiling of the step well has an opening that allows the entry of light and air into the premises of the octagonal structure. The structure is a superb example of India's architects and engineers at the time. The Adalaj Stepwell is one of the must-visit tourist places to visit in Gandhinagar.
Timings: 6:00 am to 6:00 pm
Known For: Architecture
Best time to visit: October to March
Places to visit: Trimandir, Indroda National Park, Dada Harir Vav and Rani ki Vav
Interesting Fact:
Queen Rudabai, the wife of the Vaghela chief, Veer Singh, built the ancient well in 1499.
Queen Rudabai sacrificed her life by jumping into the well as an act of suicide. As a result, the well is well-known as the Rudabai Stepwell.
Tips: Carry a hat, as the sun is pretty harsh, Carry enough water and keep yourself hydrated.
#2 Baps Akshardham Temple
Akshardham temple in Gandhinagar is one of the largest temples in the country and a popular pilgrimage site. The same organization that erected the BAPS Swaminarayan Sanstha, Swaminarayan temple in Delhi, created this temple devoted to Lord Swaminarayan. They opened the facility in Gujarat's capital on October 30, 1992, following more than 13 years of construction.
One of the most well-liked tourist places in Gandhinagar is this. The temple has a single massive monument and a picnic area that families use. They recently debuted the world's first laser water display, a must-see.
Timings: 9:30 am to 7:30 pm (Closed on Monday)
Known For: Temple
Best time to visit: October to March
Places to visit: Indroda Nature Park, Indroda Dinosaur Fossil Park, Amusement Park, and Akshardham Temple
Interesting fact: The temple complex took almost 13 years to build.
Tips: Photography and Videography are strictly prohibited, Visitors are not allowed to carry food inside the premises, Mobile phones- The temple prohibits electronic items, bags, and luggage.
#3 Indroda Dinosaur and Fossil Park
It is one of Gandhinagar's most interesting tourist attractions. This location frequently referred to as the Jurassic Park of India, is a favorite with visitors, especially kids. Indroda Park is the only park in India that has both dinosaur fossils and a dinosaur museum. If you enjoy the outdoors, the park's variety of animals and its botanical garden will undoubtedly attract you. The park's dinosaur museum is its most visited attraction. It is a great location for a family picnic or even a quick nature walk.
Timings: 7 am-7 pm
Entry Fees: INR 10 for Children (5-12 years), INR 20 for Adults (Above 12 years), and Free entry for children below 5 years and differently-abled people
Known For: Park
Best time to visit: Day Time
Places to visit: Adalaj Stepwell, Trimandir, Rani ki Vav, Baps Akshardham
Interesting facts: Considered to be the second-largest hatchery of dinosaur eggs in the world, dating from the later Cretaceous period.
#4 Dandi Kutir Museum
Mahatma Gandhi's struggle in the Indian independence cause is the only focus of this museum, which has significant historical significance. Gandhi's fight against casteism and British colonialism symbolizes it. As the name implies, the museum provides a thorough multimedia account of Gandhi's contributions to the Civil Disobedience Campaign, particularly his participation in planning the Dandi march to protest the imposition of salt rules on Indians.
One of the pivotal moments in colonial India's history was the Dandi March, and the museum offers a thorough depiction of the entire incident. In addition, the museum houses several Gandhiji paintings, memoirs, and artifacts that he used in the struggle for freedom.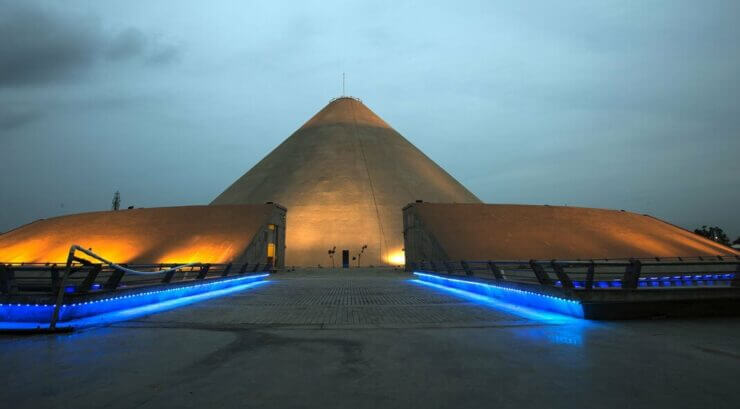 Timings: 10:30 am – 5 pm from Tuesday to Sunday.
Entry Fees: Rs 10 for Indians and RS 200 for foreigners.
Known For: Historical site
Best time to visit: October to March
Places to visit: Sarita Udyan, Adalaj Stepwell, Trimandir, Rani ki Vav
#5 Botanical Garden
The botanical garden is one of the most popular tourist places to visit in Gandhinagar. This garden reportedly houses several endangered plant species from various parts of the country. Orchards would be one thing to view, but you would also get to see a lot of different medicinal plants. In the garden, you can see many insects, including butterflies, glow worms, stick insects, and others.
Address: Indroda Nature Park, Gandhinagar.
Timings: 10 am – 5 pm from Tuesday to Sunday.
Entry Fees: INR 30 for adults and INR 15 for children between 5-12 years of age. The park also provides subsidized tickets at INR 8 for students.
Known For: Botanic Garden
Best time to visit: Spring is the best time to visit Botanical Garden
Places to visit: Sarita Udyan, Adalaj Stepwell, Trimandir, Rani ki Vav
Conclusion
Are you already excited to visit one of these incredible places to visit in Gandhinagar? This capital city has the best views and offers a variety of places to see, including historic temples and locations. If You Have Any immediate plans to visit Gujarat, include these beautiful places in your itinerary.
Recommended Articles
We hope that this EDUCBA information on "Tourist Places in Gandhinagar" was beneficial to you. You can view EDUCBA's recommended articles for more information,