Updated May 26, 2023
Ernakulam Tourism
Ernakulam, a small district in Kerala, is well known for its historical significance. This city has been the commercial hub of the state for many decades. Ernakulam is a well-known center for business and trade. The Arabian Sea surrounds it west, and the Western Ghats encircle it on the east.
Arabs, Chinese, Portuguese, Dutch, and British individuals paid regular trips to the town and exchanged cultural ideas. So, in addition to the people who inherited the land, there are also people from different cultures. Kochi, the most populous place in Ernakulam, is both a modern metropolis and a historical landmark. It is a great place to go sightseeing, rest in a vintage hotel or homestay, and enjoy some of the best art cafes in India.
Main Tourist Spots in Ernakulam
Here is a list of some Tourist Places in Ernakulam.
Chittoor Palace
MG Road
Hill palace
Thattekkad bird sanctuary
Fort Kochi
Bolgatty Island
Marine Drive
Mattancherry
Vypin Island
Kodanad
Folklore Museum
#1 Chittoor Palace
This is one of the main Tourist Places in Ernakulam. There is no better place to experience royal indulgence than at Chittoor Palace. The palace now serves as a resort for the general public. Long verandahs, exquisite crafts, engravings, and gleaming glass windows make the palace's interior a visual treat. It was the King's resting place during his visit to the nearby Sri Krishna Temple.
#2 MG road
Every trip is complete with shopping. MG Road, the city's hotspot, offers a delightful shopping experience for every visitor. Several clothing stores, eateries, jewelry huts, and street shopping hubs line the street. This place would be the best choice to go on a shopping spree.
#3 Hill Palace
Hill Palace, once the official home of Cochin Maharaja, is now an archaeological museum in Thrippunithura. Built-in 1865 by the Maharaja of Cochin, this is Kerala's most significant archaeological museum. The complex has 49 buildings, including a deer park, heritage museum, and children's park. Additionally, the location is home to the Centre for Heritage Studies (CHS), an independent research and training center founded by the Department of Cultural Affairs, Government of Kerala.
#4 Thattekkad Bird Sanctuary
This bird sanctuary in Thattekad is ideal for nature lovers to watch different migratory birds. Rosewood, teak, and rubber trees grow in this forest, which is more than 25 km wide. Visiting this place, you can enjoy activities like bird watching.
 #5 Forte Kochi
As India's first European settlement, this historical place offers a glimpse of the past. Evidence of ancient trading exists there. Old Chinese fishing nets are still visible in the port. Some notable attractions in Fort Kochi include St Francis Church, Vasco Da Gama Square, Bastion Bungalow, Santa Cruz Basilica, VOC Gate, and others.
#6 Bolgatty Island
Bolghatty Island near Kochi is another tourist attraction. It is the home to Bolgatty Palace, one of the oldest Dutch buildings outside Holland. Bolgatty Palace attracts Indian and international tourists with its tiny golf course, swimming pool, 9-hole golf course, Ayurvedic center, and daily Kathakali shows.
#7 Mattancherry
Mattancherry is Kochi's top tourist destination for spices, handicrafts, culture, and food. The name Mattancherry derives from a Brahmin house name, 'Ancherry Mattam.' Mattancherry is famous for the Dutch palace. The palace is on the "tentative list" of UNESCO World Heritage Sites. The Jew Town Palace and India's oldest synagogue are other major attractions in this place.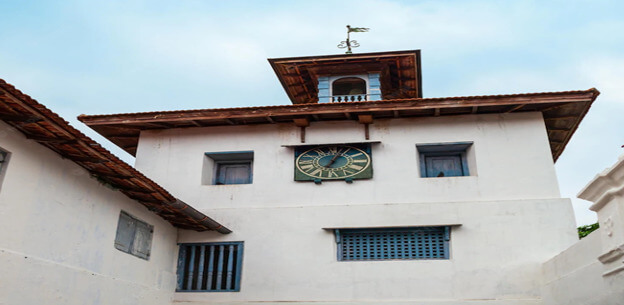 #8 Marine Drive
Marine Drive, despite its name, is a beautiful promenade in Ernakulam featuring the rainbow bridge, one of Kochi's most popular attractions. Private boat operators offer hourly tours leaving Marine Drive and traveling through neighboring destinations. It is a must-visit tourist spot in the city.
#9 Kodanad
The Kodanad Elephant Training Center is in a small village on the banks of the Periyar River, making it an ideal family vacation spot. It is an environmentally friendly tourist destination in the state. When visiting, bring your kids to enjoy kid-friendly activities like elephant bathing.
#10 Vypin Island
Vypin Island is another popular destination for vacationers in Ernakulam and Kerala. Vypin is also home to the oldest European fort in India, the Pallipuram Fort, which dates back to 1503. The British colonists constructed this island.
#11 Folklore Museum
This is one of the oldest Tourist Places in Ernakulam. Folklore Museum is a popular place to visit. The museum has incorporated elements of ancient art into its construction and exhibitions. Visitors can glance at ancient sculptures, tribal paintings, jewelry, and many other things. Every day, the museum is open from 9:30 am to 7:00 pm.
Recommended Articles
We hope that this EDUCBA information on "Tourist Places in Ernakulam" was beneficial to you. You can view EDUCBA's recommended articles for more information,