Nepal Tourism
Nepal is a beautiful country where you can find the best natural treasures. Outstanding historical and cultural landmarks like temples and monuments in the country also provide a wealth of information about the region's dynamic history and present. A variety of variables influence the popularity of Nepal. The prospect of scaling the various peaks and embarking on treks within the Himalayas has generated substantial interest among individuals seeking to visit Nepal.
Top 5 Tourist Places in Nepal
Mentioned below are the top 5 tourist places in Nepal:
#1 The Boudhanath Stupa
One of the biggest spherical stupas in the globe is the Boudhanath Stupa. Buddhists who go there to perform the Kora ceremony and ask their God for blessings see it as one of their most important shrines. The Khasa Chaitya is another name for Boudhanath that is widely used. This location joined the list of UNESCO World Heritage Sites in 1979. A very old trade route between Tibet and Nepal runs across the stupa. Tibet people used to enter the Kathmandu Valley at this location.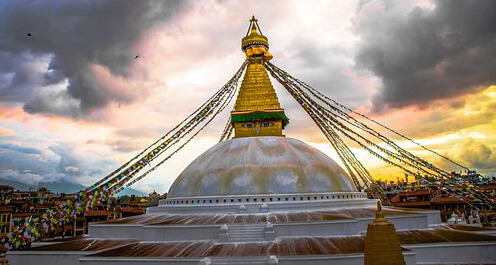 (Image Credit: Pixabay)
Address: Buddha Stupa, Boudha Sadak, Kathmandu 44600, Nepal.
Map: Google Map
How to Reach?
The Stupa sits 5 kilometres away from Kathmandu's central area. You can reach it by taking a taxi or shared van from Rani Park in Thamel. Make sure to tell the driver to drop you off at the Stupa.
Tourist Attractions:
29 Tibetan gompas
Delightful momos
Thupkas
The prayer wheel
#2 Nagarkot
Nagarkot, a tranquil hill town situated at 7000 feet, boasts breathtaking views of the Himalayas, especially Mount Everest on the northeastern side. It is famous for its stunning vistas. This location, only 4 hours from Kathmandu, is ideal for visitors to Nepal in October. The trip's high points include the car picking up the tourists at 4 am and the approximately one-hour 30-minute drive to the destination.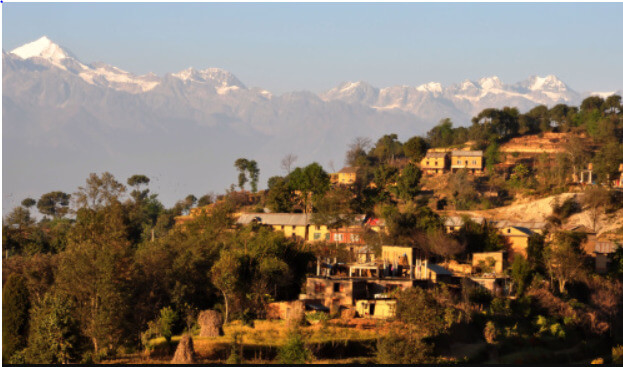 (Image Credit: Pixabay)
Address: Nepal
Map: Google Map
How to Reach?
The distance between Nagarkot and Kathmandu is 32 kilometres, and you may get there by bus from Kathmandu's Bhaktapur Bus Terminal.
Tourist Attractions:
Trekking
Magnificent himalayan views
Dense pine tree forests
Mountain biking
#3 Swayambhunath Temple
One of Nepal's most well-known religious sites to visit is Swayambhunath Temple. Also known as the Monkey Temple. Within the Buddhist community, this temple has enormous popularity. At the start of the fifth century, the legendary King Manadeva's great-grandfather essentially founded this temple. Hindu and Buddhist worshippers come to the complex, home to a number of modest, exquisitely carved temples, statues, flags, and Buddhist prayer wheels.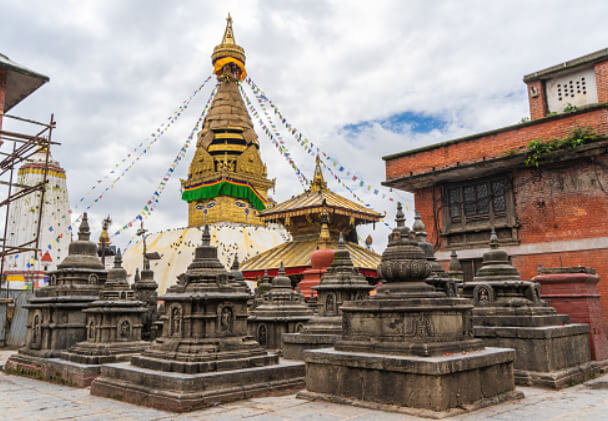 (Image Credit: Pixabay)
Address: BHAGANPAU 44600, Nepal.
Map: Google Map
How to Reach?
It takes 12 minutes to go from Kathmandu to the old temple perched on a hill.
Tourist Attractions:
365 steps to reach the temple.
The huge Tibetan prayer wheel.
The magnificent golden shire.
The painted Buddha statues.
#4 Sagarmatha National Park
With its uncommon animal and bird species, breathtaking Mount Everest, and numerous other Himalayan peaks, the Sagarmatha National Park is a well-known wildlife sanctuary. People revere this wildlife reserve, which is also a UNESCO World Heritage Site. Sagarmatha has kept every facet of nature's attractiveness, with a wide variety of flora and fauna finding refuge amidst breathtaking surroundings. It also acted as a facility to preserve endangered wild creatures such as red pandas, snow leopards, and pheasants.
Address: Khumjung, Nepal
Map: Google Map
How to Reach?
The final access point to Sagarmatha National Park is the town of Jiri. Take a bus from Kathmandu to Jiri.
Tourist Attractions:
Diverse flora and fauna.
Rare bird species.
Stunning views.
#5 PashupatiNath Temple
On the outskirts of Kathmandu, Nepal's capital city, stands the PashupatiNath Temple, one of the country's oldest, most revered, and holiest temples. This temple honours Lord Pashupatinath, commonly known as Lord Shiva, a respected Nepalese deity, and has a location not far from the River Bagmati. One of the temples included on the UNESCO World Heritage Sites list is this one. Over a million people worldwide come to this temple every year during the Maha Shivaratri festival. People travel to Nepal from all over the world to visit the temple on Maha Shivratri.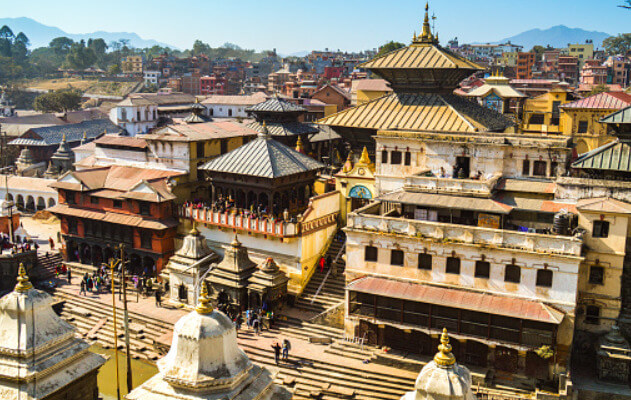 (Image Credit: Pixabay)
Address: Gaushala Road, Kathmandu 44600, Nepal.
Map: Google Map
How to Reach?
Take the bus from Kathmandu to the Pashupatinath Temple's designated bus stop in Goshala. The travel time is roughly 45 minutes.
Tourist Attractions:
Golden spire of the temple
Panch deval complex
The lingams
Silver sheeted doors
Conclusion – Tourist Places in Nepal
For many travellers, Nepal is the ideal location for an exhilarating adventure and a life-altering encounter. How much the traveller will enjoy themselves while on the road will have a major impact on their itinerary. The ideal months to visit Nepal are between March and May and September and November if you're wondering when to go. You can enjoy your holiday fully because the weather is good during these months.