Updated May 25, 2023
Andhra Pradesh, India
Andhra Pradesh is a holy place and a place for people in love with nature. Not only that, but Andhra Pradesh has a lot of historical architecture that will soothe your soul.
Tourist Places in Andhra Pradesh
The best Tourist Places in Andhra Pradesh to visit for your next trip are as follows:
1. Vizag
Vizag is the most popular tourist destination in Andhra Pradesh. It is also known as Visakhapatnam. The best time of the year to visit this place is from September to March. Vizag is surrounded by many beaches along its coastline, with the most attractive beach and one which attracts the most tourists, Yarada Beach. Yarada Beach covers the circle of mountains with a sky-blue color of water and golden sand at the coast. People visiting this place will experience the best sunrise and sunset in Vizag. Another location one could go to at Vizag is the Submarine Museum, Araku Valley, Borra Caves, and Indira Gandhi Zoological Park. These places are also well known and must be visited when one visits Vizag.
2. Amaravathi
Another tourist attraction in Andhra Pradesh is Amaravathi, also known as the capital of Andhra Pradesh. It is a holy place with many temples to Lord Shiva and Buddha. The Amaravati Museum is also an archaeological museum with a statue of Lord Buddha with a lotus on his feet and long, curly hair. Apart from this, Amaravathi can be visited to witness the towering height of 125 feet of the statue of Lord Buddha. It is also known as one of the tallest statues in India. The place is also very peaceful, an excellent place to relax, and one can witness tourists from all over the world.
3. Gandikota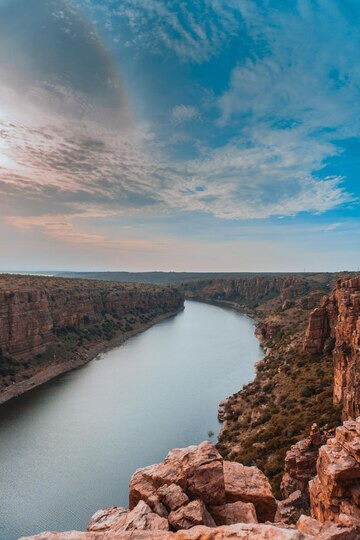 "The Grand Canyon of India," popularly known as Gandikota. Begin with the Gandikota fort to see the best views and historical structures. The fort is located at a high elevation and offers the best view of the village from the top. Visiting Gandhikota and missing out on the night camps is not a fair deal. The night camps are available so you can see a village lifestyle and enjoy the peaceful nature of the lakeside.
4. Tirupati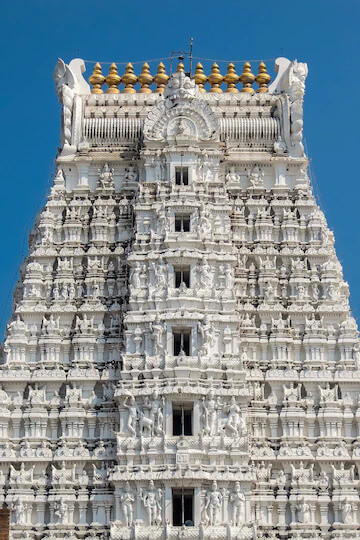 Tirupati is well known for its red wooden toys and is a major educational institution in India. Horsley Hills, the TTDC Garden, and Chandragiri Fort are major tourist attractions in Tirupati, and many devotees who visit Tirupati must see all of these places.
5. Anantapur
Andhra Pradesh is a holy place, and its westernmost district, named Anantapur, is famous for its historical culture and as a divine district. Anantapur is a religious hub. The best time to visit Anantapur is September and March. One should visit Gooty, Tadipatri, Guntakal, Kadiri, and Yogi Vemana Samadhi.
Someone once said, "Words can inspire, but actions create change," so visits Andhra Pradesh to see a natural beauty and the holiest place in India. People believe that Andhra Pradesh was among those places in India wherein Arjuna, the legend from the Mahabharata, visited Kalahastiswara, one form of Lord Shiva, in the district named Srikalahasti. For all these reasons,
Andhra Pradesh represents one of the most religious states in India. To cut a long story short, the best time to witness the beauty of nature and worship this holy place is between September and March.
Recommended Articles
We hope that this EDUCBA information on "Tourist Places in Andhra Pradesh" was beneficial to you. You can view EDUCBA's recommended articles for more information,