Munnar, The Hill Town
The Indian state of Kerala contains the hill town of Munnar, which is famous for its spectacular beauty, peaceful environment, and mild climate. This well-known vacation spot offers a getaway from hectic city life and is present in the Western Ghats mountain range. There is something for everyone at Munnar, thanks to the variety of natural beauty, from pristine lakes and waterfalls to rolling hills and tea gardens.
Must Visit Tourist Places in Munnar
The list of top tourist places in Munnar is given below.
#1 Eravikulam National Park
The Nilgiri Tahr, a unique and endangered animal, may be present in Eravikulam National Park, a UNESCO World Heritage Site. The park's 97 sq. km. of land offers picturesque vistas of undulating hills and verdant surroundings. Numerous other species of fauna, such as the Nilgiri Langur and the Neelakurinji flower, which blooms only once every twelve years, are also visible to visitors.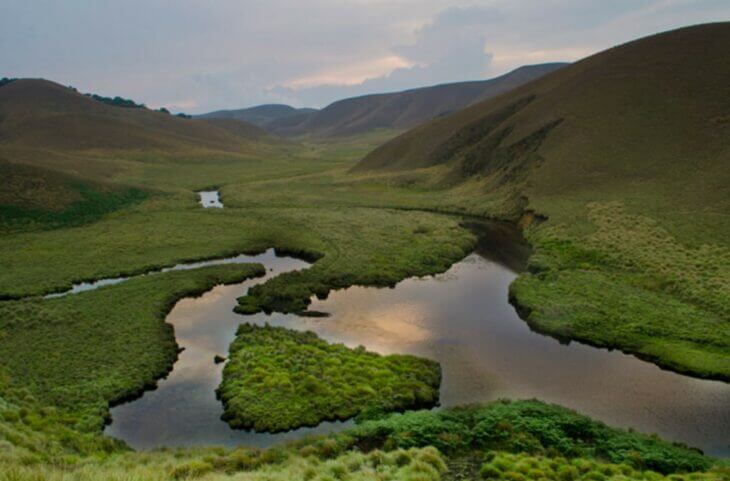 #2 Chinnar Wildlife Sanctuary
The Chinnar Wildlife Sanctuary occupies a 90 sq. km. area and is present in Munnar's western region. Elephants, tigers, leopards, and the critically endangered Giant Grizzled Squirrel are just a few of the animals that call this refuge home. The refuge also provides lovely hikes and walks so guests can discover the region's unspoiled beauty.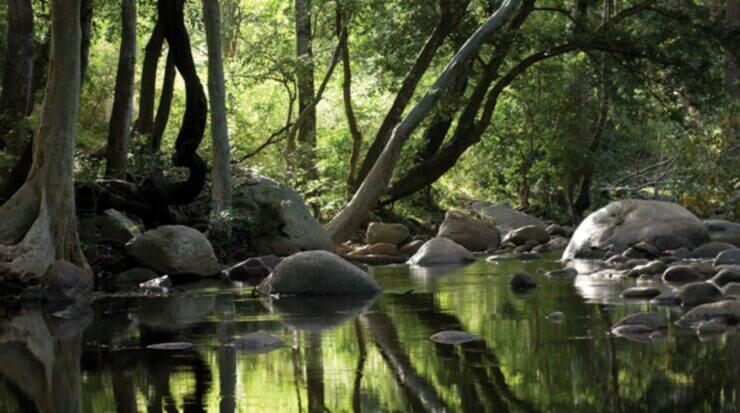 #3 Top Station
Top Station, a well-liked tourist destination in Munnar, provides breathtaking views of the region's hills and valleys. It is familiar with its mild and refreshing climate and is present at a height of 1,700 meters. Visitors can take a pleasant and lazy stroll through the region while taking in the spectacular views, or they can also sit and take in the natural beauty while sipping tea or coffee.
#4 Anamudi
The Eravikulam National Park is home to Anamudi, the highest peak in the Western Ghats. This mountain has expansive views of the nearby hills and valleys and is a well-liked trekking location. While walking, visitors can see various animals, including the uncommon and endangered Nilgiri Tahr.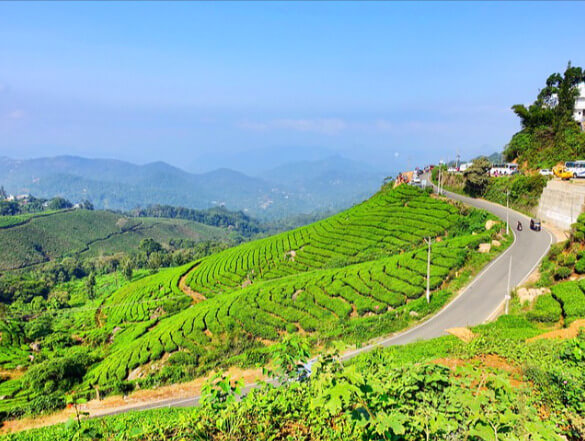 #5 Pothamedu Viewpoint
The Pothamedu Viewpoint, located in Munnar's center, offers beautiful views of the surrounding hills, tea farms, and valleys. Visitors can stroll around the overlook or sit and enjoy the view. The view is breathtaking at sunrise and sunset when the sky changes to a gorgeous hue of orange and red.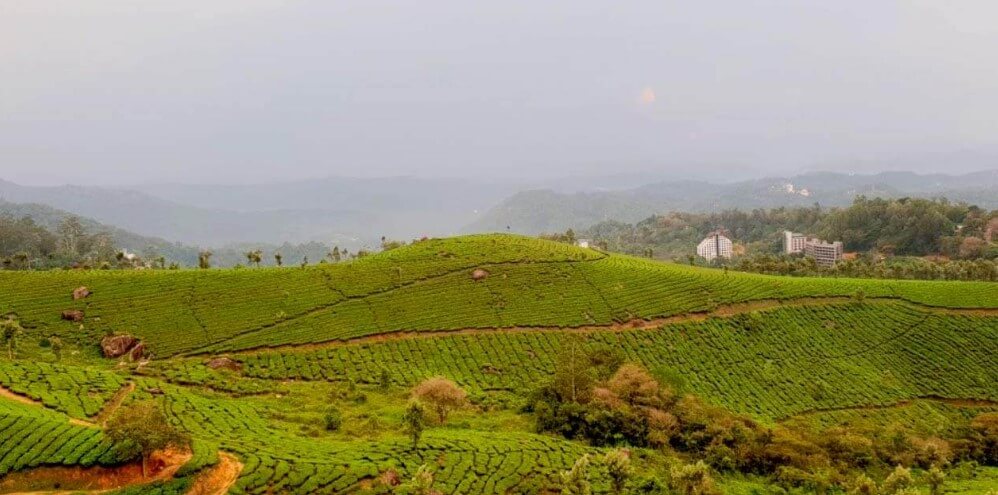 #6 Tea Gardens
A trip to the tea estates in Munnar is a must-do activity while visiting the town because of its fame for its tea plantations. Visitors can observe the tea-making process at the tea gardens, which disperse across undulating hills. It includes picking the leaves and turning them into tea. Additionally, visitors can sample freshly brewed tea while enjoying a leisurely stroll through the gardens and enjoying the area's breathtaking natural beauty.
#7 Maraiyur Wildlife Sanctuary
Kerala's Idukki district is home to the Maraiyur Wildlife Sanctuary, renowned for its abundant and diverse wildlife. Numerous animals, including elephants, tigers, and leopards, call this sanctuary home.
#8 Tea Plantations
Among the most popular tourist destinations in Munnar is its tea plantations. This area's tea plantations span thousands of acres of undulating hills and provide spectacular views. In addition to learning about tea manufacturing and tasting a range of teas, visitors can take a stroll through the tea gardens and observe the process of picking tea. Visitors can take tours of the nearby tea facilities to experience the entire tea-producing process, from picking to packaging.
#9 Mattupetty Dam
Munnar's Mattupetty Dam, which is 13 km from the town center, is a well-liked tourist attraction. The dam offers a picturesque perspective of the countryside and surrounds by verdant hills. Visitors can go fishing, take a boat ride on the dam, or picnic in the surrounding park.

#10 Chinnakanal and Power House Waterfalls
Two well-known waterfalls in Munnar, Chinnakanal, and Power House Waterfalls, provide picturesque vistas of the surrounding hills and valleys. Hikers can go to the waterfalls, or people can sit by the falls and take in the tranquil scenery.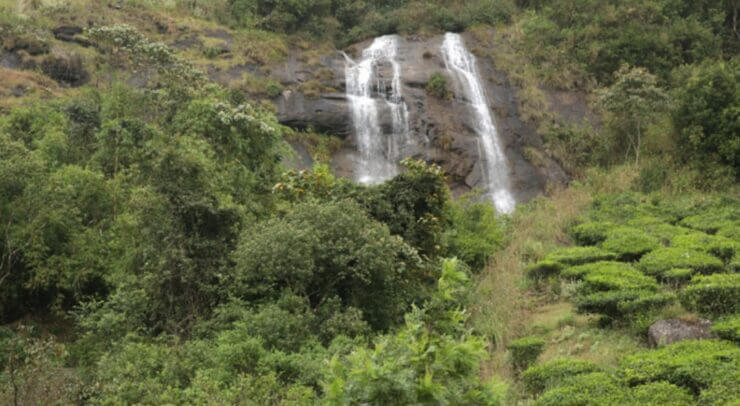 #11 Kundala Lake
Munnar's Kundala Lake is a stunning lake surrounded by tea plantations and undulating hills. Visitors can go fishing, take a boat trip on the lake, or sit by the lake and take in the scenery. Because of the availability of numerous bird species in the region, a lake is also a well-liked place for birdwatching.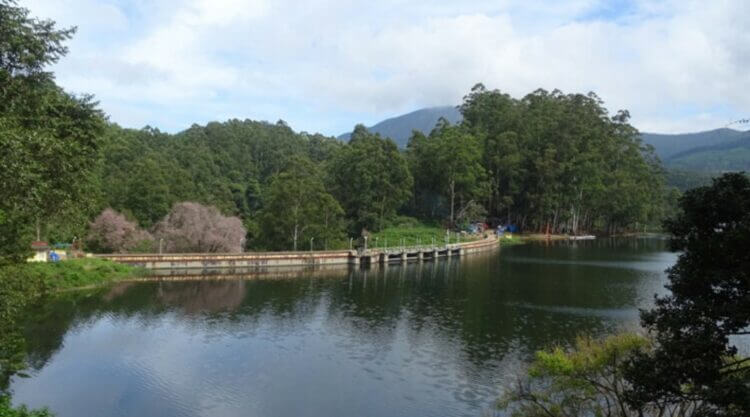 #12 Blossom Park
Blossom Park is a stunning botanical garden in Munnar, home to a wide array of flowers and plants. In addition to learning about the numerous plants and flowers in the area, visitors can take a leisurely stroll through the garden and enjoy the beautiful scenery.
Final Thoughts
Among India's most popular tourist places is the stunningly beautiful hill station of Munnar, situated in the Indian state of Kerala. Munnar provides guests with a one-of-a-kind and enduring experience because of its breathtaking scenery, undulating hills, tea estates, and rich cultural legacy. Munnar offers something to everyone, whether they are looking for adventure, leisure, or cultural activities. Therefore, ensure to include Munnar in your must-visit locations in India if you're seeking a scenic break.
Recommended Articles
We hope that this EDUCBA information on "Tourist Places in Munnar" was beneficial to you. You can view EDUCBA's recommended articles for more information,