Mussoorie, Queen of Hills
It is known as the Queen of the Hills and has many popular Tourist Places in Mussoorie with breathtaking views. Mussoorie, the glittering hill station, has long been a favorite of many. You will never be able to erase the memories of your visit here. Mussoorie is also a popular youth travel destination because of its accessibility to major Indian cities, beautiful weather all year, and stunning views. While in Mussoorie, visitors can participate in various adventure activities such as ziplining, trekking, etc.
Top 6 Tourist Places in Mussoorie
#1 Mussoorie Lake
Mussoorie lake is one of the best Tourists Places in Mussoorie. Tourists and locals enjoy visiting this lovely picnic spot with plenty of activities for children. This artificial lake, located 6 kilometers on the Mussoorie-Dehradun road, has been beautifully developed as an attractive tourist spot by the authorities. It is an excellent location for boating or a picnic day. This lake attracts a large number of visitors all year.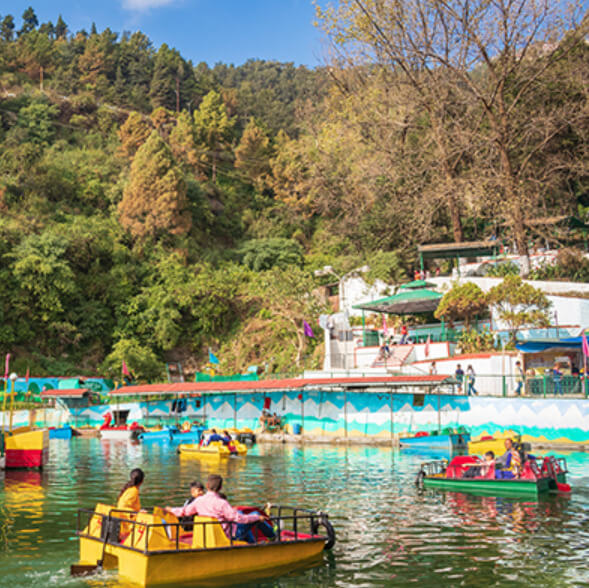 Location: Near the paragliding point.
Timings: 8 am to 7 pm.
Things to Do: Boating, Fast Food, Science views & Photography.
Best Time to Visit: Throughout the year.
Famous For: Nature & Serenity.
Tip: Entry fee INR 15 and extra charge for boat rides.
#2 Camel's Back Road
It is a popular tourist attraction in Mussoorie. A tranquil and calm walk in nature will ensure complete peace and calm. The road comes from a rock resembling a camel's hump on its back. Camel's Back Road, not far from the city center, is a great place to enjoy views of cloud-clad hills. It has one of the most pleasing views of the Doon Valley and a plethora of small eateries serving delectable snacks.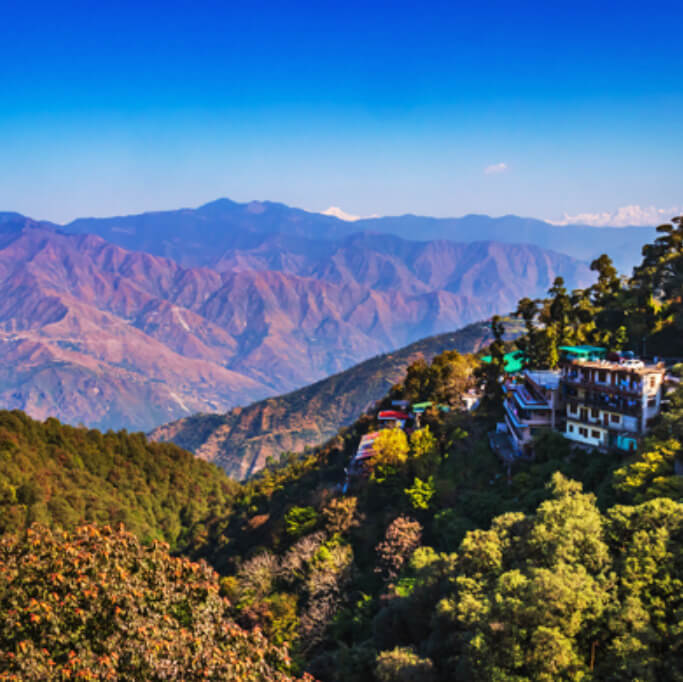 Location: Near The Mall Road.
Timings: All weak during daytime.
Things to Do: Horse Riding, Hot Snacks in the evening & enjoy the doon valley view.
Best Time to Visit: In Summers.
Famous For: Photography, Nature, and Adventure.
#3 Kempty Falls
Kempty Falls is one of the well-known waterfalls in Uttarakhand. A high mountain cliff encircles the falls. This lake has a renowned eco-friendly resort in Mussoorie, Lake Mist Resort. Kempty Fall, a British officer developed to organize tea parties, quickly became a popular picnic spot for locals and tourists. A breathtaking natural beauty, Lake Mist has a good name among nature lovers. It is one of the best Tourist Places in Mussoorie.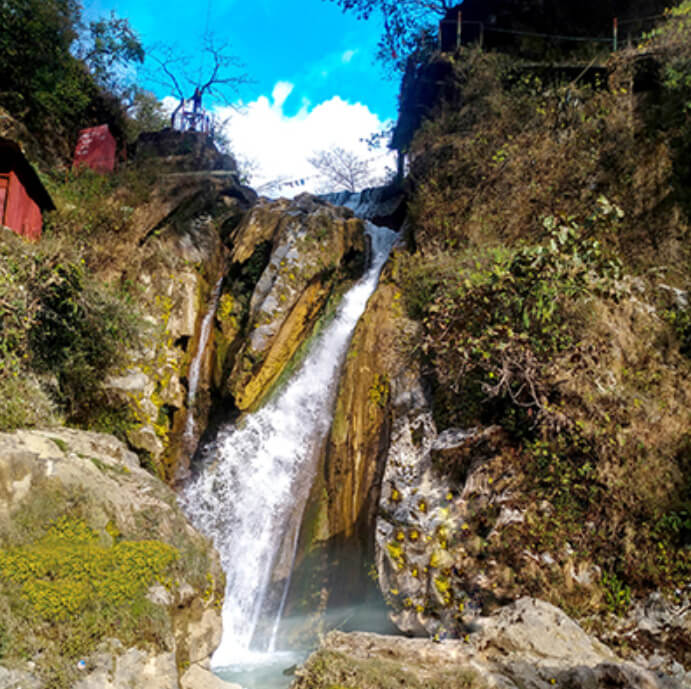 Location: Kempty Fall Road, Kempty, Mussoorie Range.
Timings: 10 am to 5 pm.
Things to Do: Picnic, Boating & Photography.
Best Time to Visit: March – June.
Famous For: Photography, Waterfall & Nature.
#4 The Mall Road
Mussoorie Mall Road, like every other hill station in India, is well-known among tourists worldwide. The Mall Road is Mussoorie's central hub and a must-see on any visit to the city. The Mall has it all: attractions, hotels, restaurants, and shops. The charming views of Doon Valley and the old British colonial-style houses on one side make this one of the best places to visit in Mussoorie.
Location: The Mall Road Mussoorie, Uttarakhand.
Timings: 9 am to 9 pm.
Things to Do: Shopping, Sightseeing, Evening Walk.
Best Time to Visit: Throughout the Year.
Famous For: Shopping & beautiful view of Doon Valley
#5 Lal Tibba
Every hill station has a high point that provides breathtaking views of the surrounding hills, and Mussoorie is no exception. Lal Tibba means "Red Hill" in the local language. It is said to be Mussoorie's oldest and most populous area. The spot is well-known for its scenic beauty, thanks to the beautiful sunrise and sunsets that captivate visitors. The Japanese telescope here allows visitors to appreciate the area's natural beauty. This mountain ridge is also home to the well-known pilgrimages of Kedarnath and Badrinath.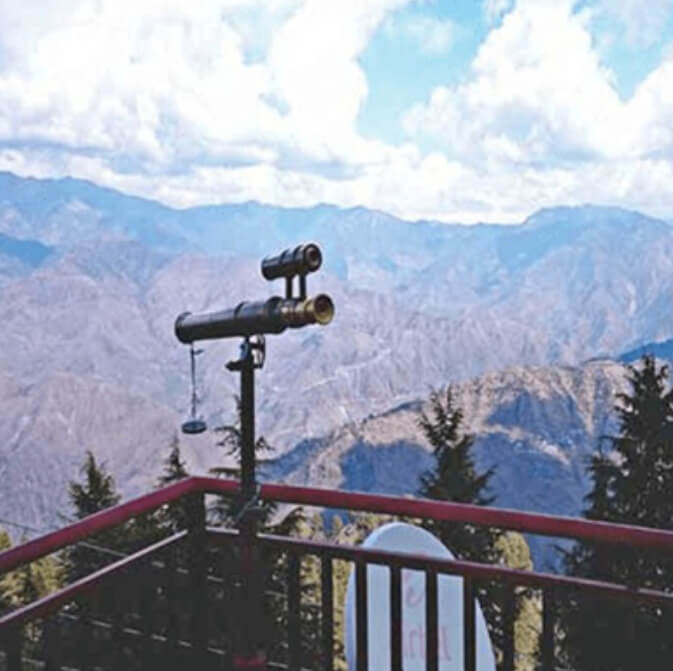 Location: Landour Rd | Depot Hill.
Timings: 6 am to 6 pm.
Things to Do: Trekking, Photography & Sightseeing.
Best Time to Visit: March- July.
Famous For: Trekking, Viewpoint.
Tip: Carry woolen clothes.
#6 Santura Devi Temple
A trip to Mussoorie calls for a visit to Santura Devi Temple, which holds a special place in the hearts of all locals. This traditional temple is to Santura Devi, who saved the entire town from the devastation caused by the Uttarkashi Earthquake in 1991. According to devotees, Santura Devi's blessings have long protected the location.
As the temple's apex, this location provides a breathtaking view of the entire town, making it one of the best tourist places in Mussoorie.
Location: Charleville, Nautha, Uttarakhand.
Timings: Open 24 hrs.
Things to Do: Prayer & Meditation.
Best Time to Visit: Summer.
Famous For: Seeking Blessings.
Tip: Carry enough water to reach the top through the stairs.
Final Thoughts
Visit the above-listed Tourist Places in Mussoorie. It commands a stunning view of the Himalayan snow ranges in the northwest, as well as glittering views of the Doon Valley.
Recommended Articles
We hope that this EDUCBA information on "Tourist Places in Mussoorie" was beneficial to you. You can view EDUCBA's recommended articles for more information,