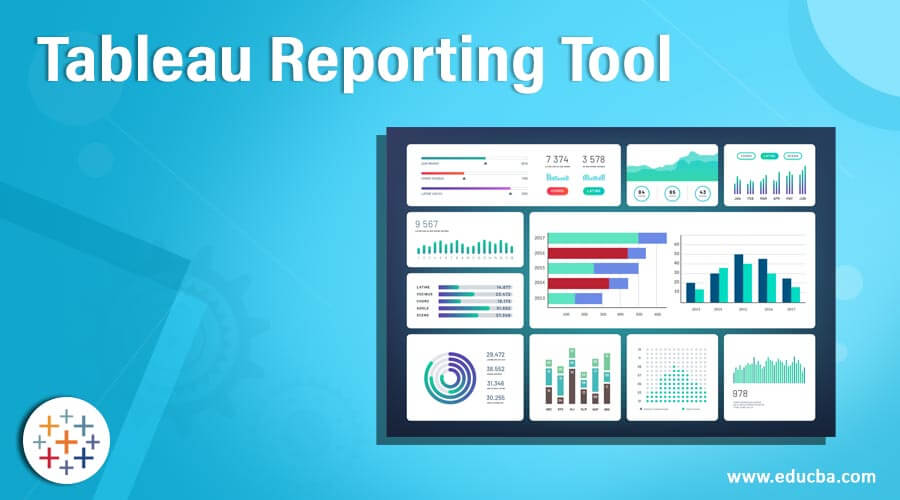 Introduction to Tableau Reporting Tool
Tableau offers perfect blend of Data visualization and analytics capabilities to the Business Intelligence (BI) users in enabling them scaling new heights in their ventures.  Ideally it can be branded as a Visual Analytics tool that integrates visualization, Analytics and human factors.
Analytics part of this tool collects the data from heterogeneous sources and identifies patterns and trends in the data, Visualization explicitly highlights the patterns and trends present in the data in an eye-catchy manner and users with their cognitive skills and perception reads the insights from the data points. Tableau consistently finds a place in Gartner Magic Quadrant for BI and analytics platform along with Microsoft Power BI, Qilk and ThoughtSpot. Let's study the features of this product in detail in this article.
What is Tableau?
It is trending, powerful and fast-growing BI visualization and analytics software. It is capable of handling the large volumes of data, crunching them at a faster rate, and hence is it is mostly deployed in large and medium organizations. It supports on-premises and cloud implementation and it gives its best performance when working with large volume of cloud data.
Visualizations provided by this tool is consumed by users at all levels to infer business value.Even a non-technical person can create a dashboard on his own.Deployment of Tableau software takes a short time and user finds it easy to learn   its intuitive features
Features of Tableau
Tableau connects to any data source such as Excel, plain text file, PDF, databases, big data and other unstructured data.
It has capability to process the connected data in real time mode to generate results as well as store the data in its own database in Tableau server.
Tableau is popular for its data visualization capability among users and it offers 24 different types of visualizations.
Visualizations are created in the form of interactive worksheets and dashboards.
There can be multiple worksheets and dashboards in a screen and they can remain interconnected internally on common data.
Filters can be applied to any worksheets to view a limited number of records on the screen.
Selection criterion or filter conditions of any dashboard or worksheet can be altered by the user and Tableau refreshes the data in that dashboard as well as the interconnected dashboard automatically. This way users can have a holistic view of the data as per the latest selection in all the dashboards without having to change them individually.
Various types Filters are available to the users and they are
Extract filter: It gives option to change the conditions of data extractions.
Data Source filter: It filters data at data source level and it is different from extract filter
Context filter: It is an independent filter that create a separate datasetfrom the original data and more such filters can be used to further filter the dataset created earlier.
Dimension filter: Filter the records on a dimension field and it is non aggregated filter
Measure filter: Aggregated measures of a data can be used as filter.
Top 6 Tableau Reporting Tool
Below are the the tools in detail:
1. Tableau Products
Products stable of Tableau can be categorized under a. Developer tools used in the development of dashboards, reports, charts and other visualizations. Tableau Desktops and Public fall under this category, b. Deployment tools used to share charts and dashboard with users in production environment. Tableau server, Online and reader are in this category.
2. Tableau Desktop
Worksheet, reports and Charts are developed using the rich features offered by this tool and tested locally. For live reports connectivity to the data sources are provided by this product and the output is shared locally or publicly.  Personal version of this tool allow limited access to the data sources and the output is shared offline or using Tableau Public whereas Professional version has full access to data and the results are published in Tableau Public or Tableau server.
3. Tableau Public
Workbooks created using this product are saved in the public space and it cannot be saved locally. Everyone will have access to the saved content.  This version is ideal for the budget users, learners and those who want to publish the content among the general public.
4. Tableau Server
It facilitates sharing the Charts, workbook and other visualizations created through Tableau Desktop tool, to all licensed users across organization. The dashboard before sharing it to all users, must be published in Tableau Desktop. Licensed users don't have to install Tableau server software in their computer instead they can view the reports through web browser after proper authentication. Security level is quite highin Tableau server and administrator has full control of the server. 
5. Tableau Online
It is the cloud version of Tableau Server. Contents are shared to the target users through the Servers in the cloud and it is administered by Tableau group. It provides direct link to more than 40 data sources such as Amazon Aurora, MySQL, Hive, Spark SQL etc. that are hosted in the cloud. Workbooks, like Tableau server, should be hosted in Desktop first before moved to Online. It also supports data streamed from applications like Google Analytics and Salesforce.com.
6. Tableau Reader
It is a free software that allows users to view the contents created by Tableau Desktop and Tableau Public tool. Users can filter the contents and view the results but modifications are not allowed. Reader tool does not pose any security restrictions and it allows free view of the data to the users.
How does Tableau Reporting Tool work?
After installing the tool, Data connections will have to be built. Connectors are available to text file, PDF file, databases, data lakes and many other data streams. The data can be pulled from these sources and stored in Tableau server periodically and the content can be shared as static file to the users for their viewing using Tableau Reader.
Alternatively the users can be connected to the data sources on a real-time mode through an enterprise platform governed by security and regulations and the licensed users can have uninterrupted access to the live data using appropriate Tableau tools.
Benefits of Tableau
It is a self-service tool and any users can view the data in the way they want
Multiple views of the same data is possible using this tool and it provides best insights to Business.
Dashboards can be built at the shortest possible time easily.
Has built-in statistical functionalities, data trends, predictions, and forecasting.
Extracts value from the data and faster Return on Investment (ROI)
Creates more Satisfied customers post its implementation.
Conclusion
Even though Tableau has good Analytics as well Visualization functionalities, it is mostly used as a visualization tool due to its intricate user-friendly features. It is a popular Data visualization tool and many organizations deploy this tool only for viewing information from data models built by other analytical tools.
Recommended Articles
This is a guide to Tableau Reporting Tool. Here we discuss what is Tableau, how does it work, with benefits, and features. You can also go through our other related articles to learn more –