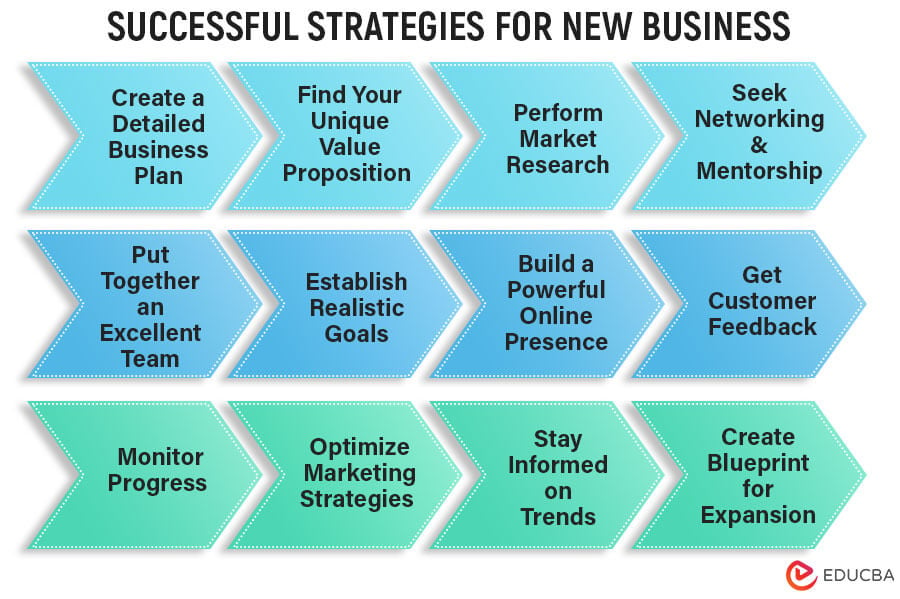 Top 20 Strategies for New Business
If you are thinking about starting a new business, you are looking at an exciting journey filled with both opportunities and challenges. So, if you want to increase your chances of success, you need to create a sound strategy. In this article, we will explore important strategies for new business that can help you establish a thriving and prosperous business.
1. Create a Detailed Business Plan
Designing a well-detailed business plan is the keystone of a successful startup. It acts as your guide that outlines your business goals, target audience, marketing strategy, financial projections, and operational strategy. Thus, a clear roadmap will keep you on track to adapt to the ever-evolving market landscape.
2. Find Your Unique Value Proposition (UVP)
What makes your business different and better than your competitors? The answer to this question will be your unique value proposition (UVP). UVP is what makes your product/service special, convincing customers to choose you over others. It could be top-notch quality, innovative features, outstanding customer service, or a combination of factors. Thus, identifying and clearly communicating your UVP to your target audience can be advantageous.
3. Perform In-Depth Market Research
Knowing and understanding your target market is important. When you do thorough market research, you learn about potential customers, what they like, what they need, and what problems they have. This information helps you create products or services they need. Therefore, the better you understand your audience, the better you can shape your business to meet their needs.
4. Seek Networking and Mentorship
Networking is a great way for new business owners to get ahead. Thus, you must build connections with other entrepreneurs, industry experts, and industrial mentors to seek guidance. Gaining knowledge from those with experience in your domain can provide insights and support when you need it.
5. Follow Legal and Regulatory Standards
Ensure your business aligns with relevant laws and regulations. This means obtaining the required licenses and permits, obeying tax rules, and adhering to industry-specific regulations. If you don't follow these, you could face fines and damage your reputation.
6. Collect Necessary Funding
Initiating and operating a business usually requires a good amount of money. Therefore, you need to ensure you have the required funds to cover initial expenditures, ongoing operational costs, and unexpected challenges. You can gather funds by using your savings, obtaining loans, finding investors, or crowdfunding. Remember to choose the option that matches your financial needs and long-term goals.
7. Put Together an Excellent Team
As your business expands, you will need a skilled and proficient team to oversee day-to-day operations and work together to achieve desired goals. A dedicated and capable team is a valuable asset for your business's success and growth. So, you must hire individuals who share your vision and values. You can also invest in employee business training programs to ensure their competence in their roles.
8. Establish Realistic Goals
Set clear and achievable targets for your business. Your goals should be specific, measurable, and have a deadline. Realistic goals keep you on track and help you make the right decisions. Also, regularly check your progress and be ready to change your plans when needed.
9. Manage Finances Effectively
Adequate financial management is important for long-term success. To effectively manage your finances, make a budget, keep detailed records of what you earn and spend, and track your finances. Consider getting help from an accountant or using accounting software to make it easier.
For instance, given below is a financial budget a business created for their Burger House.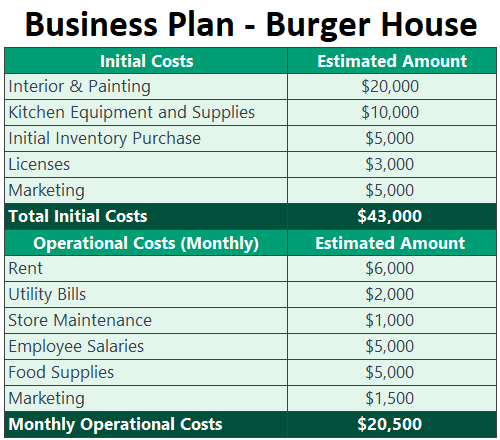 10. Focus on Branding and Marketing
Creating a strong brand and a marketing plan is essential for attracting and retaining customers. You must build a brand that links and connects with your target audience. Make sure your marketing strategy includes online and offline methods like content marketing, social media ads, email campaigns, and traditional advertising techniques. Also, ensure your branding and messaging are consistent.
11. Build a Powerful Online Presence
In today's digital world, building a strong online presence is important for a new business. You must develop an engaging and user-friendly website as well as use social media platforms to promote your products or services. An authentic online presence helps more people find your business and builds trust with your customers.
12. Deliver Remarkable Customer Service
Providing excellent customer service is one of the successful strategies for new business. This is because happy customers are more likely to become regular customers. For this, you must act on customers' concerns and quickly respond to their queries. Personalizing your interactions will resolve problems effectively.
13. Get Customer Feedback and Learn from It
Getting and learning from customer feedback is valuable for a new business. It shows that you care about what they think and can lead to happier customers and more business success. Thus, ask customers for their opinions and take them seriously. Use their comments and suggestions to make your products or services better.
14. Monitor Progress
Monitoring key performance indicators (KPIs) allows you to measure how well your business is doing. Look at important numbers like sales, customer satisfaction, and website traffic. If things aren't going as planned, change your strategies to get back on track. Setting clear goals and staying adaptable is important for your business's success.
15. Evaluate and Optimize Marketing Strategies
Carefully assess the effectiveness of your marketing campaigns. You can use data and analytics to evaluate the success of your marketing endeavors. Study the results and make changes to maximize your return on investment (ROI) and reach your target audience more effectively.
16. Be Flexible and Adaptable
Being flexible and adaptable is a must for a successful new business. Here's why: Markets change, and setbacks happen. Being flexible means you can adjust to these changes, learn from mistakes, and keep up with what customers want. It is the key to surviving and thriving in the business world.
17. Stay Informed about Industry Trends
Staying updated about industry trends and new technologies is one of the smart strategies for new business. It helps you find new opportunities and remain competitive using the latest innovations. Additionally, it lets you network with industry experts and plan your business strategy wisely.
18. Embrace Failure as a Learning Opportunity
Failure is part of the journey for entrepreneurs. Even successful businesses face obstacles and mistakes. However, what sets successful entrepreneurs apart is their ability to learn from these failures, adapt, and keep going. Learning from failures makes your business stronger and more likely to succeed in the long run.
19. Promote Innovation to Stay Competitive
Promoting innovation is an essential strategy for new business to sustain a competitive edge. You must continuously look for ways to improve your products, make your processes more efficient, and find creative solutions to problems. Consistent innovation keeps your business competitive and up-to-date.
20. Create a Blueprint for Future Expansion
Finally, one of the best strategies for new business is planning for future growth. It means setting up your business to expand your operations, infrastructure, and team. It helps you to be more efficient, manage resources better, and reduce risks as you grow. It also allows you to take advantage of new opportunities in the market.
Final Thoughts
Starting a new business is a test of determination. However, by implementing these strategies and sticking to your objectives, you can increase your chances of building a successful and long-lasting business. Remember that every business is distinctive, and there is no one-size-fits-all formula. You can customize these strategies to fit your business's needs and objectives.
Recommended Articles
We wish this article listing the top 20 strategies for new business was helpful to you. For more such articles, feel free to check out our recommendations: