Introduction to Social Media Marketing for Business
The following article provides an outline for Social Media Marketing Business. Social media marketing (SMM) is a dynamic way of using social media and the internet to sell companies' or individuals' products or services. Social media marketing helps companies to improve their business profit by establishing a relationship with their customers. SMM helps you to achieve your business goals in no time.
SMM helps companies attract new customers and increase their satisfaction by understanding them through social media platforms such as Facebook, Tiktok, Instagram, WhatsApp, Twitter, LinkedIn, Youtube, Snapchat, Pinterest, Clubhouse, etc.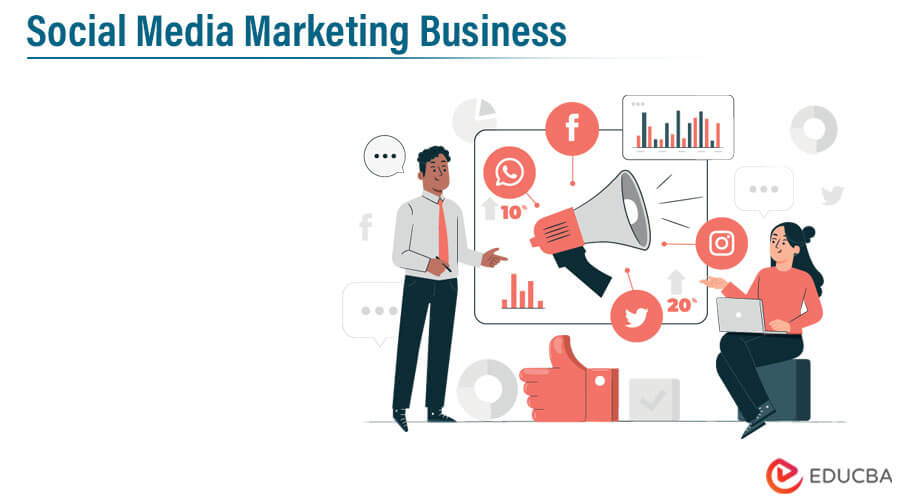 Key Highlights
Social media marketing (SMM) is a powerful way of using the internet and social media to sell a company's brand or service to the customer.
It helps you to know your customers' requirements and trends in the market.
Interacting with your customer on social media helps you to expand your loyal customer base.
SMM helps you to improve your brand's authority and inbound traffic to your site.
Quality content on your social media page can even attract an apathetic customer to your brand.
SMM and other analytics tools help you find your customers' mindset and know where you can improve your business.
Features like Geotargeting help you to target your customers from a wide range of audiences.
When compared to other outbound marketing strategies, SMM is very cost-effective.
Top Benefits of Social Media Marketing Business
According to statistics, there are more than 4.55 billion social media users worldwide. So imagine bringing your business to social media helps you to advertise your business on a large scale and gives you extensive benefits.
Some of them are as follows: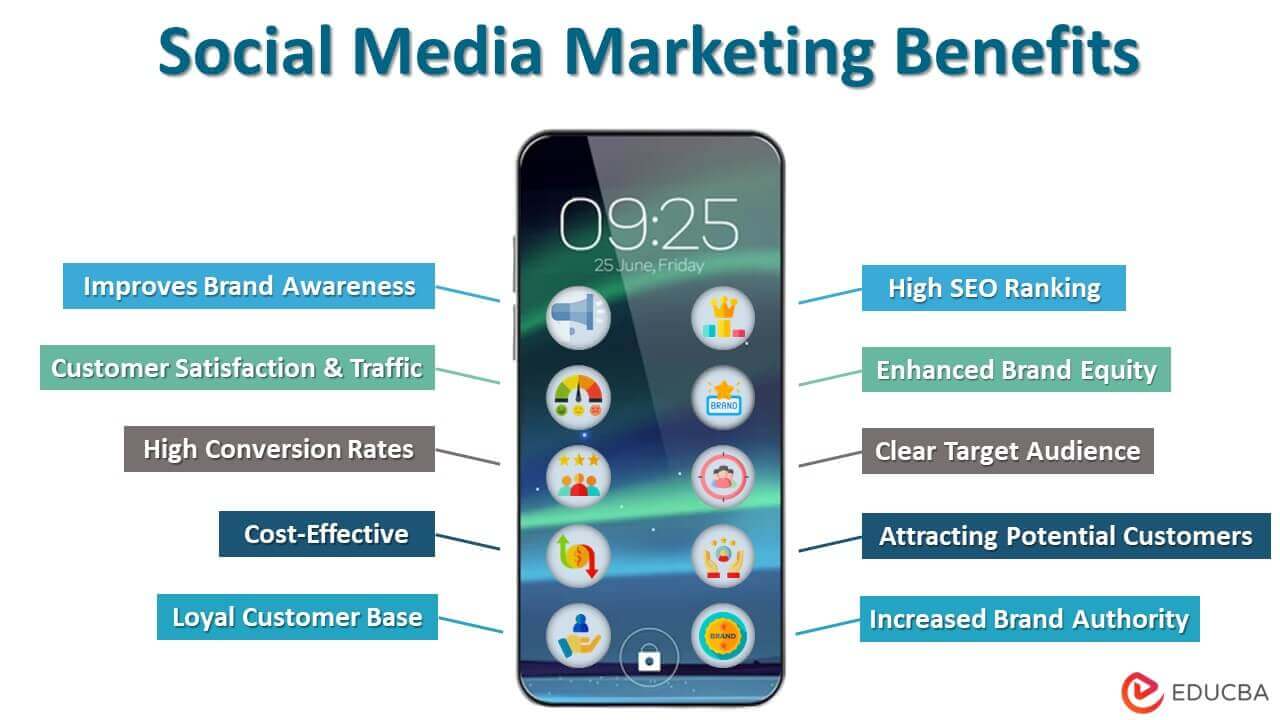 1. Improve your Brand Awareness
Social media marketing helps you to bring your business to the world. It makes people understand your brand and your business goals. It gives greater exposure and recognition to your brand.
Starting a social media profile for your company will be your first step to bringing your business to the social media platform. You should be more careful in projecting your brand on social media.
Unique content about your brand increases your brand's visibility on social media.
Social media marketing helps you connect with your targeted audience and quickly increase brand recognition. It helps you to increase your business reputation rapidly.
2. Increase Customer Satisfaction and Inbound Traffic
One satisfied customer brings you many new customers. Social media marketing helps you to analyze your customer needs. An analytics tool for social media helps you to find your customer requirements and helps you to fine-tune your service based on the target audience.
Establishing communication with your customers in the comment section and responding to their concerns immediately will improve your customer satisfaction rate rapidly.
Social media marketing takes your business to a large population of people, which increases your site traffic undoubtedly.
Adding every quality and attractive content on your social media page brings you a new audience and increases your inbound traffic.
3. Higher Business Conversion Rates
People who see your regular posts and follow your social media page will eventually tend to buy your product.
Regular updates on your product and company bring free market attention and increase your business conversion rates.
The most significant thing about social media marketing is that it is the only place where a company can act as an individual and make people feel the same.
Good communication with your target audience makes them feel more comfortable and familiar with your product and makes them buy your product.
The business conversion rate of social media marketing is more when compared to outbound marketing.
4. Cost-Effective Marketing
Social media marketing is very cost-effective when compared to other media marketing.
Creating a Facebook page or a LinkedIn account for your company costs you Zero pence. Even if you want to advertise, it doesn't cost much.
Comment or post of one satisfied customer about purchasing your product brings you a free advertisement benefit.
Social media marketing is inexpensive when compared to the outbound marketing cost.
5. Increase the Number of Loyal Customers
People following your company on social media know more about your company and will be more loyal to your brand.
According to a survey conducted in America, it has been evident that 53%of customers who follow brands on social media are more loyal to the brands.
Companies that engage with customers, respond to queries, and rectify them rapidly will gain customer support.
Every post about your company and brand brings you many new customers and makes them loyal.
Sharing about your brand and each growth step of your company on social media will engage people emotionally with your company and make them loyal to your brand.
6. High Search Engine Ranking
Social media marketing is a boon for many companies who want to expand their customer base. It helps you to improve your inbound traffic.
Good content on the social media page of your company acts as a passage to your website, increasing your inbound traffic.
Quality and attractive content provide a great opportunity for better search engine rankings. Higher search engine rankings automatically increase the number of visitors to your site and increase your business.
7. Grow your Brand Equity
Social media marketing helps you to maintain a long-term relationship with your customers. It is the best communication medium to interact with your customers and provide them with the best service.
Long-term relationships with a brand make your customers influencers of your brand.
A loyal customer's positive opinion of your brand can influence even an apathetic customer to buy your brand.
Loyal customers of your brand elevate your business to a higher level and improve your brand equity in the market for a longer period.
8. Easy Identification of your Target Audience
Social media supports many analytic tools that help you identify your customer requirements and market trends to drive your business in the right direction.
Social media provides various features such as Geotargeting, Advanced targeting, and Result tracking.
Geotargeting allows you to target your customer within a specified mile radius; using this feature; you can identify your customer base around your business area. Targeting the customers nearby your business area helps your walk-in customer numbers and increases your business profit.
Advanced targeting helps you to find your customers who are fans of specific brands. Targeting these customers will improve your leads to business conversion rate.
Using social media, you can filter your targeted customer data from many customer data. For example, using LinkedIn, you can filter people working in a specific industry.
Tracking results is one of the best features of social media, which helps measure the conversions and increase the conversion rates of your business.
Social media also helps you to monitor your sales, website traffic, and email subscription numbers.
9. Attract Apathetic Customers
Generally, it will take more effort to attract new customers when compared to the existing ones. Still, it is easier to convince a new customer through social media than outbound marketing strategies.
Posting quality content on your social media page and regular updates on your product make your non-targeted customer familiar with your product. This familiarity with your product will make new customers buy your brand when they are in need.
Social media marketing is the best way to sell your product and attract new customers. All you have to do is spend more time and effort on your social media page.
10. Increase Brand Authority
Establishing a connection with your customer and solving their queries will generate more loyal customers for your brand.
Employing sympathetic employees to communicate with your customers and handling your customers with care will take your business to the next level.
One happy customer complementing your product on social media and writing good reviews on your brand will increase your brand's authority.
Nowadays, people trust brands based on customer reviews on the review page; more good reviews on your social media page lead to increasing your brand's authority.
Conclusion
According to a survey, an average person spends more than two and a half hours on Social media. Many startups and entrepreneurs have become more successful in a short time using social media. Social media marketing is a godsend to many companies to improve their business and achieve their business goal in no time.
FAQs
Given below are the FAQs mentioned:
Q1. Why should I choose social media marketing?
Answer: An average person spends about 30% of their internet time on social media, So Social media will be a great stage to display your brand to a large number of people. Social media marketing is the best place to increase your brand awareness and get to know your targeted audience.
Q2. Which social media platform will be helpful for my business?
Answer: There is no direct answer to this question. It depends on your business, but Facebook is the largest used social media platform when compared to others. Creating a Facebook page will be your first step in social media marketing, but most of your targeted audience may use Instagram or LinkedIn; you need to find your target audience and focus on that platform to improve your business.
Q3. Does Youtube help to improve my business?
Answer: Youtube is one of the most used social media platforms on the internet. Videos are the best way to communicate with your audience. Giving a glimpse of what is happening in your business and showing them the behind scenes of your brand will attract a wide range of audience and help to improve your business.
Recommended Articles
This article is about tips for social media marketing business. To learn more about the topic, you can refer to these articles –