Difference Between Stocks vs Bonds
Both terms, 'stocks vs. bonds,' are often used simultaneously and interchangeably, making us think that both are the same in the investment world. But both are significantly different but complement each other. Both are very good options to keep in the investment portfolio as they offer different benefits in different market environments.
Stocks help in having ownership in a business enterprise. When a company sells its stocks, it sells a part of the company in exchange for cash. In simple words, stores can also be understood as individual company shares. When a company thinks of expanding but cannot do so with the income it is earning through its operations; it takes the help of financial markets for additional financing.
The company can split it up into shares and then sell them in the open market. So basically, a person who buys a stock has an actual share of the company. For this reason, the stock is also known as Equity. Stockholders are paid dividends only if the company declares a dividend. The biggest corporations trade their stocks on stock exchanges. Stocks are either publicly or privately issued. It is sold on stock exchanges like NASDAQ if it is publicly issued. When stocks are privately issued, they are held by a small group of individuals with a substantial percentage of ownership.
Bonds mean long-term debt. When the government or corporation needs cash, it borrows money from the public market and pays interest on the money raised to the investors. The issuing corporation of bonds promises to pay the principal amount at a specific date. Bonds are issued to pay interest to the bondholders. As per a fixed contract, a fixed interest payment has to be made after specific intervals, generally every six months. More giant corporations may trade their bonds in the bond market. A corporation issues bonds to invest in plant and equipment or acquisition of another business. The government issues bonds generally to raise financing for capital improvement projects or other obligations.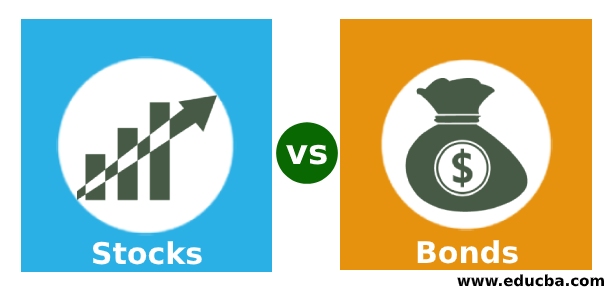 Types of Stocks and Bonds
Below are the different types of stocks and bonds that are as follows:
Stocks
Common Stock – This kind of stock gives general ownership in the company. The common stockholders can elect and vote, but they come much after bondholders and preferred shareholders in case of liquidation.
Preferred Stock – Shareholders under this category don't have voting rights but are eligible to get dividends before common stockholders. They get fixed dividend payments.
Growth Stock – This stock invests its profits in helping to grow the company. This stock may not pay a dividend or may offer a tiny dividend.
Dividend Stock – These types of stockholders are given much of the company's profits as dividends. It may offer some capital appreciation, but the main focus is the dividend yield.
Value Stock – These are the stocks that are taken out of favor by the general investing public.
Bonds
Convertible bonds – These are corporate bonds, but there is a provision to convert them into company stocks.
High-yield bonds – These bonds, also known as junk bonds, pay higher interest rates and are issued by issuers with low credit ratings.
Foreign Bonds – Foreign governments and corporations issue these. Investors invest in these since they pay higher interest rates than domestic bonds.
Municipal Bonds – These types of bonds are issued by states, countries, and municipalities. The interest paid is tax-free.
S. Government bonds – These are the debt obligations of the US government and are known as treasuries. These are generally issued for terms of 20 and 30 years.
Head-to-Head Comparisons Between Stocks vs Bonds ( Infographics)
Below is the top 8 Difference between Stocks vs Bonds

Key Differences between Stocks vs Bonds
let us discuss some of the significant Differences Between Stocks vs Bonds:
Stocks are financial assets issued by a company and have ownership rights. Bonds are long-term debt instruments issued to raise capital with a promise of payback of the principal and interest.
Stocks are equity instruments, and bonds are debt instruments.
Stocks give returns known as dividends, while bonds give interest. Return on stocks is not guaranteed, but there is a guarantee on return from bonds.
Stocks are riskier than bonds.
The stock market has a centralized trading system, whereas bond is traded over the counter.
Stockholders are owners of the company, while bondholders are lenders to the company.
Stocks vs Bonds Comparison table
Below is the Comparison table between Stocks vs Bonds
| | | |
| --- | --- | --- |
| The Basis of Comparison | Stocks | Bonds |
|  Definition |  These are financial instrument that gives ownership interest and is issued by the company in exchange for cash. | The debt instrument issued by companies or governments to raise capital along with the promise of payback after a fixed time with interest. |
| Issuance | Issued by companies. | Issued by the government, financial institutions, or companies. |
| Instrument | This is an Equity instrument. | This is a Debt instrument. |
| Type of Return | Gives a dividend. | Gives interest. |
| Guarantee of Return | No guarantee. | Guaranteed. |
| Risk Levels | High risk. | Low risk. |
| Add on benefits | Stockholders have voting rights. | Bondholders get preference at the time of repayment. |
| Ownership | Stockholders are owners of the company. | Bondholders are lenders to the company. |
Conclusion
Both stocks vs bonds are good ways of raising capital from the market and are very useful financial instruments. A well-balanced portfolio has both bonds and stocks, and proper allocation can help in maximizing growth and minimizing risk.
Recommended Articles
This has been a guide to the top difference between stocks vs bonds. Here we also discuss the stocks vs bonds key differences with infographics, and a comparison table. You may also have a look at the following articles  –