Updated October 30, 2023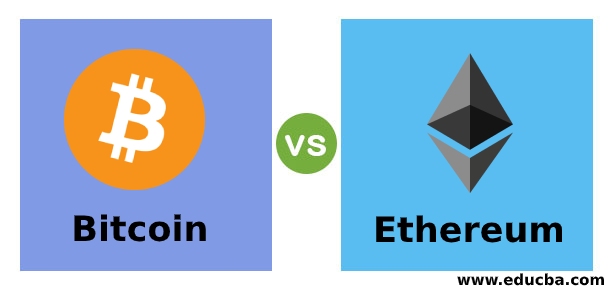 Difference Between Bitcoin vs Ethereum
Bitcoin and Ethereum are two distinct cryptocurrencies with unique features. Cryptocurrency, also known as virtual or digital currency, functions as a medium of exchange without government backing. Users extensively utilize these digital assets for fund transfers and transactions. Continuous trading based on supply and demand causes the value of each cryptocurrency to be highly volatile and denoted in terms of USD.
Bitcoin, a type of cryptocurrency, lacks government backing and is susceptible to money laundering and tax evasion. It is typically used for payments between suppliers and consumers who exclusively accept Bitcoin. The Bitcoin mechanism involves encrypted hash codes and a peer-to-peer network that verifies transfers between Bitcoin and other cryptocurrencies like Ethereum. The price of Bitcoin fluctuates frequently due to trading by speculators and traders. For instance, if the current price of 1 Bitcoin is USD 100 at a specific time, but the supplier receives the Bitcoin after a while, the amount may vary due to volatility. Suppose the current price changes to USD 102.5. In such a case, the supplier benefits from the volatility. Artificial intelligence methods employ various algorithmic formulas to calculate fluctuations.
Vitalik Buterin invented Ethereum in 2013 and split it into two blockchains: Ethereum and Ethereum Classic (the older version). Users actively trade or transfer cryptocurrencies like Ether among different cryptocurrencies, including Bitcoin and Ethereum, on the Ethereum platform or operating system. The general public uses Ethereum as the platform on which they operate and trade digital currencies. In 2017, the value of Ethereum currency witnessed a staggering growth of 13,000%.
Head To Head Comparison Between Bitcoin vs Ethereum (Infographics)
Below is the top 4 Comparison between Bitcoin vs Ethereum

Key Differences Between Bitcoin vs Ethereum
Ethereum:
Block time: Ethereum's block time is approximately 14 to 15 seconds.
Coin generation: Ether mining generates new coins at a generally consistent rate.
Mining algorithm: Ethereum uses the Ethash algorithm, which reduces the impact of ASIC mining.
Transaction fees: Fees for Ethereum transactions depend on computational complexities, storage needs, and bandwidth usage.
Transaction units: The transaction amount in Ethereum is specified in Gwei, and gas is used as a unit of measurement.
Bitcoin:
Block time: Bitcoin has a block time approximately 40% lower than Ethereum, around 10 seconds.
Coin generation: The rate of Bitcoin generation halves approximately every four years.
Mining algorithm: Bitcoin uses a hash algorithm that produces repeatable but non-reversible strings, which differs from Ethash.
Transaction fees: Bitcoin transaction fees are determined based on the transaction size.
Transaction units: Transaction fees in Bitcoin are measured in satoshis per byte.
Head To Head Comparison Between Bitcoin vs Ethereum
Below is the list of points that describe the comparison between Bitcoin vs Ethereum
| | | |
| --- | --- | --- |
| The Basis Of Comparison  | Bitcoin | Ethereum |
| Related to | Cryptocurrency | A platform of Crypto-currency like Ether. |
| Meaning | Related parties who accept the particular virtual currency can use it as a medium of exchange on a common platform and trade it, even though it is not present in any country. Each digital currency holder possesses their own stored program, a digital wallet. | Several systematic Algorithm computations control the Ethereum platform, where Ether, a digital currency, is commonly traded. |
| Financial asset | Bitcoin is a financial asset, and it has a value of its own. | Ethereum is a platform that constitutes several calculations by which the value of a digital currency can be determined at any point in time. |
| Capital asset | This is not a capital asset as it is used as a medium of exchange. | The platform is a capital asset, as the cost of developing this platform is huge, and it helps in the operation of BitCoin rather than an exchange medium. |
Conclusion
The blockchain continuously grows and requires certain modifications at every stage to provide cryptocurrencies. Ethereum and Bitcoin follow different mechanisms but serve the same end-user. Ethereum, as a platform, merely provides the virtual currency Ether, which is traded, whereas Bitcoin is a virtual currency with its intrinsic value.
Recommended Articles
This has been a guide to the top difference between Bitcoin vs Ethereum. Here, we also discuss the Bitcoin vs Ethereum key differences with infographics and a comparison table. You may also have a look at the following articles to learn more –