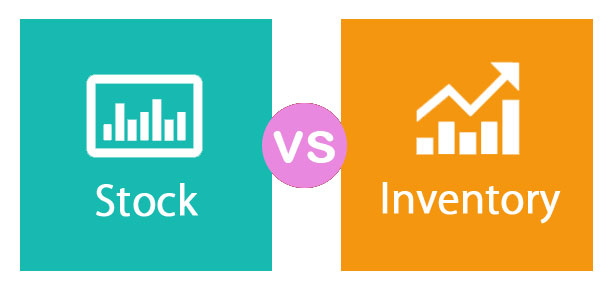 Difference Between Stock vs Inventory
In layman term, stock and inventory are used interchangeably but for accounting purpose these two things are different. Both Stock vs Inventory are having different meaning and need to be looked into details. From analyst point of view, it matters a lot what is stock and what is inventory because both things give a different view about the company's financials.
Using stock and inventory interchangeable is technically wrong also and it gives misinformation about the financial health of the company, one should be careful before using a term.
What is Inventory meaning?
Inventory is raw material used for making the product, work in progress goods and finished product. In other words, the inventory includes finished product ready to sell, work in progress goods which are not fully converted and raw material which is required to create the product. Inventory is generally found in manufacturing companies, service-based companies don't have to carry inventory.
Inventory has inventory carrying cost so companies try to maintain inventory at the optimum level. An optimum level of inventory is decided by management. Inventory carrying capacity and inventory turnaround are majorly tracked majors for tracking the optimum level of inventory required for business. An analyst looks into details of inventory turnover and compares them with a similar industry to understand the efficiency of handling inventory.
Inventory is categorized into the following categories –
Raw Material – Raw material is building a block to make a final product. Tata Motors buy steel bars, sheet metal, and tubing to manufacture vehicle frames and other vehicle parts. When Tata Motor puts all materials into production and starts shaping the metal and cutting the bars, the raw material becomes work in process inventories.
Work in Progress – Work in progress includes all partially finished products that the company produces. As a car maker, all their inventory down the assembly line is considered as work in progress inventory until it is finished.
Popular Course in this category
Business Valuation Course
14 Online Courses | 70+ Hours | Verifiable Certificate of Completion | Lifetime Access
4.5 (1,055 ratings)
---
Related Courses
Equity Research Course
Project Finance Course
Finished Goods – Finished goods are the products ready to sell to retailers or even the end users or wholesalers. In Tata motor's case, finished cars are the finished goods.
Inventory is accounted in three different ways – First in First out ( FIFO ), Last in Fist Out ( LIFO ), Weighted average method. Management can choose whichever method suits their business. But each chosen method has its own implications on the income statement in different scenario especially when prices of raw material are fluctuating, Frequent change in accounting method is considered as manipulation of accounting books.
Examples of inventory of tyre company –
Rubber (Raw Material)
Carbon Black (Raw Material)
Chemical (Raw Material)
Synthetic rubber (Raw Material)
Steel (Raw Material)
Wires (Raw Material)
Tyres (Finished goods)
Tyres without threads (Work in progress)
What is Stock meaning?
Stock is finished product ready to sell into a marketplace. Stock can also have raw material if the company sells raw material to customers.
A stock is valued at cost of acquisition or market price whichever is less. As stock gets sold it is removed from the balance sheet and recognized as revenue into the profit and loss statement.
Example of stock of tyre company –
Tyre (Finished Product)
Carbon black (raw material – if the company also sells)
Whenever a stock is piling up on the balance sheet it means finished products are not selling into the market then it becomes the really worrisome condition for the management. Either they should cut down the production or push the product into the market because carrying stock on a book is always painful for the company financially. Companies like Eicher motors having good demand for their product or waiting period generally have zero stock. Zero stock is the best case for the company as it shows demand is high for its products. Plus, a company doesn't have to carry a cost of carrying stock. More the stock sold more is the revenue. Stock levels are rising on the balance sheet is considered as the red signal from the analyst.
Stock is nothing but part of the inventory. Tracking stock data becomes imperative because it shows finished product sells. Some companies track stock data on day to day basis.
Head To Head Comparison Between Stock vs Inventory (Infographics)
Below is the top 6 difference between Stock vs Inventory

Key Differences Between Stock vs Inventory
Both the Stock vs Inventory are popular choices in the market; let us discuss some of the major Difference Between Stock vs Inventory
Inventory comprises raw material, work in progress and finished products whereas stock comprises finished products only.
Accounting for inventory is done on a quarterly basis, whereas generally stock accounting is done on day to day basis.
Inventory needs to be maintained at an optimal level, optimum level is level where profit-maximizing can be done. Ideally, zero stock is the best-case scenario but the company should produce enough to meet the demand in the market.
Stock vs Inventory Comparison Table
Below is the 6 topmost comparison between Stock vs Inventory
The Basis Of Comparison Between Stock vs Inventory

Inventory

Stock

Consists of

Raw material
Work in progress
Finished Product

Finished products
Raw material (if company sell directly)

Accounted
Acquisition cost or market price whichever is less
Acquisition cost or market price whichever is less.
Maintained on
Quarterly basis
Daily Basis
Which is higher
Higher compared to stock
Lower compared to inventory
Best case scenario
Optimal inventory
Zero stock
Example
For tyre companies –

Rubber, carbon black, chemical, steel wire, tyre, unfinished tyre

For tyre companies –

Tyre, carbon black (if company sales it directly)
Conclusion – Stock vs Inventory
Stock vs Inventory two are different things technically and have a different meaning in accounting. Inventory and stock both the terms give a different perspective in analyzing the business from an analyst point of view.
More stockpiling into the balance sheet is a red signal for analyst whereas more inventory is ordered is a signal for more production and demand for the product.
Recommended Articles
This has a been a guide to the top difference between Stock vs Inventory. Here we also discuss the Stock vs Inventory key differences with infographics, and comparison table. You may also have a look at the following articles to learn more.
Financial Analyst Course- All in One Bundle
250+ Online Courses
1000+ Hours
Verifiable Certificates
Lifetime Access
Investment Banking Course

Financial Modeling Course

Business Valuation Course