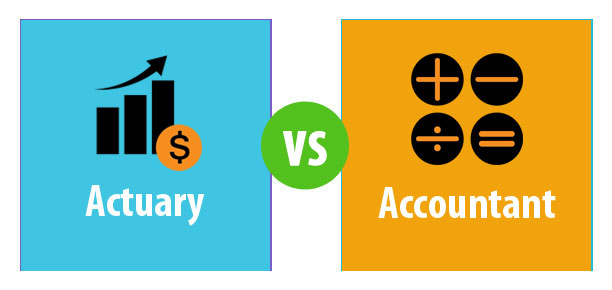 Difference Between Actuary vs Accountant
Both Actuary vs Accountant jobs primarily need running numbers, analyzing data, financial reporting, statistical analysis, and research. An actuary requires to analyze statistical data and calculate insurance risks and premiums. Scenarios might be the probability of an individual making medical claims based on personal health background or the risk of property loss in a given region or rate of early death due to the accident and calculating the premium for the term insurance. If one enjoys working with large sets of numbers and information for finding out relations between many different categories, one may consider a career as an actuary. Accountants generally work in a larger capacity than actuaries and help firms account internal financial data like client transactions, customer transactions, investments, payroll, and other expenses. unlike actuaries, accountant works in different industries or specific roles; however, accountants are responsible for a department's or firm's financial record are correct and complete in the stipulated time.
Actuary basically performs the following functions
Collect and analyze the required statistical data for further analysis and study.
Analyze the events in detail and its risks associated with it which can increase the costs for the firm; for example, sudden death or a natural disaster will cause an insurance firm loss due to payments made to nominees, and insurance payments can hurt badly to the insurance company.
Design, and implement different business strategies like insurance investments and pension plans with an attitude of minimizing losses and maximizing profit. The actuary has to create in-depth reports to explain the business strategies and their benefits to the company.
Explain the reports to the shareholders like executives, clients, and government officials.
Types of Actuaries
Health Insurance Actuaries
Life Insurance Actuaries
Pension and Retirement Actuaries
Property and Casualty Insurance Actuaries
Accountant basically performs the following functions
Organize and maintain accurate records
Prepare and examine financial records
Ensure that financial statements comply with laws and regulations
Assess financial operations
Compute taxes owed, prepare tax returns and ensure prompt payment
Advise ways to reduce costs, enhance revenues and improve profits
Accounting is one of the most important roles in any business function, along with technical skillsets it requires integrity in professional and business relationships and objectivity, lack of bias, and no conflict of interest between individual and related parties.
Various career paths in accounting
Public Accountant
Tax Accountant
Forensic Accountant
Financial Accountant
Managerial Accountant
Internal Auditor
Government Accountant
Head To Head Comparison Between Actuary vs Accountant (Infographics)
Below is the top 5 difference between Actuary vs Accountant

Key Differences Between Actuary vs Accountant
Both Actuary vs Accountant are popular choices in the market; let us discuss some of the major Difference Between Actuary vs Accountant
Actuaries are employed in insurance companies. All types of insurance companies will need actuaries in the background to assess and manage the risk involved in providing insurance. All company needs an accountant. Most of them have a finance department with many accountants working together for financial statement analysis and creating a financial statement. Actuaries have limited opportunities in a job but salary-wise and pay scale growth-wise they have brighter prospects than the accountant.
Accountants have numerous opportunities in a job but compared to actuaries pay scale growth is limited. Still, both the Actuary vs Accountant jobs are high paying jobs across the countries. The demand for both Actuary vs Accountant looks very strong in the coming years. Still, relatively a smaller number of actuarial positions will be available compared to accountant positions. It also suggests that the probability of finding a job as an accountant will be easier compared to actuaries. If one goes by the actuarial route, one should have a back-up plan that shall allow him or her to gain relative experience and then switch to an actuarial job. In some cases, accountants are responsible for making the content of financial records as an of financial reports or year-end financial statements, or the accountant may focus on legally required financial information like taxes.
Actuary vs Accountant Comparison Table
Below is the 5 topmost comparison between Actuary vs Accountant
Parameter
Actuary
Accountant
Primarily Role
Analyze and find out premium & risk in insurance.
Accounting of financial statements
Industry
Insurance
All
Degree
a bachelor's degree program, preferably in mathematics, actuarial science, or statistics. Another related financial or analytical degree
A bachelor's degree in accounting

a master's degree required for upper-level management roles

Job Outlook
In the Insurance Industry, limited job opportunities available.
In any industry, more job opportunities are available.
Salary
The approximate salary for entry-level actuaries with 3 required exams passed is $ 60,000 per annum.

The median salary for entry-level CPAs is about $1,00,000 per annum. (At least 2 years' experience)
Conclusion
Actuary vs Accountant both professionals work on the same type of information, both professionals handle financial data, and both professionals generate statistics. Yet both will have different business functionaries and will serve different organizational purposes.
Almost all of the actuaries are employed in insurance companies, and they deal mainly with risks and premiums. Actuaries will provide the mathematical probability of a future event occurring (such as natural disasters or accidents), and advise insurance managers on how to minimize any possible financial impact of untoward events. Actuaries also advise insurance firms how much premium should be charged for each different insurance product and which type of customers to ensure. They also advise on possible business profit by adding new insurance products and also advise on discontinuing the existing products.
Accountants work with organizations, handling financial transactions by recording financial information in the given time period. Accountants' job might also include financial analyzing and reporting, auditing accounts, preparing tax returns, or/and acting as an advisor on a large variety of financial matters related to the organization. Accountants' duties are broader in terms of responsibilities than that of an actuary.
Recommended Articles
This has been a guide to the top difference between Actuary vs Accountant. Here we also discuss the Actuary vs Accountant key differences with infographics, and comparison table. You may also have a look at the following articles to learn more.