Updated June 15, 2023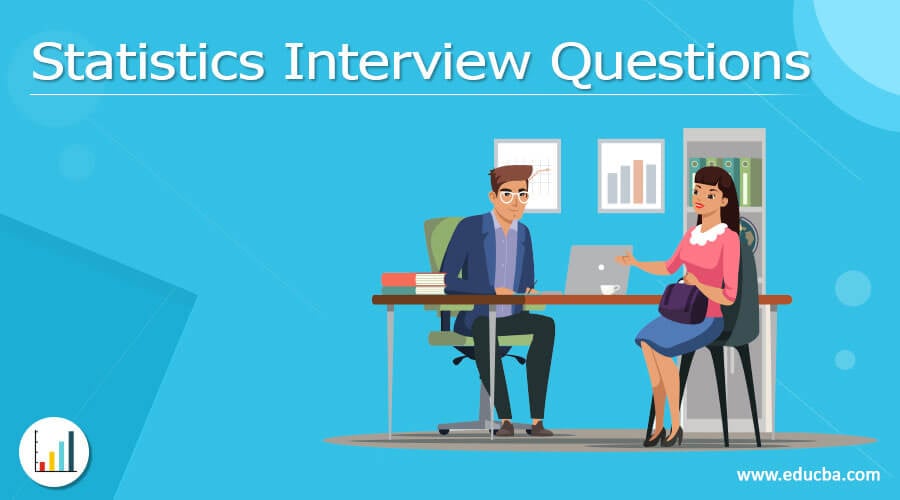 Introduction to Statistics Interview Questions And Answers
Statistics is a branch of mathematics mainly concerned with the collection, analysis, interpretation, and presentation of tons of numerical facts. It helps us to understand the data.
So you have finally found your dream job in Statistics but are wondering how to crack the 2023 Statistics Interview and what could be the probable Statistics Interview Questions. Every interview is different, and the job scope is different too. Keeping this in mind, we have designed the most common Statistics Interview Questions and Answers to help you get success in your interview.
Below is the most common feature of the 2023 Statistics Interview Questions, which can give you a great foundation for the language.
Statistics Interview Questions And Answers
The following Statistics Interview Questions and Answers are mentioned below.
1. Name and explain a few methods/techniques used in Statistics for analyzing the data?
Answer:
Arithmetic Mean:
It is an important technique in statistics. The number of the quantity obtained by summing two or more numbers/variables and then dividing the sum by the number of numbers/variables.
Median:
Median is also a way of finding the average of a group of data points. It's the middle number of a set of numbers. There are two possibilities, the data points can be an odd number group, or it can be en even number group.
If the group is odd, arrange the numbers in the group from smallest to largest. The median will be the one that is exactly sitting in the middle, with an equal number on either side of it. If the group is even, arrange the numbers to pick the two middle numbers and add them, then divide by 2. It will be the median number of that set.
Mode:
The mode is also one of the types for finding the average. A mode is a number that occurs most frequently in a group of numbers. Some series might not have any mode; some might have two modes which is called bimodal series.
In the statistics study, the three most common 'averages' in statistics are Mean, Median, and Mode.
Standard Deviation (Sigma):
Standard Deviation measures how much your data is spread out in statistics.
Regression:
Regression is an analysis in statistical modeling. It's a statistical process for measuring the relationships among the variables; it determines the strength of the relationship between one variable and a series of other changing independent variables.
2. Explain statistics branches?
Answer:
The two main branches of statistics are descriptive statistics and inferential statistics.
Descriptive statistics: Descriptive statistics summarizes the data from a sample using indexes such as mean or standard deviation.
Descriptive Statistics methods include displaying, organizing, and describing the data.
Inferential Statistics: Inferential Statistics conclude from data that are subject to random variation, such as observation errors and sample variation.
3. List all the other models that work with statistics to analyze the data?
Answer:
Statistics, along with Data Analytics, analyzes the data and helps a business to make good decisions. Predictive 'Analytics' and 'Statistics' are useful for analyzing current and historical data to make predictions about future events.
4. List the fields where a statistic can be used?
Answer:
Science
Business
Biology
Computer Science
Chemistry
It aids in decision-making.
Provides comparison
Explains the action that has taken place
Predict the future outcome
An estimate of unknown quantities.
5. What is linear regression in statistics?
Answer:
Linear regression is one of the statistical techniques used in the predictive analysis; this technique will identify the strength of the impact that the independent variables show on deepened variables.
6. List the Sampling Methods?
Answer:
In a Statistical study, a Sample is nothing but a set of or a portion of collected or processed data from a statistical population by a structured and defined procedure. The elements within the sample are known as sample points.
Below are the 4 sampling methods:
Cluster Sampling: IN the cluster sampling method, the population will be divided into groups or clusters.
Simple Random: This sampling method simply follows pure random division.
Stratified: In stratified sampling, the data will be divided into groups or strata.
Systematical: Systematical sampling method picks every kth member of the population.
7. What is the P-value, and explain it?
Answer:
When we execute a statistical hypothesis test, a p-value helps us determine our results' significance. A null hypothesis is when the hypothesis and the specified population have no significant difference due to sampling or experimental error.
8. What is Data Science, and what is the relationship between Data science and Statistics?
Answer:
Data Science is simply data-driven science; it involves the interdisciplinary field of automated scientific methods, algorithms, systems, and processes to extract insights and knowledge from data in any form, either structured or unstructured. Data Science and Data mining have similarities, both useful abstract information from data.
Data Sciences include Mathematical Statistics along with Computer science and Applications. By combing aspects of statistics, visualization, applied mathematics, and computer science Data Science is turning the vast amount of data into insights and knowledge.
Statistics is one of the main components of Data Science. Statistics is a branch of mathematics commerce with the collection, analysis, interpretation, organization, and data presentation.
9. What is correlation and covariance in statistics?
Answer:
Covariance and Correlation are two mathematical concepts; these two approaches are widely used in statistics. Correlation and Covariance establish the relationship and measure the dependency between two random variables. Though the work is similar between these two in mathematical terms, they are different from each other.
Correlation: Correlation measures how strongly two variables are related.
Covariance: In covariance, two items vary together, and it's a measure that indicates the extent to which two random variables change in a cycle. It is a statistical term; it explains the systematic relation between a pair of random variables, wherein changes in one variable are reciprocal by a corresponding change in another variable.
Recommended Articles
This has been a guide to the List Of Statistics Interview Questions and Answers. Here we have listed the most useful 9 interview sets of questions so that the jobseeker can crack the interview with ease. You may also look at the following articles to learn more-