Updated May 5, 2023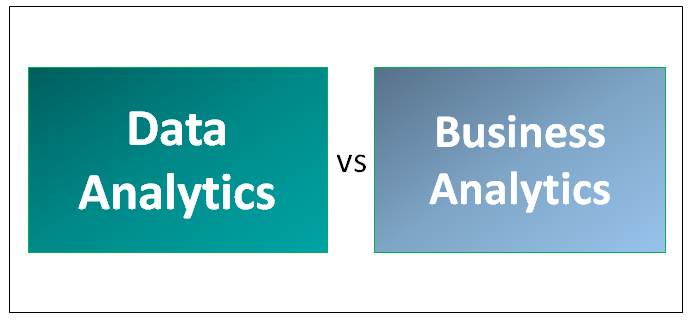 Differences Between Data Analytics vs Business Analytics
Data Analytics is more technical-centric than the other in terms of technical skillset as a data analyst would be doing hands-on data cleaning, data purging, finding correlations, etc. A data analyst would love to dirty his hands on any of the latest tools, test their data on the tool, and see what insights they can draw from it.
On the other hand, business analytics is a more process-oriented / functional role where a business analyst would look into the company's day-to-day operations. A CEO/CMO won't understand what correlation is or what variables have a weight on the transform function, hence a business analyst. A business analyst should be able to interpret the data analyst terminologies and transom them to be presentable to their respective heads. A business analyst would also look into optimizing and would also be the one to call the shorts for upgrading/optimizing any models in the company/campaign.
Below is the extract from Wikipedia for the definition of a data analyst:
"Analysis of data is a process of inspecting, cleansing, transforming, and modeling data to discover useful information, suggesting conclusions, and supporting decision making. Data analysis has multiple facets and approaches, encompassing diverse techniques under various names, in different business, science, and social science domains."
If we go with the definition given by IIBA (International Institute of Business Analysis), then the following defines business analytics:
"The Business Analyst is an agent of change. Business Analysis is a disciplined approach to introducing and managing change in organizations, whether for-profit businesses, governments, or non-profits.
The business analysis identifies and articulates the need for change in how organizations work and facilitate that change. As business analysts, we recognize and define the solutions that will maximize the value delivered by an organization to its stakeholders. Business analysts work across all levels of an organization. They may be involved in everything from defining a strategy, creating the enterprise architecture, leading by defining the goals and requirements for programs and projects, or supporting continuous improvement in its technology and processes."
Head-to-Head Comparison Between Data Analytics and Business Analytics
Below are the top 8 comparisons between Data Analytics and Business Analytics:

Key Differences Between Data Analytics and Business Analytics
Below are the lists of points that describe the key differences between Data Analytics and Business Analytics:
The key tasks of a business analyst will be checking the requirement and assessing it with a point of operations and functions. In contrast, a data analyst will only analyze the data in terms of collecting, manipulating, and analyzing the data.
The business analyst goes through all the requirements by scoping and de-scoping the requirements and then assigns the tasks to the developers to develop the code. In contrast, a data analyst prepares dashboards charts or various visualizations, which would help the higher management to take calls on what should be done next.
The business analyst would research and try to gain valuable insights from the data; finding the optimal model for the business also lies with the business analyst. A data analyst would concentrate on developing new algorithms or optimizing the already developed algorithms.
Let's take an example and try to differentiate between the two:
1. We have a study where a telecom company needs to segregate their customers to find the unwanted customers or, say, the churn rate. A business analyst would ask the developers to build models by giving them all the required data and then try to evaluate which model best describes them.
2. A data analyst would be cleaning the data, transforming it to fit well enough for the model, tweaking it for better results, and building visual outputs to make it easily understandable.
Data Analytics and Business Analytics Comparison Table
Following is the list of points that show the comparisons between Data Analytics and Business Analytics:
| | | |
| --- | --- | --- |
| Basis For Comparison | Business Analytics | Data Analytics |
| Focus | A business analyst would be responsible for making the reports, KPI(Key Performance Index) matrix, and trends in the data, which would help the organization. | A data analyst would play with the data to find patterns and correlations and even build models to see how the data responds to their models. |
| Process | A business analyst would do a static and comparative study of the data. | A data analyst would do an explanatory analysis and then will try to experiment with data mining processes to give a good visual representation of the data. |
| Data Sources | A business analyst would pre-plan their data sources as to what is necessary and which should be excluded, which is a slow process. | A data analyst finds a correlation in some data which is not a part of his earlier dataset; then, they would add the data source on the fly as needed. |
| Transform | A business analyst would transform the data upfront, which is carefully planned. | All the transformations are done in the database; whenever there is a demand for enriching data, it is done on the fly. |
| Data Quality | A business analyst would always present the data as a single version of the truth. | A business analyst would go by the phrase "Good enough" or theoretically with the probabilities. |
| Data Model | A business analyst would go with schema on the load data model. | A data analyst would go with schema on the query data model. |
| Analysis | Retrospective, descriptive. | Predictive, prescriptive. |
| Field | A subset of computer science and management where data is studied using different methods and technologies. | It covers the entire technological field, a superset of Data Science. |
Conclusion
As a business analyst acts on top of a data analyst, here is a glimpse of the salary composition of the two profiles:
The below table shows the average salary of a business analyst.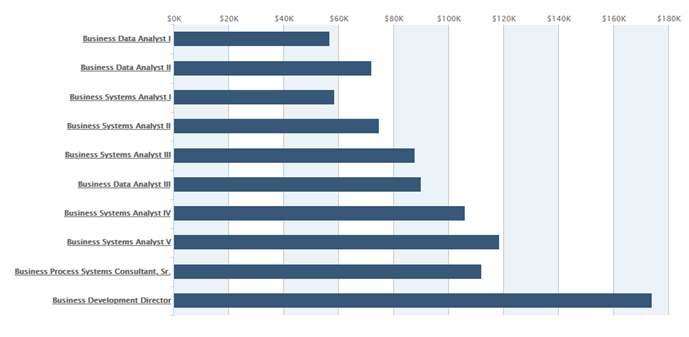 A data analyst would have an average salary between $65k and $97k.
To conclude, it depends on the individual's interests; if they are good with technical stuff, they go with data analytics, or if they are proficient with the functional/process areas, they may go with the business analytics part.
Each has advantages regarding conceptual matters, growth, and development in Science and Technology. The expanding technology world needs more of these areas to grow and create extraordinary inventions that ease human life and save our atmospheric environment for future generations to lead a smooth and happy life.
Recommended Articles
This has been a guide to Data Analytics vs Business Analytics. Here we discuss Data Analytics vs Business Analytics head-to-head comparison, key differences, infographics, and comparison table. You may also look at the following articles to learn more –