Updated July 6, 2023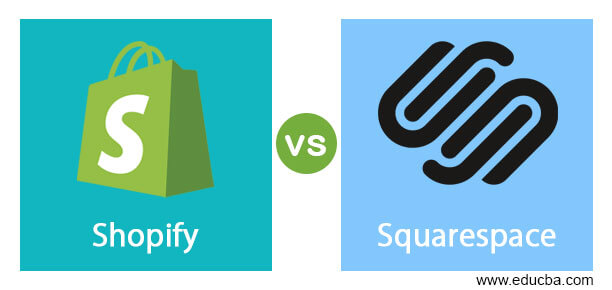 Differences Between Shopify vs Squarespace
In times of the smartphone and mobility, the greatest benefactor has been e-commerce. And they have changed the way we live. And delivered with élan. E-commerce companies have diversified into providing business solutions, and with the advent of technology, these processes have become even more sophisticated. There is another large segment that has garnered great wealth and knowledge by leveraging the transformation of technology. The companies who provide the e-commerce companies the platform to hold their websites. Website builders are the most important cog in the wheel. Without their expertise and support, the e-commerce industry would not have been able to grow this rapidly.
Due to the changing dynamics of the industry, website builders do come up with innovative methods to provide more for their clients. Two of the most respected names in the domain of website building are Shopify and Squarespace. They are among the best in terms of quality of service and sophistication of technology, and both are growing exponentially. Let us have a look at how they fare when compared to each other.
Shopify
One of the earlier entrants in the field of website building, Shopify is a haven for serious sellers. Its powerful e-commerce engine helps large organizations realize the full potential of their sales campaigns and also trends. Shopify has been able to build enough sub-tools, which makes it an ideal platform for e-commerce.
Squarespace
Squarespace is one of the competitors of Shopify and quite a strong one at that. One of the components of Squarespace, which its customers swear by, is the range of designs. It can so suitably be called the King of design. However, even though laced with a host of features that are helpful for e-commerce, Squarespace isn't as loaded as Shopify. It is ideal for the e-commerce start-up, that wishes to begin its journey not too extravagantly.
So now that we have a basic idea about these two behemoths let's dig a bit deep.
Ease of usage:
Shopify is loaded with features. From product handling to templates, tax calculators, drop-shipping arrangements, you name it. Shopify has it. That is not to say that Squarespace does not. It, too, is loaded with features. The question is how easy it is to navigate these features. My bet would be on Shopify.
Templates and Design Flexibility:
Squarespace is a legend in this domain, and though I do not wish to undermine the effort put in by Shopify, the odds are seemingly stacked against it.
Product Presentation:
Shopify is built for large corporations. Hence, its product presentation is better than that of Squarespace.
Supported Payment Options: Shopify has its own payment option, Shopify Payments. Also, one has the choice to integrate a payment processor of their own choice.
Shipping Costs and Integration:
Shopify, by virtue of being able to have greater traction, is a tad costlier than Squarespace. The integration of shipping works wonderfully for both Shopify and Squarespace.
Tax Setting and Calculations:
This is one of the areas where Shopify simply takes off. Squarespace will eventually simplify the methods, but as of now, there is no stopping Shopify. For the records, Shopify automatically calculates US taxes. For calculations of taxes from other parts of the world, one can easily integrate TaxJar.
SEO and seeding:
SEO is a holy grail for websites wanting to make a mark in the digital space. Shopify does that quite right, while Squarespace is slowly coming up to the mark.
Head to Head Comparison between Shopify vs Squarespace
Below is the Top 9 Comparisons Between Shopify vs Squarespace.

Comparison Table Between Shopify vs Squarespace
Following is the comparison table between Shopify vs Squarespace:
| | |
| --- | --- |
|  Secured e-commerce system with SSL plans | Similar to Shopify. A fully closed system by design. |
|  Shopify has an extensive customer support system. | Squarespace, too has an extensive customer support system. |
| Ease of usage of Shopify is legendary. In spite of packing a host of tools and services, a user will never be lost navigating through the maze. | Squarespace isn't that far behind in that space. However, it has not yet reached the level of Shopify yet, but nearly so. |
|  Great SEO and seeding of the site is one of the hallmarks of Shopify | Squarespace, too, has good SEO management. |
| Shopify was built as an e-commerce platform. The intention from the beginning was to provide a premise for e-commerce sites to sell their products online. | Squarespace, on the other hand, was built to create blogs. They added the e-commerce part in 2013. Hence, it is still adding tools and services to assist e-commerce solutions. |
| Shopify is pricier, given the services it provides. | Squarespace is cheaper, though with limited options. |
| Shopify has tons of templates to choose from. However, it is not quite as flexible as one would want it to be. As in, 10 free themes are all they would give you. | Squarespace has better handling with themes, but customization can be an issue. |
|  Product presentation in Shopify has its own merits. Shopify provides a zoom effect to products. They have gone ahead and released an augmented reality app. This makes your product come alive. | Squarespace is quite limited in this sector. They simply let your products be added while viewing the videos; one has to click on read more and enter into the fold below the image. |
| Content import is nice and easy | Content import is a breeze here and is usually done in .csv format. |
Conclusion
Shopify has been one of the first entrants in the domain of e-commerce website building. Over the years, they have perfected their services and added to a burgeoning list of tools that many e-commerce companies find extremely useful. Squarespace, on the other hand, has been a new entrant. They, too, have been slowly building their repertoire over the years and are quite adept in their sphere.
Recommended Article
This been a useful guide to the Differences Between Shopify vs Squarespace; here, we discussed their Meaning, Head-to-Head Comparisons, and Conclusions. You may also look at the following article to learn more –