Updated March 31, 2023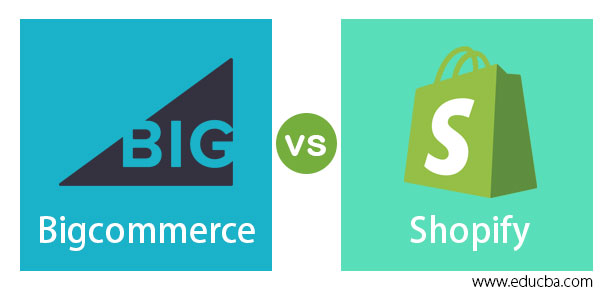 Difference Between Bigcommerce vs Shopify
Bigcommerce is one of the top eCommerce platforms that allow one to develop an online store. BigCommerce came into the market in 2009. Bigcommerce offers a unique approach to user interface and user experience design. BigCommerce provides a Software as a Service eCommerce platform. Bigcommerce is a superb SEO to boost search rankings. Bigcommerce has some in-built advanced features, from impressive data reporting tools to 0% transaction fees. Bigcommerce allows one to sell service-based, digital, and physical products through their website. The best part of Bigcommerce is that there is no extra charge for using a third-party payment solution.
Shopify is also an eCommerce platform that offers various tools that help one set up and run their business. To make one's store look great and stand out, both free and paid themes are offered by Shopify Theme Store, and to expand the functionality of one's store similarly, both free and paid apps are offered by Shopify App Store. An exclusive 24/7 support is provided by Shopify apart from what one's Shopify plan is. Shopify charges per transaction, which varies from 0-2.0% of the transaction fees.
Head to Head Comparison between Bigcommerce vs Shopify (Infographics)
Below are the top 10 differences between Bigcommerce vs Shopify:

Key Differences between Bigcommerce vs Shopify
Following are key differences between Bigcommerce vs Shopify:
Multi-Currency Support: BigCommerce has an advanced feature of supporting multicurrency so buyers worldwide can do transactions in their local currency, while Shopify doesn't provide international scalability. For multi-currency support, one has to rely on third-party applications.
Built-in Features: BigCommerce has built-in out-of-the-box features in the majority for any eCommerce platform, while Shopify lacks in this feature.
SEO Marketing: BigCommerce has built-in fabulous Search Engine Optimization to boost search rankings and attract a huge amount of traffic to the website, while Shopify lacks this feature as well.
Ease to Use: Shopify is easier to use and is most popular among beginners, while the complex terminology of BigCommerce makes it very unsuitable for beginners.
Switching Templates: BigCommerce is too flexible if one wants to switch the theme of the site, while in Shopify switching templates means reformatting one's website.
Sales Feature: Sales features include everything from shipping options to transaction fees. Shopify has an extensive application store that helps one to add anything to the eCommerce site, while BigCommerce has advance built-in features for any eCommerce platform in the market, but it lacks some of the features as compared to Shopify. So Shopify is considered best in Sales features.
Support: Both Shopify and BigCommerce offer many support options like 24/7 live chat, email, and 24/7 phone, but Shopify provides an extra support option through Social Media, and this support feature is not available in BigCommerce.
Annual Sales Limits: In BigCommerce, annual sales have a limitation of $50,000 in the Standard plan and of $150,000 in the plus plan, and of $400,000 in the Pro plan, while in Shopify, there is no limitation for the annual sales.
Bigcommerce vs Shopify Comparison Table
Let us discuss the top comparison between Bigcommerce vs Shopify:
| | | |
| --- | --- | --- |
| Feature | BigCommerce | Shopify |
| Ease of Use | BigCommerce is more difficult to navigate, and its language cannot be understood easily. So it's not recommended for beginners and first-time users. | Shopify is very easy to use and can be easily understood by beginners. No hard coding background is required for the same. |
| Flexibility to Design | BigCommerce provides great flexibility, as one can change the templates of the website very easily. | Shopify is less flexible as one has to reformat the whole site to change the site's template. |
| Pricing | BigCommerce offers a free trial for 15 days; then, different paid plans have Abandoned Cart Recovery's best feature. | Shopify offers a free trial for 14 days. There are different paid plans like Shopify Lite, Basic Shopify, Advanced Shopify, Shopify Plus, etc., which are minimal in cost compared to BigCommerce. |
| Help and Support | BigCommerce provides great support, but it lacks the advanced feature of providing support through social media. | Shopify has an advanced feature of providing support through Social Media. |
| Popularity | BigCommerce is less popular but is the most scalable eCommerce platform. | Shopify is an all-around and most popular eCommerce platform. |
| Customer Satisfaction | BigCommerce offers less customer satisfaction because of its bit higher pricing and difficulty to understand by the fresher. | Shopify offers more customer satisfaction because of its advance features. |
| Transaction Fees | BigCommerce offers the advantage of 0% transaction fees on all of its plans. | Shopify offers 0% transaction fees only for the payments made through Shopify payments while it charges some transaction fees of 0.5% to 2% for the payments made without the use of Shopify payments. |
| Credit Card Fees | For Credit Card processing, BigCommerce's recommended partner is Paypal which Braintree powers and fees vary from 2.2-9%, depending on the plan of the subscriber. | Shopify payments is a recommended payment processor by Shopify. The Credit Card Fees vary from 2.4%-2.9% in Shopify. |
| Free Templates | There are 12 free templates available in BigCommerce. | There are only 8 free templates available in Shopify. |
| Paid Templates | 130 paid themes are available in BigCommerce, and the pricing of these themes varies from $165 to $250. Although BigCommerce provides good discounts on these paid themes, one can pick these paid themes cheaply than the above. | 64 paid templates are available in Shopify, and the pricing of these paid themes varies from $140 to $180. |
Conclusion
On the basis of the above comparison, it is very difficult to pick a winner between BigCommerce and Shopify, as both of the platforms have their weaknesses and strengths. The advantages of choosing BigCommerce are that there is no application of transaction fees disregarding the payment gateway used, and it is free and easy to create AMP versions of one's store in BigCommerce. And the advantages of choosing Shopify are that at a very low cost than BigCommerce, it provides automatic abandoned cart recovery, and it is very cheaper than BigCommerce in many aspects.
Recommended Articles
This is a guide to Bigcommerce vs Shopify. Here we also discuss the bigcommerce vs shopify key differences with infographics and comparison table. You may also have a look at the following articles to learn more –