Updated April 5, 2023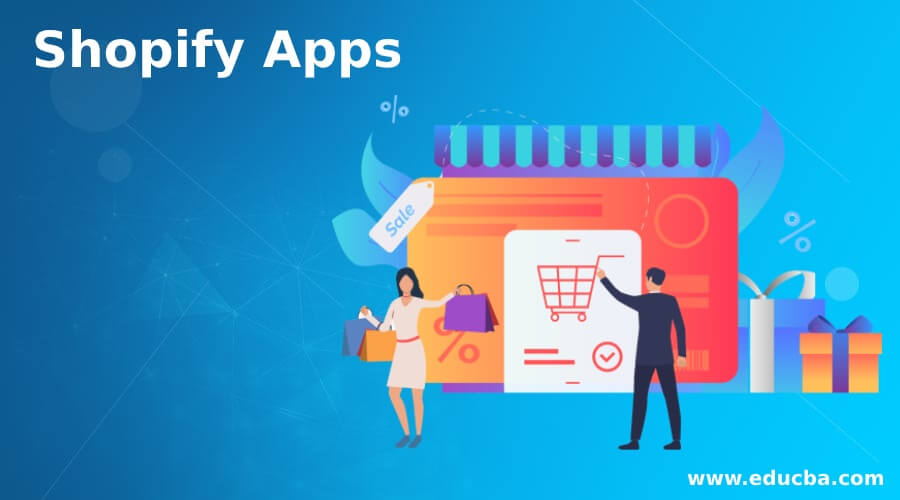 Introduction to Shopify Apps
The following article provides an outline for Shopify Apps. Running an eCommerce shop is completely different from running an individual blog. There is even else to track, including e-mail ads, healthy checkout, shipments and pace increase. Fortunately, we have built a list of the best Shopify applications that will help you handle your web storage and add new features. Just as with WooCommerce, Shopify -friendly applications help you make your store more affordable. That is why many dealers rely on their e-commerce companies on this website. Let's begin with 10 of our store's best Shopify resources in 2020.
List of Shopify Application
Given below is the list of Shopify Application:
1. Kit
Digital marketing is a common form of doing this. But if you're not marketing efficient, Kit will support you with Facebook advertising, email marketing strategies and success reports on your virtual employee. The kit allows you to identify prospective clients on Facebook and Instagram and send them personalised updates and deals at the best time by leveraging artificial intelligence. And while resting, the package works.
2. Product Reviews
You can add consumer feedback on the products with the Product Reviews app. This provides the customers with reviews and allows more customers to buy from your shop. Product reviews are extremely important, particularly if you take into account that only 2% of consumers do not view them all, according to an eMarketer report. In addition, SEO can also help with the content reported in customer reviews.
3. Benchmark Hero
Ecommerce SEO increases your Google Searches Shopify website visibility. It can be challenging, though, to know exactly where you have to make adjustments and how your shop contrasts with others. The Benchmark Hero App from SEO Web Audit offers a thorough analytical review of your site so you can figure out what works and what does not apply to your search and store efficiency. It would also allow you to figure out why those pages don't convert as much as you want.
4. Improved Contact Form
Your Contact Us page for your Shopify is a perfect way to help consumers navigate your products and give customers a way to ask questions. In order to reach you on which page you choose, the Updated Contact Form App generates a pop-up contact form for your Shopify store. You will also be told where you are and which sites you visited before approaching you to make use of these observations in your CRO plan.
5. Klaviyo
Klaviyo is an automation marketing programme which connects with your Shop. With Klaviyo, you are able to create automatic e-mail sequences, purchasing-based aim strategies and have rich consumer data to help your overall strategy. Best of all, e-commerce has been created. Up to 200 subscriptions and 500 e-mails are free, which makes it excellent for shops who start designing their e-mail lists.
6. Shopcode
QR codes return, and you can create your own with the Shopcodes app in just a few seconds. Shop codes enable the quick scanning of code and purchasing by consumers on their mobile devices. These QR codes may be used in package inserts, pop-ups, publicity materials or brick-and-mortar displays. Check the analytics to see the most common codes and evaluate patterns over time.
7. Compass
Tons of data points are required for e-commerce activity. Compass allows you to assess the performance of your website by evaluating over 30 of the e-commerce metrics. They will then review the analytics on your competition so that you can see how you measure up. Compass will also provide you with tailored tips for enhancing your shop more.
8. UserGems
It is better for UserGems to identify influencers among your clients who support your brand aggressively and have a dedicated and committed public. The app gives you a note of prominent consumers sharing your brand, and from there, you can build a deeper connection. It is a perfect way to shift your original client base into the second world, thanks to a free package available for up to 100 customers every month.
9. Ultimate Sale boast
The ultimate sales boost application simply consists of a series of CRO-oriented features for more sales. This helps you to use counting down periods and low stock warnings for validated conversion strategies that foster scarcity. Or, with protection badges, you can build confidence and optimise any move from the product page to the checkout.
10. Privy
Privy will assist you in building your subscription list if you plan to use email marketing to advertise your store. This allows you to set up a number of pop-up email links, escape formats, automatic email series, and other means of extending the email list. Each type is entirely adjustable so that you can create a feel for your website. You also synchronise the overall email plan with MailChimp and Klaviyo.
Conclusion – Shopify Apps
This article has seen various alternatives for Shopify, which will help you increase your online business. You can choose any of them based on your requirements.
Recommended Articles
This is a guide to Shopify Apps. Here we discuss the introduction and list of Shopify application for better understanding. You may also have a look at the following articles to learn more –