Updated June 3, 2023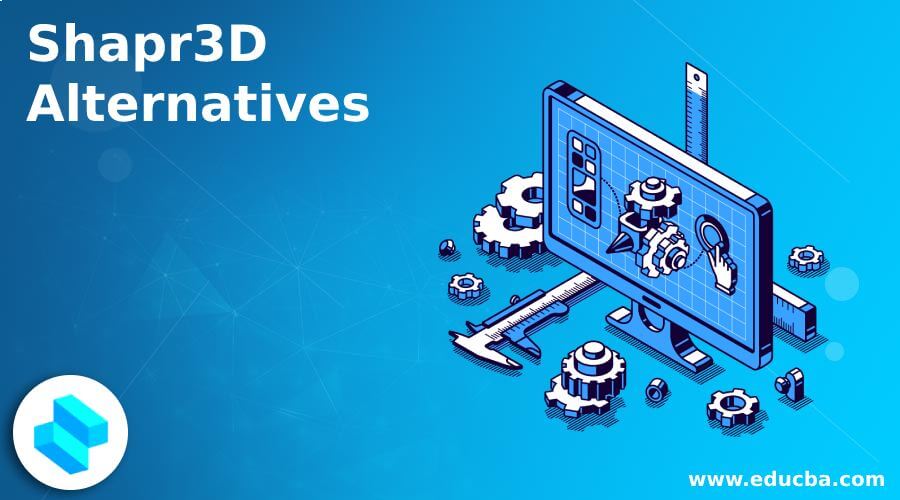 Introduction to Shapr3D Alternatives
Shapr3D alternatives can understand as software that you can use in place of it for the same work, and several alternatives to it can use on different platforms such as Mac, Windows, Linux, iPad, and the web also. The most popular alternative to shapr3D are Blender which is free and open sources software, FreeCAD is also free and open sources program, SketcUp, LibreCAD, Autodesk AutoCAD, and many more you may find in the market with their additional features, and today in this article, we will discuss some of the alternatives of Shapr3D for getting knowledge about them.
Top Alternatives of Shapr3D
Alternatives of Shapr3D are explained below:
1. Blender
Blender is a free and open-source 3D modeling software under GNU general public license and compatible with different operating systems such as Linux, Windows, Mac OS, Android, FreeBSD, NetBSD, OpenBSD, DragonFly BSD, and Haiku. The Blender Foundation released it on January 2, 1994, and Ton Roosendaal developed it as the original author. Its stable and latest version launched on January 20, 2021, which is named 2.91.2 and is available in 34 languages. Visit www.git.blender.org for this software.
We can use it for different purposes such as UV unwrapping and water simulations, during modeling of character skinning, rigging, and texturing of them can do in a very smooth way. Not only this but non-linear editing and creation of interactive 3D applications are also possible; you can also create rigid body, fluid, cloth, and soft body models for different applications with this software. It offers several power full animation tools that create a user-friendly environment while working with it, and it is not limited here in its capacity but also has modifier-based modeling tools that help modify different modeling features. There is also a node-based material and compositing system for working with different materials, and it uses Python for embedded scripting.
2. FreeCAD
FreeCAD specifically focuses on designing components and elements of mechanical engineering and its products. Still, you can also use it with a wide variety of other applications, such as in other engineering fields, architectural works, and many more. JurgenRiegel, Werner Mayer, and Yorik van Havre developed it as an open-source program on October 29, 2002. Its latest version launched on November 25, 2019; visit www.github.com.
It comes in MCAD, CAX, PLM, and CAE categories because it has features and tools most similar to Catia, SolidWorks, or Solid Edge. You will find a features-based parametric modeler in this software with modular architecture software, which helps it offer additional functionality and will not affect the core system. FreeCAD has many 2D components like other modern 3D CAD modelers, and these components help in sketching 2D shapes and extracting design details from the 3D model for creating 2D production drawings. Still, you cannot draw direct 2D drawings in it as AutoCAD LT can. For Scientific computing purposes, it also helps because it uses great libraries for this purpose, such as CAD kernel, Open Cascade, Coin 3D, Qt, and many more. It not only uses libraries but can also use other programs as libraries for them. Without affecting its features, it can run on multiple platforms, such as Microsoft Windows, Linux, Unix, and Mac OS.
3. SketchUp
SketchUp is freemium software means that at a basic level, it is free to use, but for some advanced features, we have to pay. It was formerly known as Google SketchUp and was initially released in August 2000. It is used for 3D modeling, which deals with different sectors such as interior designing, architectural components and their elements, mechanical engineering, film, and video game design, and in many other sectors, it performs different tasks. You can have its free version with the name SketcUp Make, and the paid version is available under the name SketcUp Pro. You can go with anyone according to the requirement of the result of your project work.
It has a 3D gallery that helps you search for models; you can also share your one with that gallery. These models may be any object, such as cars, houses, furniture, etc. It also offers different types of colors and textures for its model.
4. AutoCAD
AutoCAD is the most useable and popular CAD software among professional CAD designers for dealing with different sectors in architectural, mechanical, electrical, and many other engineering designing industries and developed by Autodesk Inc. in December 1982. Its latest version was released on March 25, 2020, and is available in 14 languages. You can visit www.autodesk.com for this software. Formally it was available under a perpetual license, but it can now be accessed through a subscription. There is a plus point with it that it is free for students for learning purposes (with basic features). The subscription offers cloud-based storage so that designs can access from different devices.
It was initially designed as a 2D CAD tool for PC. Still, now it has expanded its capacity for powerful 3D modeling, rendering features, and visualization and is also compatible with Mac OS and mobile platforms. You can also work with its web app on a different platform with a modern web browser. With its latest version, you will also find some extended features in 2D tooling, greatly enhancing its working ability.
These were some essential alternatives to Shapr3D, and you can try any of them because they are all almost free to use; due to this reason understanding their user interface before using them will be easy for you.
Conclusion
I am sure this was good information for you about the alternative of Shapr3D, and now you know what that alternative with which you can go for some designing work and experience some new features with some of the alternatives is. So I will suggest you try the maximum alternative to have the best one.
Recommended Articles
This is a guide to Shapr3D Alternatives. Here we discuss the introduction and top alternatives of shapr3d, along with an explanation. You may also have a look at the following articles to learn more –