Updated October 21, 2023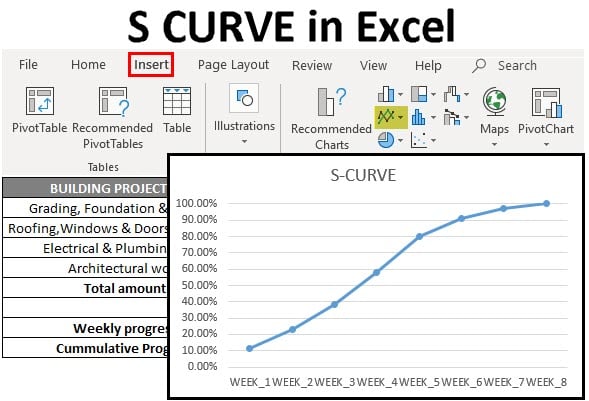 What is S CURVE in Excel?
The S curve in Excel is a graphical report that shows the increasing progress of a project over time. It is a measure of productivity, meaning it helps you track your project's progress on a daily or monthly basis.
It is called the "S curve" because the graph or chart resembles the shape of the letter "S." Creating the S curve in Excel involves making a scatter plot, line chart, or other appropriate chart type. It is helpful for real-estate builders & developers to track & implement different phases of the project in their ongoing building project, which will help finish the ongoing project within the scheduled time & the allocated budget. It is also useful to track the project timeline and its costs in the I.T. & pharma companies.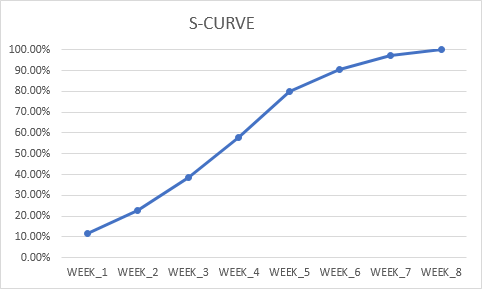 How to Create S CURVE in Excel?
Let's look at a few examples of how to work on S CURVE in Excel.
Example #1: S Curve for Profit Growth
In this example, let us analyze the relationship between the number of units sold and the profit generated. We will create an S-curve graph in Excel to visualize how profit will likely evolve as the number of units sold increases.
Given: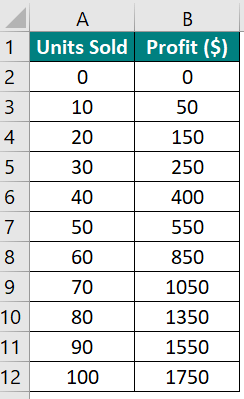 Solution:
Step 1: Select data A2:B12.
Step 2: Go to Insert Tab, select All Charts from Recommended Charts, and Choose Stacked Line from Line Chart.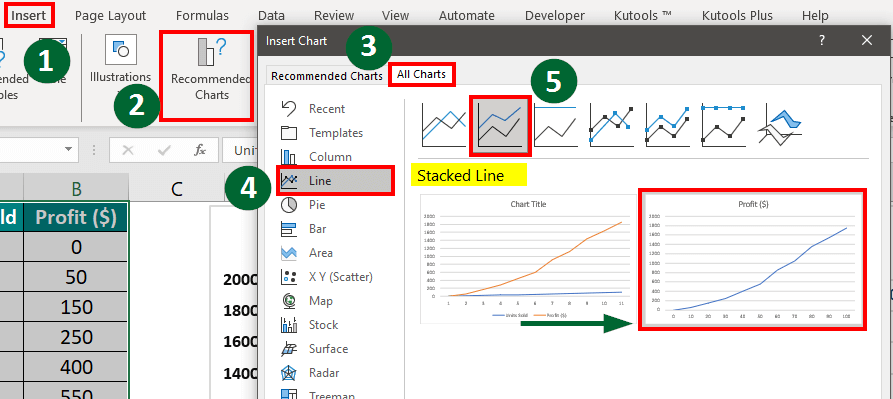 Step 3: Format the graph as per your requirement
Result:
The S-curve graph in this example shows that when you sell more products, your profit increases, speeds up in the middle (between 40 and 80 units), and stabilizes.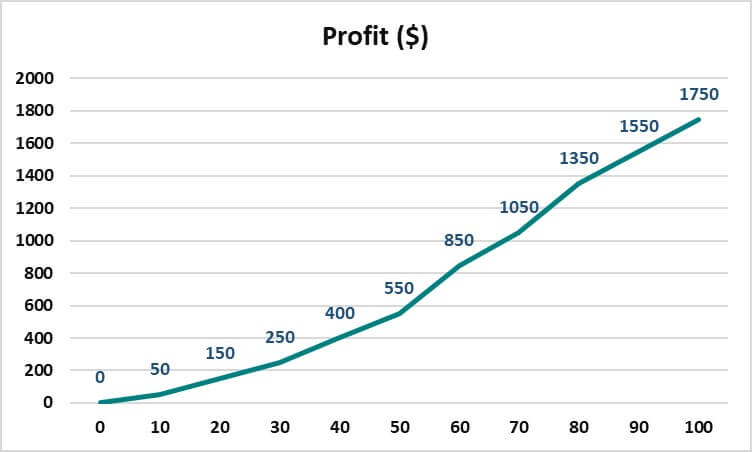 Example #2: S Curve for Popularity of Smartphone App
Let us track the popularity of a new smartphone app over 2 years by creating an S-curve in Excel.
Given: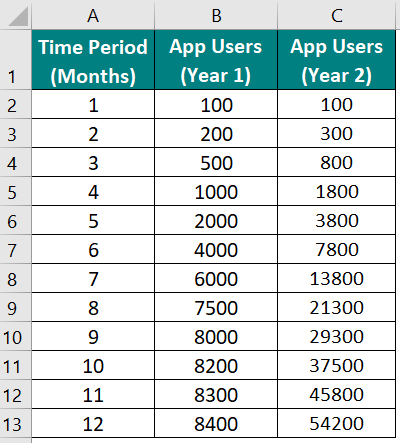 Solution:
Step 1: Select data A2:C13
Step 2: Go to Insert Tab, select All Charts from Recommended Charts, and Choose Scatter Chart.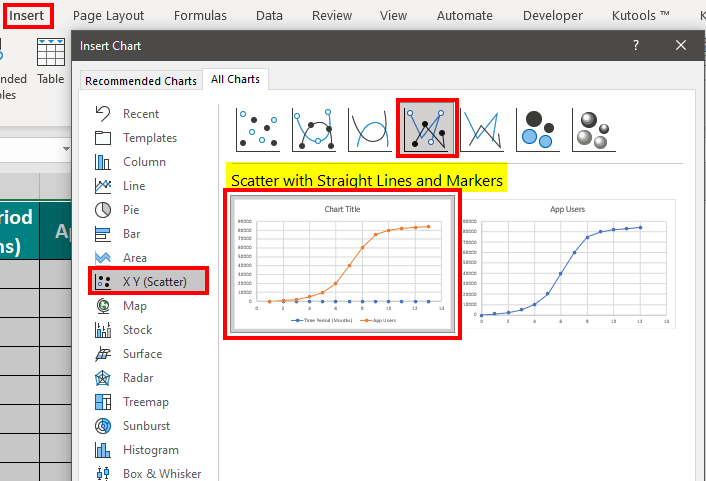 Step 3: Format the graph as per the requirement.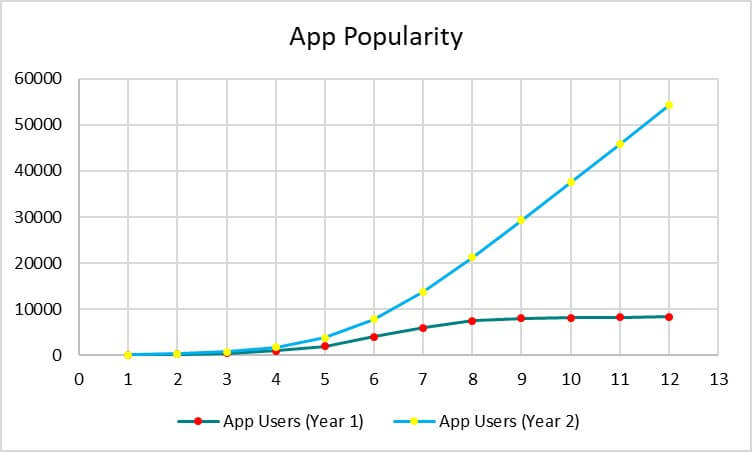 Both S curves show the typical pattern where smartphone users start with a lower number for a certain period (till 4th month). Soon it shows a rapid growth between the 5th and 8th month. From the 9th to the 12th month, it finally shows a stable user base.
Example #3: S Curve for a Building Project
We have a list of tasks for a building project and an amount allocated for each task. We need to create an S curve to show the percentage of work completed each week of the project.
Given:
| | |
| --- | --- |
| BUILDING PROJECT TASK | AMOUNT |
| Grading, Foundation & Framing | $7,500,000 |
| Roofing, Windows & Doors Installation | $3,000,000 |
| Electrical & Plumbing Work | $2,000,000 |
| Architectural Work | $1,200,000 |
| Site Utilities | $1,000,000 |
| Fire Suppression System | $1,500,000 |
| Final Inspection and Quality Assurance | $1,000,000 |
Solution:
Here's a step-by-step guide to how to create the S-curve in Excel.
Step 1: Enter Data in Excel
First, you need to have your project data in an Excel spreadsheet. Add the following columns:
Column A: Task list.
Column B: The budget allocated for each task.
Column C: The percentage of budget allocated for each task.
Column D: The starting week for each task.
Column E: The ending week for each task.
Column F: The duration of each task in weeks.
Column G to P: Each week's progress % from Week_1 to Week_10.
It will look like this:


Step 2: The next step is to calculate the total amount of each task by applying the sum formula. i.e. =SUM(B2:B8)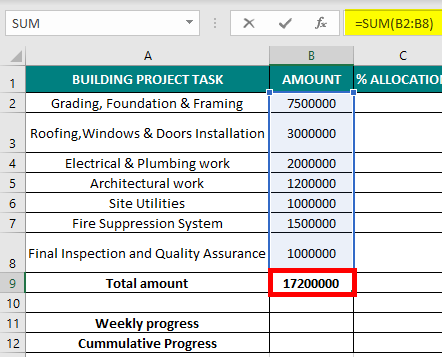 Step 3: Calculate the % Allocation
Then, we will calculate the percentage allocation for each task using the following formula:
% Allocation = (Task Amount / Total Project Amount)
For the first task, we will use this formula:
=B2/$B$9
=43.60%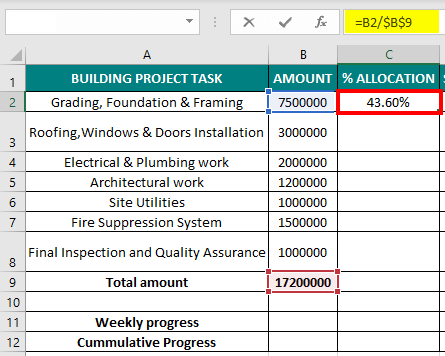 Drag the formula till cell C8 to find the % Allocation for each task. Then, we also calculate the Total percentage by using the SUM Formula.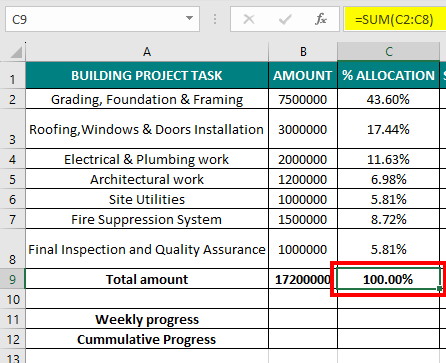 Step 4: Add the start and end weeks and their duration in columns D, E & F.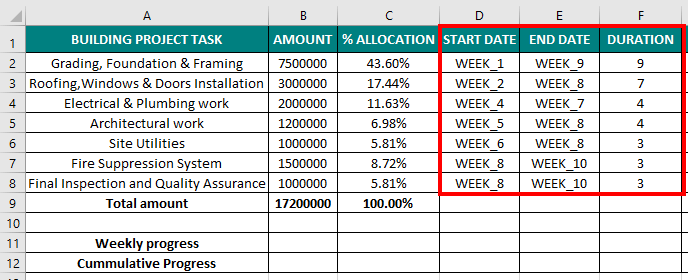 Step 5: Calculate the allocation percentage for each specific week (e.g., Week 1) using the formula below,
Week_1 allocation % = % Allocation for task / Duration of weeks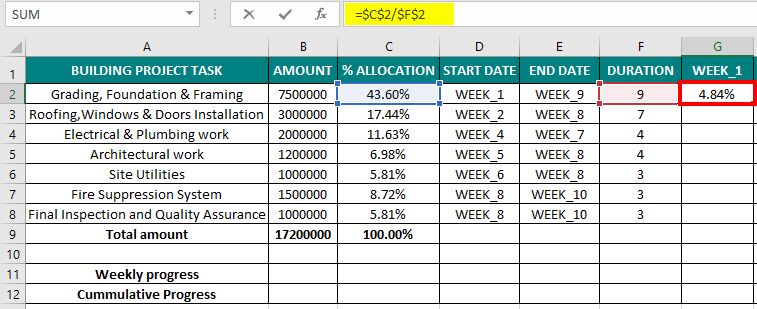 Calculate the same for Weeks 2, 3, till 10 for all tasks.

Step 7: Calculate the weekly progress by using the SUM Formula.

Step 8: Calculate the Cumulative progress by using the below formula,
=H11+G12.

Result:


Step 9: Create the S Curve in Excel
Now, create the S-curve graph using the cumulative progress data.
1. Select row 1 (Week_1 to Week_10), hold the Ctrl key and then select row 12 (Cumulative Progress range).

2. Go to the Insert tab and choose a line or scatter chart (whichever you prefer).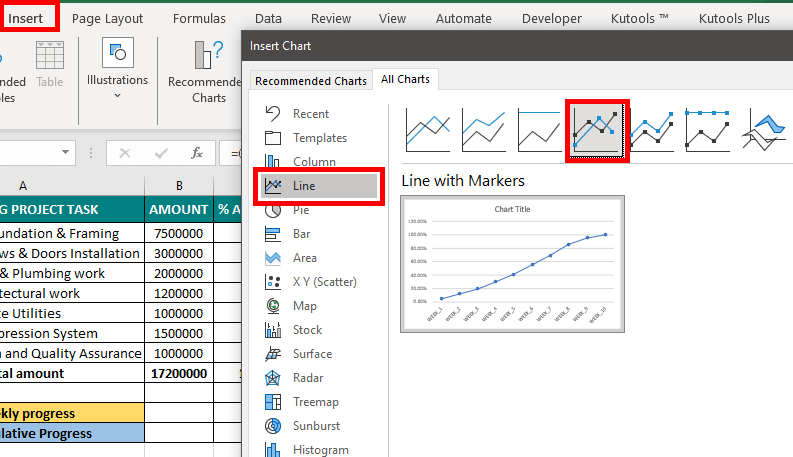 Result:
Finally, you can view the S-curve for your project. Now, you can format your chart as per your requirements. We have added data labels for each percentage, added a red color to the data points, and added a green color to the curve.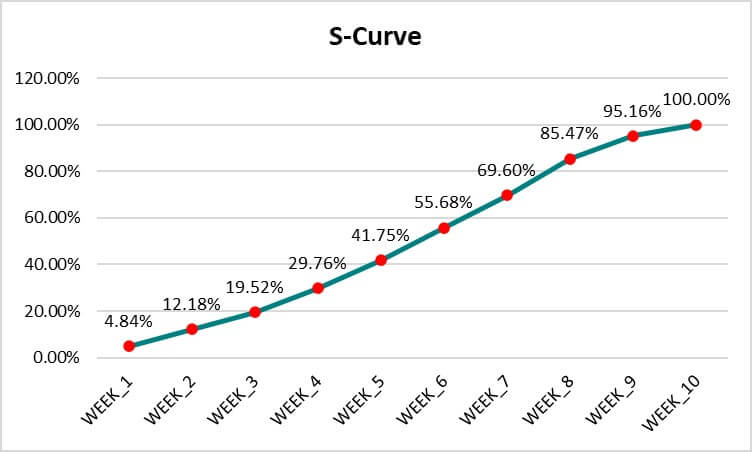 In the above S curve we can see the project progresses at a constant and slow rate in the first 3 weeks. After that, the project picks up speed between Week_4 and Week_8. Finally, the project growth once again slows down from Week_8 to Week_10.
Uses of S CURVE in Excel
S-curve in Excel displays the phases of a product's life, from introduction to decline.
It helps monitor project progress, comparing planned vs. actual performance.
S-curve compares planned costs to actual costs in project management.
It tracks resource usage over time to ensure efficient allocation.
It can also help predict future revenue growth in business.
It monitors defect rates and process efficiency.
It visualizes investment portfolio growth or financial product adoption.
Recommended Articles
We hope this guide on S CURVE in Excel, discussing how to create an S curve in Excel, was useful to you. You may also look at the following articles to learn more: