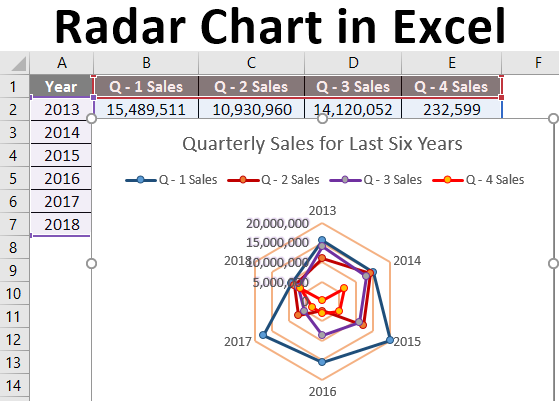 Radar Chart in Excel (Table of Contents)
Introduction to Radar Chart in Excel
Being an Excel users, we might frequently have worked on Bar Chart, Pie Chart, Line Chart, etc., and can say we are aware of those. Even we may have seen some Gantt Chart or Combination Charts as well in Excel. However, we might not be well aware of a Radar Chart and how to use it under Microsoft Excel (It is well and good if you know). This article will make you aware of the Radar Chart and some super easy ways to make it work under Microsoft Excel.
What is Radar Chart?
Radar Chart, also known as Spider Chart or Web Chart or Star Chart, got its name because of its structure. Because it looks like a spider web, it is called by those names. It is best used when you have three or more than three variables with different values of sub-groups associated with the central value. It is especially a great way of visualization for employee/student performance analysis or customer satisfaction analysis. It allows you to compare multiple parameter values against the criteria associated with performance or satisfaction.
Example to Create a Radar Chart in Excel
Suppose we have quarterly sales data available as shown below from the year 2013 to the year 2018. We wanted to see how sales values are going across the years as well as how those are performing within a year for different quarters.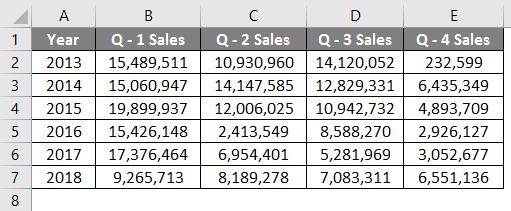 We would like to see a visualization of this data using the radar chart in excel.
Step 1 – In the active excel worksheet, select all the data across A1 to E7 and then click on the "Insert" tab placed at the third place on the upper hand ribbon of excel. You'll see a lot of inserting options.

Step 2 – Under the Charts option, click on the "Recommended Charts" icon.

Select the "All Charts" option through the window popping up named "Insert Chart".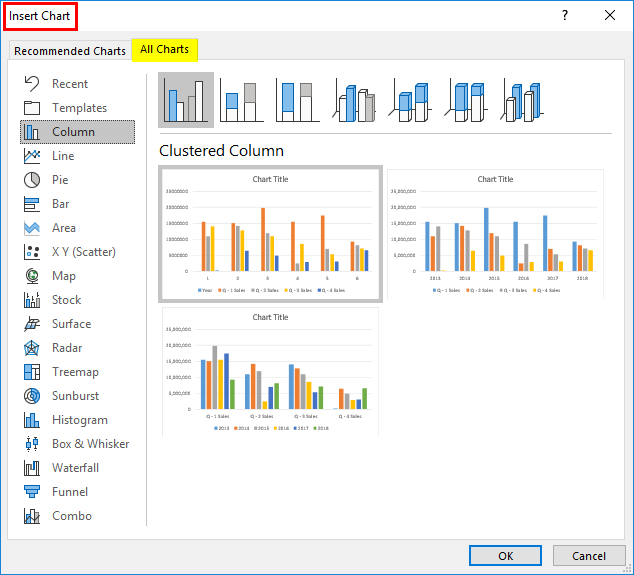 Step 3 – Inside the All chart option, you will see a list of all chart templates that are compatible in excel on the left-hand side of the window. Out of those, click on the "Radar option". A soon as you click on the Radar option, you'll be able to see multiple radar chart layouts, namely Radar, Radar With Markers and Filled Radars. Each of these categories has three sub-layouts of radar charts based on the visuality as well.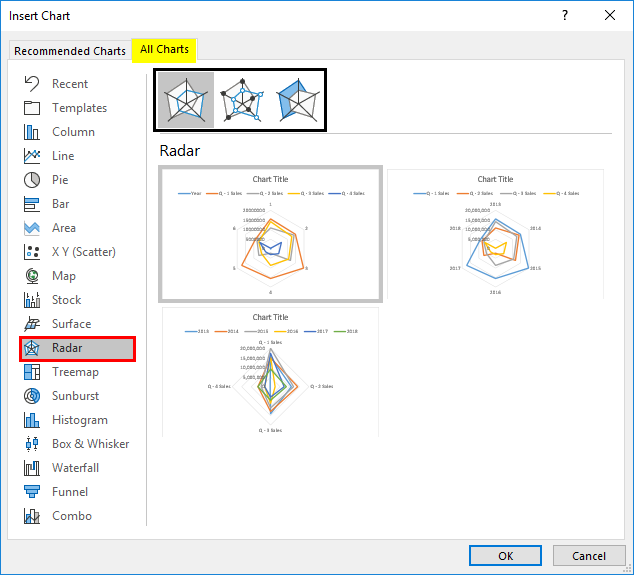 Step 4 – You can choose any radar chart for proceeding as per your convenience. I will choose the second one, "Radar with Markers". It allows me to have bullet markers at each intersection point of the web. Inside this, I will choose the second layout as it has years marked as legend entries. Once done with choosing the layout of your interest, click on the OK button.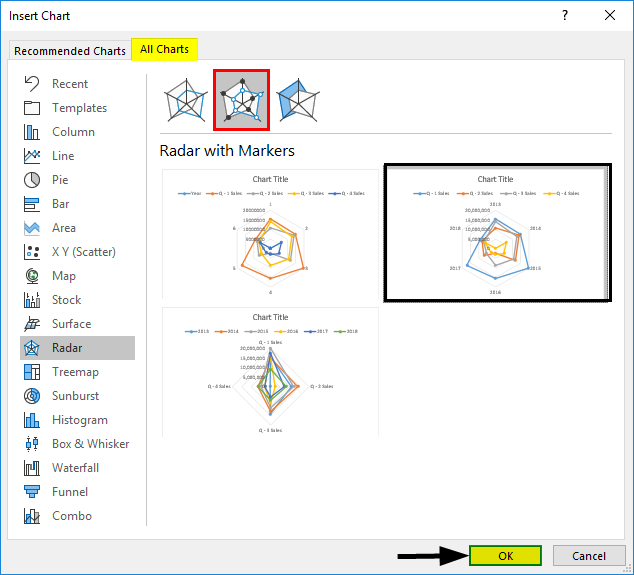 Once you click OK, you'll be able to see a radar chart, as shown in the image below.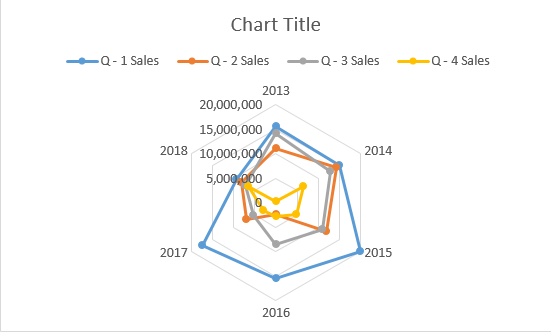 Step 5 – You can add the title for this report under Title Section. I will add the title as Quarterly Sales for the Last Six Years.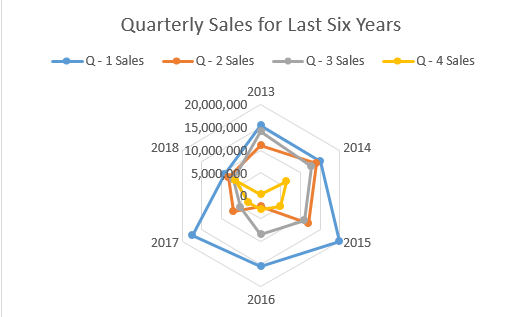 Step 6 – You can change the color of the webs associated with each quarter. Click on the line associated with first-quarter values (Blue line) and right-click on it; you'll see a series of options popping up there; you have one option called Outline.
Step 7 – As soon as you click on that Outline option, you'll be able to customize the colors of quarter web lines. I will choose a different color for the first-quarter sales line. See the image below.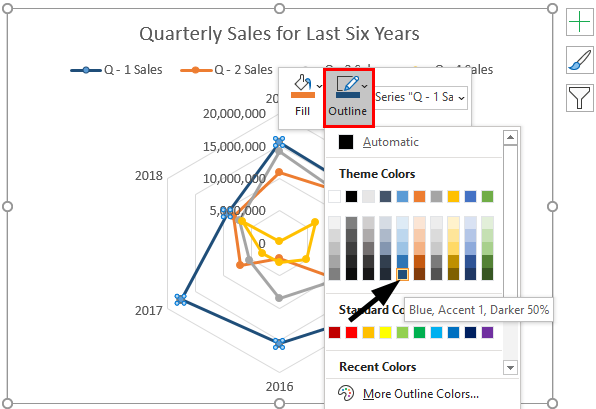 Step 8 – Now, change the colors of the other quarter sales line as well in the chart. See the final chart below.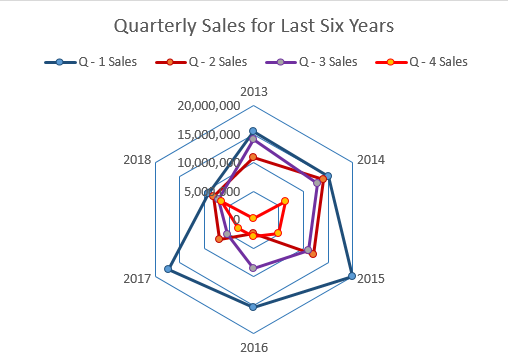 Step 9 – You also can change the color of "Major Gridlines". Select major gridlines and right-click on them to open an Options Menu. There, select the option "Format Gridlines". A new pane of Formatting will open up on the right side of the excel sheet.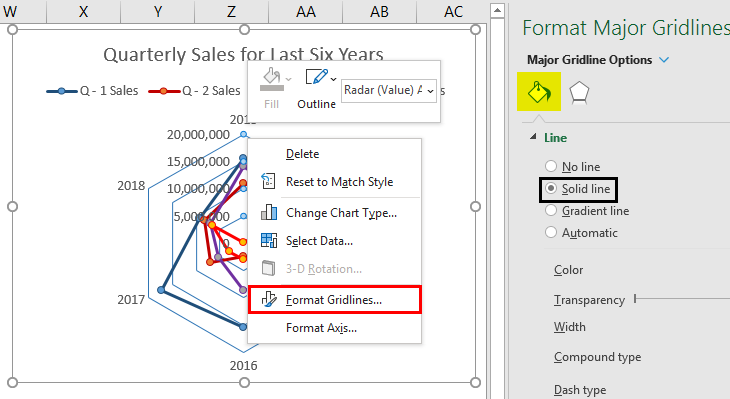 Step 10 – Inside Format Major Gridlines window, under "Fill & Line section", you can change the color of the gridline. I will change the color of gridlines as well as will change the width of gridlines. Please, see the screenshot below.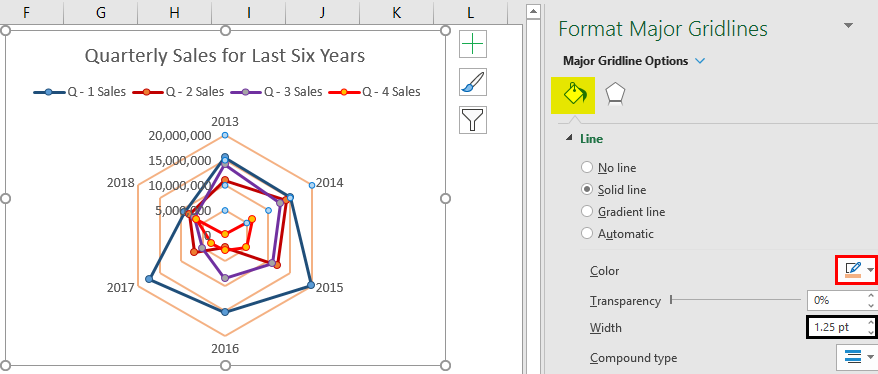 Step 11 – I would also like to change the color of axis legend entries of sales values (as those are with really very faint color). For that, select the axis legend entries and right-click on those to see the formatting option; click on the "Format Axis" option.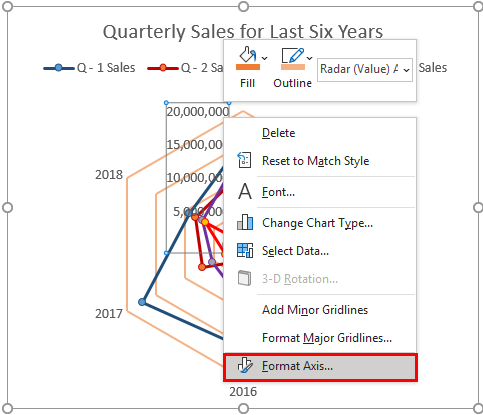 Step 12 – As soon as you click on the "Format Axis" option, the pane will open up at the right-hand side of the excel, where you can see all axis formatting options.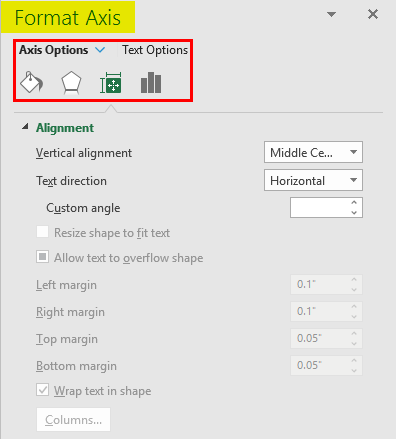 Step 13 – You have two sub-options inside the Format Axis pane. Axis Options and "Text Options". Go to "Text Options". Under "Text Fills" inside "Text Options", you will be able to change the color of these axis legend sales values. I will choose a custom color of my choice here. See the screenshot below for your reference.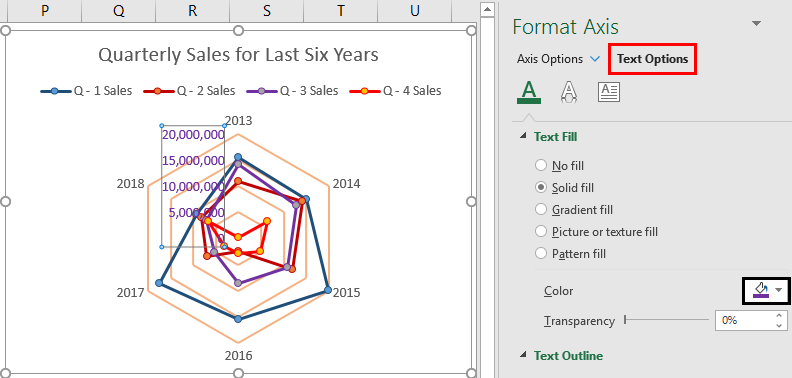 Step 14 – Go to the "Text Effects" option and select the shadow effect below to better visualise those legend entries.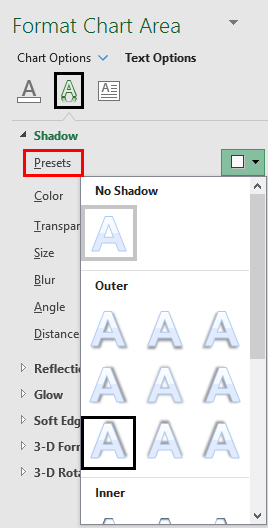 Step 15 – The final visualization would be something like this after we add the above-shown shadow effect.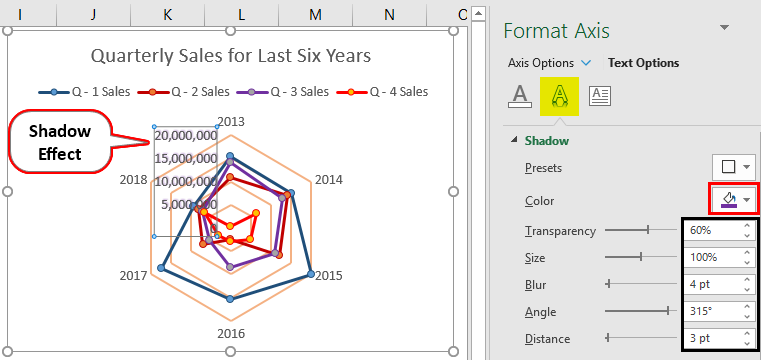 In this way, we create the Radar Chart. In this chart, we can see all the quarter sales for each year where different quarters are represented by different lines (with different colors to identify each one of them). Also, all six-year values are at each joint of the hexagon formed with major Gridlines. Each marker point represents the value for one particular year with one particular quarter.
This is from the article. Let's wrap things up with some things to be remembered.
Things to Remember
It is beneficial to those who have to compare multiple values along with multiple sets of categories.
Quickly gives a visualization of trends In given data. Whether the performance is going up or down or disturbing
It can be more confusing to someone who is not used to complex graphical visualization techniques as well as analysis.
Recommended Articles
This is a guide to the Radar Chart in Excel. Here we discuss how to create a Radar Chart in Excel along with practical examples and a downloadable excel template. You can also go through our other suggested articles –