Updated September 30, 2023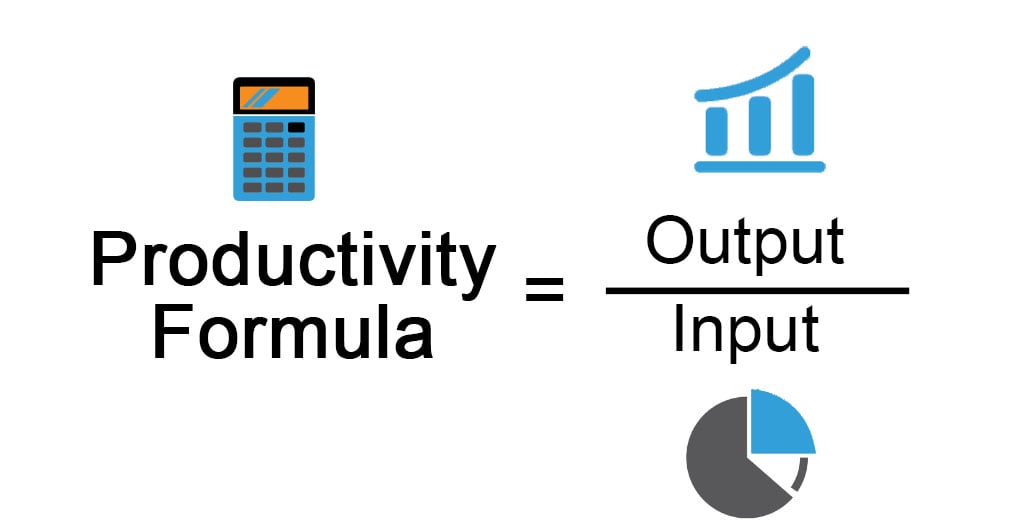 Productivity Formula (Table of Contents)
What is the Productivity Formula?
The productivity formula evaluates an individual's or company's efficiency by comparing their output (what they achieve) to input (time and materials).
Mathematically, the productivity formula is represented as,
Productivity = Output / Input
Consider a factory: its "output" is the products made, and the "input" involves workers, materials, and production time.
So, to calculate its productivity, we can use this formula:
Productivity = (Number of Products) / (Workers + Materials + Time)
How to Calculate Productivity?
Here are the steps to calculate productivity:
Step 1: Identify the input for the production process. Inputs can include materials, labor, time, and energy.
Step 2: Determine the value of the output produced in the process. Output can be revenue, the number of units manufactured, or any other relevant measure.
Step 3: Calculate productivity using this formula:
Productivity = Output / Input
Examples of Productivity Formula (With Excel Template)
Let's take some more examples to understand the calculation of productivity in a better manner.
Example #1: Team's Productivity
Suppose a team of five employees completes 50 tasks in a week. The total working hours for the team during the week are 200 hours.
Given:

Solution:
Using the productivity formula:
Productivity = Output/Input

So, the team's productivity is 0.25 tasks per hour.
Example #2: Company's Productivity
Consider a scenario where a production manager needs to evaluate their company's productivity. Based on information from the accounts department, the company manufactured 150,000 units in the last quarter. This production necessitated the employment of 20 laborers who worked 22 days per month, with each laborer putting in 8 hours of work per day. Calculate the employee productivity in terms of units produced per hour.
Given: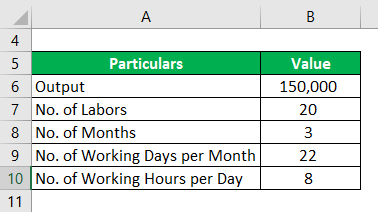 Solution:
To calculate the total man-hours, you can use the following formula:
Man Hours (Input) = Number of Workers × Number of Months × Number of Working Days per Month × Number of Working Hours per Day
= 20 workers × 3 months × 22 working days per month × 8 working hours per day
= 20 × 3 × 22 × 8
= 10,560 hours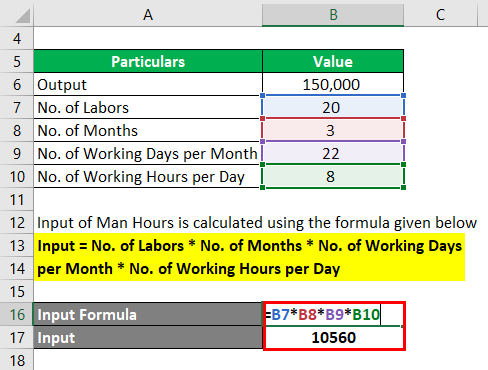 Using the productivity formula:
Productivity = Output / Input
= 150,000 units / 10,560 hours
= 14.2 units/hour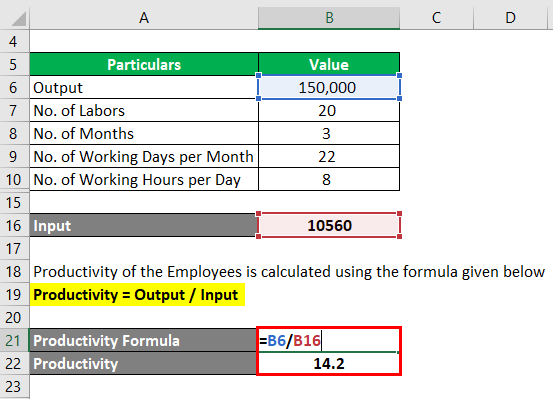 Therefore, during the previous quarter, the employees produced at a rate of 14.2 units/hour.
Example #3: Employee Productivity
Consider another scenario where senior management within a company seeks to determine employee productivity by calculating the revenue generated per employee. In 2022, the company achieved a total revenue of $35.0 million. At the beginning of the year, the company had 200 employees, and by the year's end, this number had increased to 220 employees. Calculate the revenue per employee based on the provided data.
Given: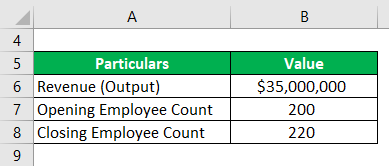 Solution:
The average No. of Employees is calculated using the formula given below:
Average No. of Employees (Input) = (Opening Employee Count + Closing Employee Count) / 2
= (200 + 220) / 2
= 210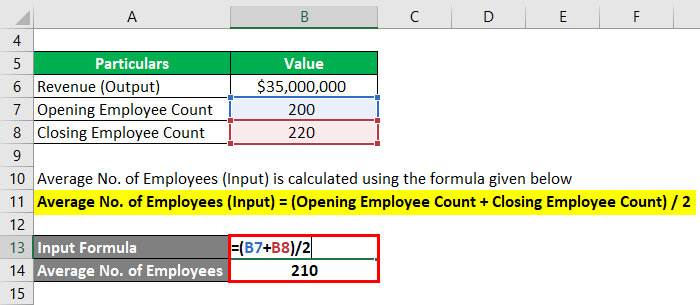 Using the productivity formula:
Productivity = Revenue (Output) / Average No. of Employees (Input)
= $35.0 million / 210
= $166,666.67 per employee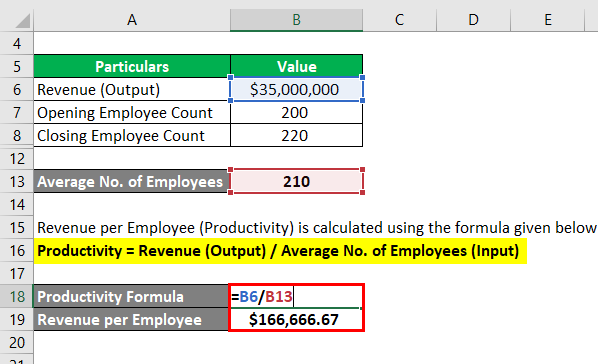 Therefore, the company generated $166,666.67 per employee in 2022.
Example #4: New Employees Productivity
Imagine a team leader at a financial services company who wants to evaluate the productivity of three recently hired financial analysts: Jason, David, and Henry. To measure their productivity, he considers the number of months each analyst has been with the company as the input and the number of cases they have successfully handled as the output. With this data in mind, he intends to calculate the productivity ratio.
Based on the given information, calculate who is the most productive analyst.

Solution:
Using the productivity formula:
Productivity = No. Of Cases Executed / No. of Months Served
Jason's Productivity
Productivity Jason = No. Of Cases Executed Jason / No. Of Months Served
Productivity Jason = 16 / 4
Productivity Jason = 0 cases per month
David's Productivity
Productivity David = No. of Cases Executed David / No. of Months Served
Productivity David = 25 / 7
Productivity David = 6 cases per month
Henry's Productivity
Productivity Henry = No. of Cases Executed Henry / No. of Months Served
Productivity Henry = 19 / 5
Productivity Henry =8 cases per month
Therefore, from the above analysis, it can be seen that Jason is the most productive analyst, with an execution rate of 4 cases per month.
Example #5: Classroom Teaching Productivity
A teacher covers a curriculum and helps 30 students achieve their learning objectives over a school year. The total instructional hours during the year are 900 hours.
Given:

Solution:
Using the productivity formula:
Productivity = No. of Students/ Total Hours
= 30 students/900 hours
= 0.033 students per hour

The teacher's productivity is approximately 0.033 students per hour of teaching.
Example #6: Agriculture Productivity
A farmer cultivates a field and harvests 2,000 kilograms of wheat a season. The total labor hours spent in the field during the season are 500 hours.
Given:

Solution:
Using the productivity formula:
Productivity = No. of Harvested Wheat / No. of Total Labor Hours
= 2,000 kg/500 hours
= 4 kg per hour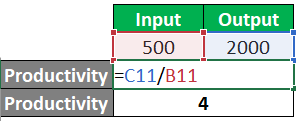 The farmer's productivity is 4 kilograms of wheat per hour of labor.
Importance of Productivity Formula
The productivity formula helps monitor and maintain the quality of products or services by tracking the relationship between input and output.
It measures resource efficiency in goal achievement.
It assesses individual, team, and organizational performance by quantifying input-output ratios.
Productivity metrics are vital for efficient resource allocation, process improvement, and informed strategic planning decisions in organizations.
Productivity Formula Calculator
You can use the following Productivity Formula Calculator
Output
Input
Productivity
 
Tips to Improve Productivity
Here are some tips to help you boost your productivity:
Set Clear Goals: Define short-term and long-term goals. Knowing what you want to accomplish will give you a clear path.
Prioritize Tasks: Identify the most crucial and urgent tasks and tackle them first. Use techniques like the Eisenhower Matrix to categorize tasks as urgent/important, not urgent/important, urgent/not important, or not urgent/not important.
Create a To-Do List: Write down tasks and create a daily or weekly to-do list. This lets you stay organized and ensures you don't forget important tasks.
Time Blocking: Allocate specific time blocks for different tasks. Dedicate focused, uninterrupted time to each task to prevent distractions.
Use Productivity Tools: Numerous apps and tools are designed to enhance productivity. Examples include task managers like Todoist, note-taking apps like Evernote, and project management tools like Trello.
Set Deadlines: Establish realistic deadlines for tasks. Having a timeframe can motivate you to complete tasks more efficiently.
Use the Two-Minute Rule: If a task can be completed in 2 minutes or less, do it immediately instead of adding it to your to-do checklist.
Batch Similar Tasks: Group and tackle similar tasks in one go. It reduces the cognitive load of switching between different types of work.
Frequently Asked Questions (FAQs)
Q1. What is the formula for personal productivity?
Answer: Personal productivity is more subjective but can be measured by tracking tasks completed in a specific time frame using the formula: Personal Productivity = Tasks Completed / Time Spent.
Q2. How can I calculate project productivity?
Answer: Project Productivity = Project Output / Project Input. The inputs can vary depending on the project but may include time, resources, and costs.
Q3. What is the relationship between efficiency and productivity?
Answer: Efficiency is a component of productivity. Productivity includes both efficiency (doing things right) and effectiveness (doing the right things). To improve productivity, you often work on both efficiency and effectiveness.
Q4. What are some common barriers to productivity?
Answer: Common barriers include procrastination, lack of motivation, poor time management, unclear goals, excessive distractions, and burnout. Identifying and addressing these barriers is crucial for improving productivity.
Recommended Articles
This is a guide to Productivity Formula. Here we discuss how to calculate Productivity along with practical examples. We also provide a Productivity calculator with a downloadable Excel template. You may also look at the following articles to learn more –