Updated November 2, 2023
What is Product Differentiation?
Product differentiation means a business making changes to improve product quality, packaging, or other features to stand out from competitors.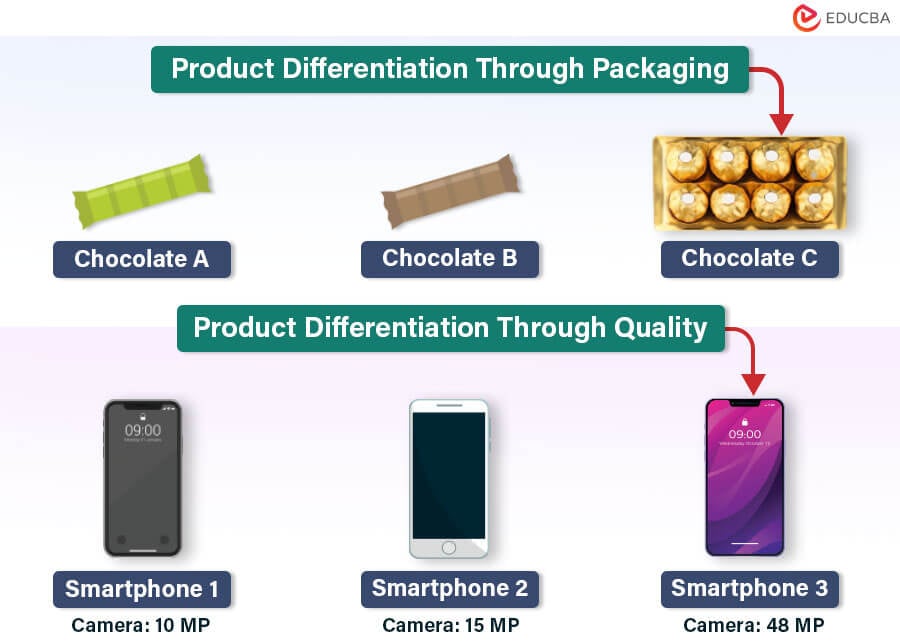 Today's customers have a lot of choices. As such, it's important to ensure your product is seen as unique or different to capture customer attention. That's where product differentiation comes in. It is simply the way companies make their products stand out from their competitors.
For instance, consider Apple Inc. They achieve product differentiation through innovative technology, distinctive design, and user-friendly interfaces that set their products apart. On the other hand, a brand like Pepsi differentiates its products through packaging and flavor choices.
The right product differentiation strategy can help a company achieve a competitive advantage by attracting and retaining customers, increasing market share, and building brand loyalty.
Table of Contents
Key Highlights
Product differentiation is a strategy to make your products stand out and gain customer loyalty.
Types of product differentiation are vertical, horizontal, and mixed differentiation.
Product design, quality, features, price, brand image, service, distribution channels, etc., can be differentiating factors.
Understanding the needs, tastes, and preferences of the target market is important for creating the right product differentiation strategy.
It helps increase market share, improve brand loyalty, and enhance the price point.
Example #3: Chipotle
Chipotle, an American chain in the fast-food industry, achieved product differentiation by offering high-quality foods. Unlike other fast-food companies that compete mostly on price, Chipotle offers food made from fresh and ethically farmed ingredients. This commitment to quality appeals to health-conscious consumers, who are willing to pay more for healthier and better-tasting food. As a result, Chipotle stands out in the crowded market and makes more money.
Types
There are different types of product differentiation as follows:
1. Vertical Differentiation
It is a strategy where products are differentiated based on measurable characteristics like quality and price. It is easy to decide which product is better in terms of quality or price.
Take laptops, for example. There are expensive high-end laptops, affordable laptops with basic features, and mid-range laptops available. Consumers can choose a laptop that balances the quality they want and the price they are willing to pay.
2. Horizontal Differentiation
There are a lot of products where measurable differentiation isn't possible, like food, beverages, daily household items, etc. In such cases, companies use a horizontal differentiation strategy. Instead of quality or price, the focus is subjective differentiation like packaging, color, flavor, fragrance, shapes, etc.
For example, burger joints can differentiate their products based on flavors or ingredients, but there is no objective way to tell which is better. It all depends on the customers' tastes and preferences.
3. Mixed Differentiation
Companies tend to combine vertical and horizontal differentiation when it comes to high-involvement products like cars, insurance, big appliances, etc. It means the products are distinctively different in quality or price and subjective features like colors, shapes, etc.
For example, while buying an apartment, customers can choose based on objective characteristics like location, space, amenities, and price and subjective characteristics like overall aesthetics.
How to Implement a Product Differentiation Strategy?
The following are some of the strategies you can implement for product differentiation.
1. Research
Study your current and potential customers. Understand their needs, tastes, and preferences. Identify any gaps and problem areas in the existing products. Find out how you can try to solve those problems.
2. Create a clear differentiator
As already stated, you can differentiate based on quality, features, design, price, and much more. You can choose one or more differentiating factors based on where your expertise lies, what your target customers want, and how you want to be perceived by them.
3. Invest in marketing and advertising
The next step is to tell your story to your target market. Tell your customers how your product differs and what value you offer. Ensure your brand is perceived exactly how you want it to be.
4. Keep refining your differentiation strategy
Customer feedback is important. Keep an eye on what people are saying about your brand and products. Fine-tune your strategy based on the feedback.
Case Study
Consider Sarah, who wanted to make her coffee brand stand out. So, she conducted surveys to study customers and found that 70% of respondents expressed concerns about the environmental impact of coffee production. In comparison, 60% are interested in supporting fair trade practices, meaning coffee makers are treated well and paid fairly. So, Sarah decided to make her coffee brand special by following the below product differentiation strategies.
Organic coffee beans: She started sourcing 100% from organic, fair trade-certified farms known for their ethical practices. It aligns with the values of her customer base and ensures that her coffee is of the highest quality.
New flavors: She added new flavors like hazelnut, raspberry, and raw mango.
Marketing: She invested 20% of her budget in marketing and advertising. She created social media profiles featuring images of farms where her quality coffee beans come from. She also shared personal stories of the farmers she worked with, creating a strong emotional connection with her customers.
She then actively monitored customer feedback, showing that 85% of customers praised her coffee and transparency in sourcing. They also loved the introduction of new, unusual flavors. By doing this continuously, Sarah ensures that her brand stands out and is successful.
Case Study Infographic

Advantages & Disadvantages of Product Differentiation
Let's explore the advantages and disadvantages of product differentiation.
| | |
| --- | --- |
| Advantages | Disadvantages |
| Product differentiation helps attract new customers to the business and improve market share. | Creating a differentiated product requires a lot of resources in research and development. |
| It also allows companies to charge higher prices and remain profitable. | There is a higher risk of failure as the customers might not find the product appealing or useful. |
| Offering unique and better-quality products can ensure customer loyalty and advocacy. | It can also cause distribution issues. |
| A successful differentiation strategy can prevent perceived product substitutes. | Maintaining the uniqueness of a product can lead to increased production costs and product prices. |
Final Thoughts
A well-thought product differentiation strategy can help elevate a business's sales and profitability. However, thoroughly understanding the market and the consumer is crucial before implementing a strategy.
Frequently Asked Questions( FAQs)
Q1. What is the significance of Product Differentiation?
Answer: It is significant because it allows businesses to stand out in a crowded market. It enables companies to create a distinct brand identity and differentiate themselves from their competitors. It can also help boost sales and profits by instilling a sense of value in customers' minds.
Q2. What is the Product differentiation strategy of Coca-Cola?
Answer: Coca-Cola has a secret drink recipe making it stand out from its competition. It's also trying to cater to the changing consumer tastes and preferences by offering smaller packages, healthier options like Diet Cola, and introducing more drinks.
Q3. How can businesses assess the efficacy of their Product Differentiation strategies?
Answer: Companies can use customer surveys, sales data, and market research to assess the effectiveness of their differentiation strategies. They can also evaluate the success of their differentiation strategies by tracking KPIs (Key performance indicators) such as revenue growth, market share, and customer satisfaction.
Recommended Article
We hope you found this EDUCBA article about product differentiation helpful. EDUCBA suggests the following articles for more information on economics-related topics: