Updated July 10, 2023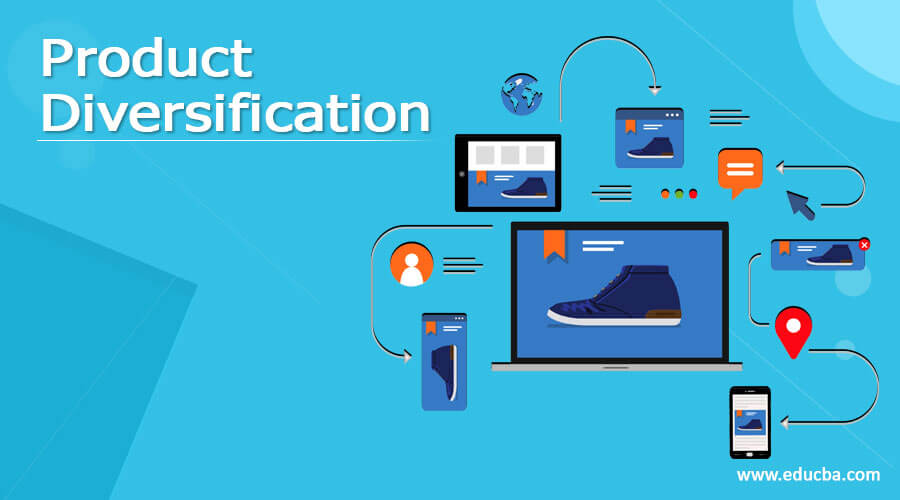 What is Product Diversification?
The term "product diversification" refers to the business strategy that involves producing and selling a new line of products or product division with the help of similar or entirely different sets of skills, knowledge, machinery, etc.
Companies usually use it to ensure survival in a declining market or expand in a stable or growing market. The product diversification strategy is also known as product differentiation.
Features of Product Diversification
Repackaged: The product packaging or presentation is altered to cater to the whims of a different set of audiences.
Renamed: An existing product with somewhat different packaging is renamed and sold in a different market. The objective is to retain the product's original purpose while adjusting it to match the requirement of the new market.
Resized: The product is repackaged into different sizes, shapes, or selling quantities, depending on the standard of the new market.
Repriced: The product's price is adjusted given the resizing and other improvements to re-position it for sale through new distribution channels.
How Does Product Diversification Work?
Product diversification can occur at different levels – at the business or corporate levels. Companies employ product diversification strategies to expand into a new segment with a presence at a business level. At the corporate level, it indicates that the companies are venturing into a new segment beyond their existing scope of operations.
Examples of Product Diversification
There are many different success stories revolving around product diversification strategies. The following are some examples of successful product diversification.
1. General Electric
1892 General Electric began due to a successful merger between Edison General Electric Company and Thomson-Houston Electric Company. Over the years, the company has diversified itself, and now it operates in several sectors: aviation, energy, lighting, healthcare, oil and gas, transportation, etc.
2. HubSpot
HubSpot is an inbound marketing company that began its journey as a software solution for small businesses with less than ten employees. It helped the companies streamline their content and customers. As Hubspot gained more popularity, it diversified its offering to cater to enterprise-level needs.
3. Moz.com
Moz.com started as a blog and online community where marketers and experts shared their research, theories, and results. After a few years, it developed its SEO software and offered it as a subscription-based solution.
Types of Product Diversification
1. Concentric Diversification
A company adds similar products to its existing business and market in this type. For instance, if a computer company currently manufacturing desktop computers starts producing laptops, it is considered concentric diversification.
2. Horizontal Diversification
In this type, a company offers new and unrelated products to its existing consumers. For instance, a notebook manufacturing company can enter the open market as part of its horizontal diversification strategy.
3. Conglomerate Diversification
A company adds new, significantly unrelated products with no commercial or technological similarities in this type. For instance, a computer company can be called conglomerate diversification into notebook selling.
Reason for Product Diversification
Besides achieving higher profitability, a company goes for product diversification for many reasons. Some of the major reasons are as follows:
It mitigates the risks that may appear if a particular market or industry suffers a downturn.
If done properly, diversification can provide a tremendous boost to a company's brand image as well as profitability.
It allows for more variety and options for the company regarding its product offerings.
A company also utilizes it as a defensive technique to protect itself from competing companies.
For a cash cow in a market with muted growth, a company can use diversification to use the surplus cash flow.
Risks of Product Diversification
The skills required to manage a diversified company may differ from the original setup, resulting in various operational hiccups.
It comes with a decision risk about the choice of the product and the market, as either of them can go wrong.
The new product introduced by the company may fail to match the governance and ethical standards of the initial product.
Product diversification and its associated financial risks can significantly impact the rate of return offered to the stockholders.
Advantages of Product Diversification
First, it results in maximum utilization of the available company resources.
If done properly, it helps in multiple lines of business wherein the profits from one segment can absorb the losses incurred in another.
It mitigates the risk of dependence on a particular set of products or markets.
Key Takeaways
Product diversification is the business strategy involving the production and sale of a new line of products or product division with the help of similar or entirely different skills, knowledge, machinery, etc.
The main features include repackaging, renaming, resizing, and repricing.
There are three types – concentric diversification, horizontal diversification, and conglomerate diversification.
It mitigates the risks associated with dependence on a particular market or product and boosts a company's brand image and profitability.
Conclusion
Production diversification is a profitable strategy for companies, allowing them to scale up to reach revenue. However, it comes with the inherent risk of product failure. So, companies should consider other growth strategies and move on to product diversification only when their current product or market no longer provides growth opportunities.
Recommended Articles
This is a guide to Product Diversification. We also discuss the definition, features, working, examples, types, reasons, risks, and advantages. You may also have a look at the following articles to learn more –