What is a Vertical Market?
A vertical market comprises companies that focus on marketing their products and services to a particular group of customers in a specific industry instead of a larger market.
The idea is to find a customer group (niche) whose needs align the most with a company's offerings. It involves creating products, services, and marketing strategies specific to that target industry's characteristics and needs.
For example, companies that sell healthcare-related products like electronic medical records and medical equipment operate in the healthcare vertical. Similarly, companies that provide e-learning services or educational software operate in the educational vertical.

Table of Contents
Key Highlights
In a vertical market, businesses create their products and services to cater to the specific needs of their target customers.
The companies provide personalized solutions to consumers.
Higher product specialization ensures that customers stay loyal to the companies in this market.
One of the significant disadvantages is that companies need to constantly update and keep up-to-date with the latest trends to stay relevant.
Vertical Market Strategy
Here are some critical elements needed to create a vertical market strategy:
Industry Knowledge: A successful vertical strategy requires companies to understand the target industry thoroughly. It includes knowledge of industry trends, regulations, and specific needs and challenges.
Customization: To effectively cater to the market's needs, businesses must develop products and services tailored to the industry's specific demands. It could include modifying existing products or creating entirely new ones.
Networking: This strategy frequently involves forming solid partnerships with other companies in the target industry. It can assist companies in better understanding the industry and developing more effective products and services.
Effective Marketing: To effectively reach and engage with a vertical, businesses must customize their marketing and sales strategies according to the needs of the target industry.
Continuous Upgrading: A successful vertical strategy necessitates ongoing monitoring and improvement. It includes staying current on industry trends and customer feedback and making necessary product, service, and process changes.
Examples
Here are some vertical market examples:
Example #1: Restaurant Management
Suppose Victor owns a software company that sells specialized cash registering systems with restaurant-specific features like table management, menu customization, etc. This is a clear example of how Victor targets the restaurants as his customer base.
Example #2: Pet Tech
Suppose Petverse is a company that specializes in creating wearable devices and online tech platforms to monitor pet health. It means that Petverse operates in the pet tech vertical.
Example #3: Retail Industry
Let's assume Cradle is a company specializing in providing point-of-sale systems and inventory management software to retailers. It shows that Cradle works in the retail vertical.
Real-World Example
Lockheed Martin, headquartered in the United States, is a prime example of a company operating within vertical markets. It specializes in the aerospace and defense industries, with its primary customers being government and military entities. Lockheed Martin focuses on delivering highly specialized products, including missiles, military aircraft, space systems, and advanced electronics, for these customers.
Types
Here are the three types of vertical market systems.
1. Corporate:
In a corporate market, one company owns the entire distribution channel.
From manufacturing the products to distributing them to the final customers, they do it all themselves.
There are no intermediaries.
Amway is a good example of corporate vertical marketing as it sells its products only through its authorized stores.
2. Contractual:
In this system, different players in the supply chain create a contractual agreement to offer the products or services to their target niche.
An example would be a manufacturer agreeing to sell through the same distribution channel to its vertical.
Such agreements are mutually beneficial to all players involved.
3. Administered:
In this marketing system, one company dominates the entire vertical.
It's usually a large company that owns a significant market share and decides the fate of all the other companies in the supply chain.
Walmart is a prime example of this kind of market. It is a massive retail chain that influences all the companies involved in the retail marketing supply chain.
Vertical Market vs. Horizontal Market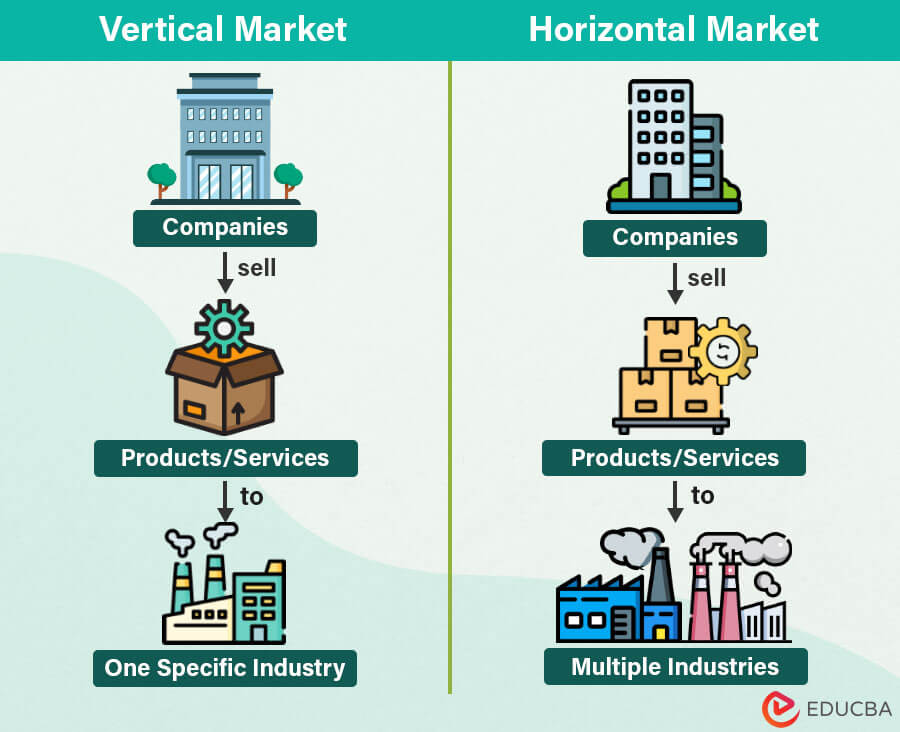 | | | |
| --- | --- | --- |
| Aspects | Vertical Market |  Horizontal Market |
| Focus | Vertical markets focus on a specific industry or niche. | Horizontal markets focus on a wider customer base. |
| Customer-base | Companies market and sell to customers in a specific industry. | The products and services in a horizontal market are marketed to customers across different industries. |
| Products/Services | Companies only sell specialized products and services meant for a specific customer base. | Companies in horizontal markets often sell a wide variety of products and services that can be useful to anyone. |
| Loyalty | Customer loyalty is high because they receive personalized products and services that meet their needs. | In horizontal markets, customers tend to be less loyal as the products and services are more generic. |
Advantages vs. Disadvantages
| | |
| --- | --- |
| Advantages | Disadvantages |
| A vertical market company can easily stand out by offering higher-quality, more tailored products or services. | Since companies focus on a specific industry, there is a limited customer base. |
| As companies understand their customers better, they can provide higher quality products and services. | The company's growth may suffer when the chosen vertical isn't growing. |
| When companies only cater to a specific industry, they tend to create a strong relationship with their customers, which leads to higher customer loyalty. | Focusing on just one industry or segment can prove to be riskier than selling to a larger customer base. |
| Companies usually have more control over the supply chain, which helps them manage costs and quality. | As there is a limited customer base, the competition is higher among the players. |
| Specializing in a specific industry helps companies achieve greater profits. | There is limited opportunity for growth and innovation due to a narrow focus. |
Final Thoughts
Choosing a vertical marketing strategy can be profitable if a company finds an untapped need in a specific industry. However, the company should have an in-depth knowledge of the industry, its trends, and needs. It also needs to have a strong supply chain and the ability to deliver high-quality products and services.
Frequently Asked Questions (FAQs)
Q1. What is the vertical market also called?
Answer: Vertical markets are also known as business markets because, in this market, a business only focuses on producing, marketing, and selling goods to a specific industry or niche.
Q2. How can businesses determine which vertical markets to target?
Answer: Companies can identify potential verticals by researching industry trends, analyzing customer needs and preferences, and analyzing the competition.
Q3. How can a company remain competitive in a vertical market?
Answer: Companies can remain competitive in a vertical by investing in research and development, staying current on industry trends and changes, maintaining solid relationships with customers and industry partners, and continuously improving products and services.
Q4. What is the purpose of vertical marketing?
Answer: Companies opt for vertical marketing because it helps them save significant costs and build a loyal customer base. By narrowing their focus, companies can better cater to the needs of their target customers.
Recommended Articles
We hope this EDUCBA article answers all your Vertical Market-related questions. If you are interested in more economics topics, the following EDUCBA articles might be of help to you: