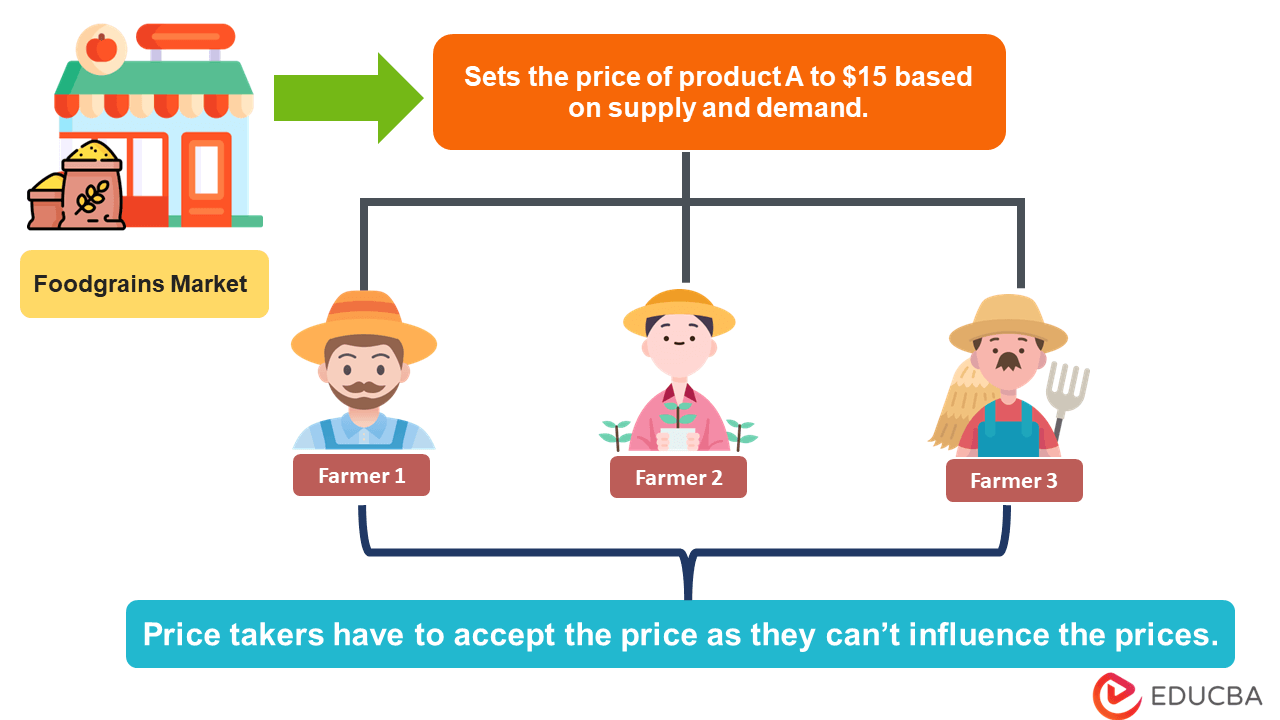 Table of Contents
What are Price Takers?
Price takers can be large-scale businesses or small-scale sellers that don't have the power to control or adjust the prices of products and services, so they must simply accept (take) prices set by others.
It exists in a market where metrics like supply/demand or authorities like governments have the power to set the prices for goods/services. Therefore, the businesses and companies operating in the market are price "takers" because they can't influence the price through their actions. Therefore, to stay in the competition, they have to take the current price set by market leaders. Typically, small buyers or sellers in a market with many participants are price-takers.
For instance, in various countries, the prices for accessing healthcare are set by the government or similar authorities. In such cases, healthcare providers like hospitals, clinics, pharmaceuticals, etc., have no choice or say in the cost aspect of the healthcare services.
Examples
| | | |
| --- | --- | --- |
| Price Taker | Industry | Reason for being a Price Taker |
| Local Farmer | Agriculture | Farmers have limited power as overall supply & demand determine the prices. |
| Small Retailer | Retail | Numerous competitors selling similar products or services. |
| Stock Trader (Individual) | Finance | The market size is very large, so individual traders have an insignificant impact on stock prices. |
| Distributors | Education | Manufacturers decide the price of textbooks based on their production cost. |
| Software Developers | Technology | Software Licensing companies set the prices based on their usability and popularity. |
Price Takers in a Perfect Competition Market
Price takers only exist in a perfect competition market because factors like supply/demand decide the product prices instead of sellers. Several other characteristics of the market make it the basis of price takers, which are as follows:
Homogeneous Products: All goods or services in the market are the same. So if a seller raises the price, customers can easily switch to another seller offering an identical product.
Perfect Information: Buyers and sellers have complete information about the product, prices, and available substitutes. It helps prevent unfair practices as everyone can quickly identify any differences.
Free Entry and Exit: There are no obstacles or barriers for any new firm that wants to join the market. As there is no competition regarding the prices, anyone can start a business in these markets.
A large number of Buyers and Sellers: There are many buyers and sellers in the market, with none of them having a dominant position. With equality in products, status, and prices, buyers choose sellers as per their preferences.
Are Monopolies and Oligopolies Price Takers?
No, price takers do not exist in monopolistic and oligopolistic markets. In monopoly and oligopoly markets, the companies have power and can set the price for their product as per their requirements. However, even in these markets, only a few large players can influence prices due to their dominating market share. They are called price setters.
Price Takers vs. Price Makers
| | | |
| --- | --- | --- |
| Basis Of Comparison | Price Taker | Price Maker |
| Definition | Firms or individuals that accept prevailing market prices for their goods or services without influencing the price. | Firms or individuals that have the ability to set or influence the price of their goods or services in the market. |
| Market Power | Low market power | High market power |
| Influence on Price | No influence on prices | Can influence the prices |
| Factors Influencing Prices | Supply and Demand | Production costs and market strategy. |
| Competition | Operates in highly competitive markets. | Operates in markets with limited competition. |
| Profit Margin Control | Limited ability to control profit margins. | Greater control over profit margins. |
| Examples | Individual farmers selling commodities in a large market. | Luxury brands setting premium prices for their exclusive products. |
Strategies
Price takers face unique challenges due to limited control over prices, so they need to adopt specific strategies to thrive and remain competitive. Thus, they can use the following strategies to make consistent profits:
Reduce production costs and maintain product quality.
To increase customer loyalty, provide unique and satisfactory customer service and up-to-date product features.
Update technology to improve efficiency and competitiveness.
Focus on specific market segments where the company is at the best level and keep improving other sectors slowly.
Keep diverse and unique options to attract a wider customer base.
Frequently Asked Questions (FAQs)
Q1. What firms are price takers?
Answer: All Firms in perfect competition are price takers because they have no control over prices. They must accept the market price determined by supply and demand. With many competitors, they can't influence prices and must adjust their output and sales accordingly.
Q2. Differentiate between price takers vs. price searchers vs. price setters.
Answer: 
| | | | |
| --- | --- | --- | --- |
| Aspects | Price Takers | Price Searchers | Price Setters |
| Market Position | Competitive markets with many buyers and sellers | Less competitive markets with few sellers and buyers | No competition in a monopoly |
| Examples | Agricultural products and basic necessities | Luxury, customized, and branded products | Niche products by big brands |
| Pricing Control | The price directly determined by supply and demand fluctuations | Search for the best price as per necessary market strategies | Set a high price as per the company's reputation and product uniqueness |
| Reasons for Pricing Control | Similar products and alternative options available to customers | Unique products and almost absence of alternate options | Unique products with an absolute lack of substitutes |
Q3. What is the importance of Price Takers?
Answer: Price takers operate in a market where prices are determined through demand and supply. Thus, it helps us understand the market as well as the economic condition of the industry. As a result, it simplifies the decision-making process for Policymakers and helps them make better decisions for market regulations, antitrust policies, and new market entry strategies.
Recommended Articles
This is a guide to Price Takers. Here we discuss the definition, examples, importance, and necessary strategies. You may also have a look at the following articles to learn more –