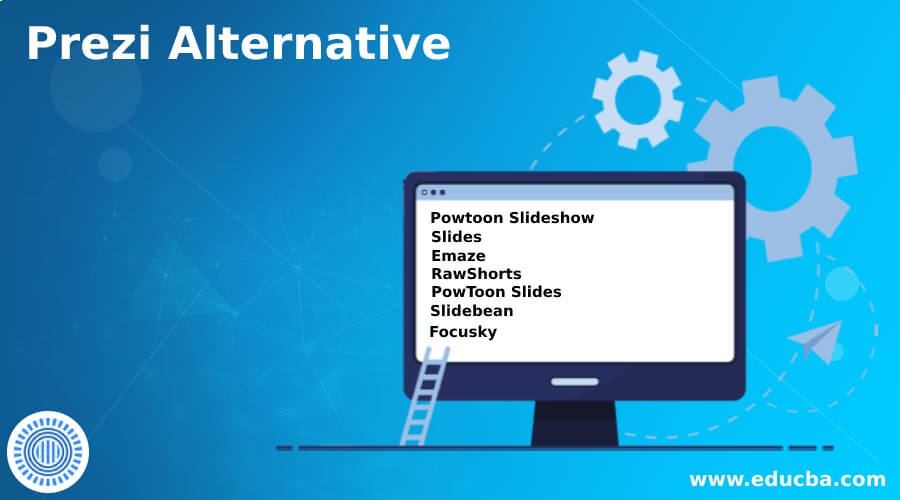 Introduction to Prezi
The following article provides an outline for Prezi Alternative. Many people have in recent years been looking for innovative ways to create executive presentations that are unique and memorable. PowerPoint was exciting in the early days of launch, but too many boring presentations led to new software like Prezi being developed. Prezi has helped prevent us from sleeping during presentations, but its software zooming in and out and its limited handling capacity have called for additional options and new players on the presentation market.
With a unique zooming Prezi, the user interface allows you to create amazing look-after presentations on an almost unlimited lens rather than the traditional slide approach. There are many other features include cloud saving, collaboration with multiple users and tools to edit images. But it's not the only one, as unbelievable as Prezi is. This is right; there are many desktop-based and online Prezi alternatives, which you can use to create exciting presentations and delight your audience.
List of Prezi Alternative
Given below is the list of Prezi Alternative:
1. Powtoon Slideshow
With our new product, the Powtoon Slideshow, Powtoon has taken slideshow software and design to the next level. We have created a product which will allow anyone with just a few clicks of the mouse to create a professional presentation in a few minutes. Unfortunately, we have limited customization options in order to achieve a seamless Slideshow experience. However, you can open the Slideshow presentations for full customisation within our Powtoon studio if you are a presentation superstar.
2. Slides
Slides is a powerful Prezi alternative loaded with tonnes of features. Your online editor allows you to create presentations with everything from images and text to tables and codes. The presentations created (called decks) can be publicly shared or privately held. In addition, you can export and even broadcast presentations in real-time for offline viewing. Yes, you also have features like export the decks to the Dropbox as PDFs. Google analytics support, revision history, forked presentations, and many more are also features.
3. Emaze
Emaze from the rest is its Great collection of proposal subjects, including zoom 3D video backgrounds and animations. You can download the created presentations as a video or as a PDF. Emaze also offers features like analytics assistance, custom multi-user, and brand templates cooperation for business and professional users at presentations. It even allows importing and making better use of the templates available for your current PowerPoint presentations. You can also share the ppt through all the popular social platforms and give them granular access permissions.
4. RawShorts
In the video presentation category, RawShorts is the winner. You can create any type of video you want using an instinctive interface that does not seem to require heavy tutorials. These types of videos are important in blogs, websites and YouTube channels, etc. However, the presentation side of things is somewhat short of RawShort. For example, you can't integrate your video into slides.
5. PowToon Slides
It's not exactly the easiest to use, but the fact that PowToon slides are seemingly one of Prezi's most feature-loaded alternatives can be found is little denied. PowToon Slides has hundreds of templates for everything from sales/marketing to training and from education to greeting cards. It enables you to add graphs, forms, video, audio and more. Transition time and animations can be specified for the slides, too. Once you've made your diapositive images (as videos), you can directly upload them for video sharing services like Vimeo and YouTube.
6. Slidebean
Probably Slidebean's most characteristic feature is its extremely detailed templates, which include regular features, such as background images and content holders to complete the presentation. An example is that a template "Company Intro" has content areas such as About us, what we are doing and stuff like that. You can also provide your presentations with custom items such as line charts, quotes, tables and videos. Slidebean also gives you a feature like add images, search and icons to the presentations from Creative Commons. The additional powerful feature has included in-house cooperation, PDF exports and was dedicated by the account manager.
7. Focusky
Focusky offers all the features of Prezi and more with an exceptional number of features. You can use it to create free zoom-outs and rearrange diaphragm elements just by dragging them on the unbounded canvas. There are a huge variety of 3D transition effects that make slideshows immersive. There is nothing you can't add to the presentations, from text to music and also from video to layers.
Conclusion – Prezi Alternative
In this article, we have seen various alternatives to Prezi. We can choose any of them based on our requirements.
Recommended Articles
This is a guide to Prezi Alternative. Here we discuss the introduction and the list of Prezi alternatives for better understanding. You may also have a look at the following articles to learn more –